02/21/2019
Readers' Choice Survey 2019: Product Information Management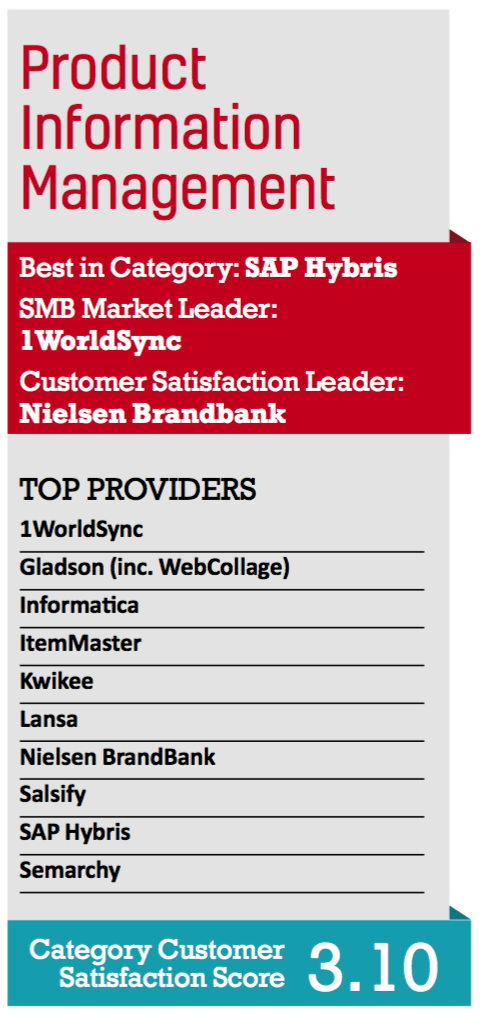 The CGT community's preferred providers of solutions for managing, updating and syndicating product data internally and in conjunction with retailers and other sales partners.
Best in Category: SAP Hybris
SAP Hybris repeated as Best in Category among PIM solution providers this year (although the results were a lot closer than in 2018). The company provides a "solid solution" (according to one survey taker) that, although it appeals largely to SAP's enterprise-level client roster, has options for smaller businesses as well.
Hybris Product Content Management, which aggregates data from different sources and lets product managers, marketers and external stakeholders work together simultaneously, is part of the larger Hybris Commerce suite, a leading enterprise-class e-commerce platform. A spring 2018 release introduced new content management capabilities designed to improve speed to market, increase efficiency and let business users complete complex tasks more easily and effectively.
SMB Market Leader: 1WorldSync
The clients of 1WorldSync — last year's "Noteworthy" solution provider for the category — came out in force this year, especially the smaller business who made it the SMB Market Leader. One survey respondent commended the company's solutions for "making it really easy to distribute our info to our vendors quickly." Clients include CPG distributors McLane Co. and Acosta.
In 2018, 1WorldSync launched product enhancements that let users leverage a single solution for content management across e-commerce, supply chain, regulatory maintenance and cross-channel sales support. The company also announced alliances with rich-content creator Label Insight, tracking and auditing specialist Content Analytics, and content syndicator inRiver to enhance its own solutions.
Customer Satisfaction Leader: Nielsen Brandbank
The solution provider earned a 3.75/5 rating to lead the PIM category (which, at 3.1/5, had the lowest cumulative Customer Satisfaction rating in the entire Readers' Choice Survey). Originally launched in the UK, Brandbank crossed the pond in 2016 soon after being acquired by Nielsen.
At the end of 2018, Wakefern Food Corp. named the company as its preferred content solution partner for both internal private label activity and the e-commerce and merchandising data coming from national brands; a few months earlier, Walmart had identified Brandbank as its preferred partner for content creation and management in the grocery category. Also in 2018, the solution provider opened its first U.S.-based full-service content studio, in Green Bay, Wis.
Noteworthy: ItemMaster
ItemMaster began life as the internal PIM for supermarket operator Ahold USA's Peapod e-commerce business, then spun off on its own in 2016. Since then, the company has attracted a number of leading CPGs as clients, including including PepsiCo, P&G and Barilla. It also garnered attention from rival Gladson, which acquired the company in early 2019. (Gladson bought another member of this year's list, rich content developer Webcollage, last spring.)
In addition to solutions for creating, managing and distributing structured product data, ItemMaster was an atitractve buy for two reasons: the wellnessMaster platform it launched in 2019 to help brands deliver the more detailed health information that consumers increasingly demand, and a solid retailer partner list that includes Peapod, Southeastern Grocers, Bashas', Instacart, Schnucks, Google and Hy-Vee.