Readers' Choice Survey 2018: Outsourcing/IT Integration
Get great content like this right in your inbox.
Subscribe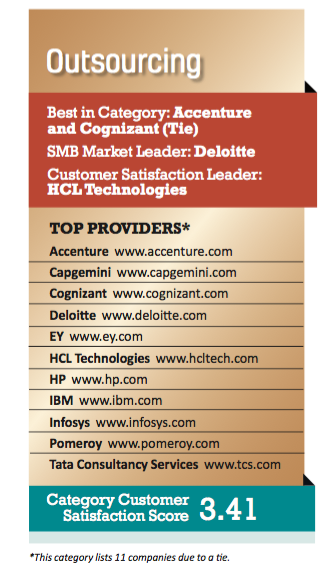 Best in Category: Accenture 
Results in this category are always competitive and, despite the presence of several industry heavyweights, are also typically marked by numerous smaller companies. Still, Accenture has come out on top for three straight years (although this year it shares that status).
Accenture certainly can't be accused of lying when it claims to possess the following five core attributes: deep skills (via 15,000 professionals), global reach (20 integrated delivery centers), industrialized approach (proven stable of tools, strategies and processes), vendor independence (a deep bench of technology partners) and a focus on the client's unique business needs.
The company's always humming acquisition engine keyed in on digital capabilities in 2017: it bought commerce agency Altima, IoT-infused design shop Altitude and e-commerce solutions provider Media Hive (among others). The consultancy also expanded its partnership with SAP to place a greater emphasis on deployment of digital technologies.
Best in Category: Cognizant
Cognizant fully understands that the future of business is digital. It also believes that the digital experience should be driven through the cloud. Among the company's offerings is Cognizant RIM 2.0, a proprietary enterprise-wide device and process foundation that provides the building blocks for monitoring all network activities. Function-level specialties include trade promotion optimization.
Among recent work, Cognizant helped office supply manufacturer Acco Brands move its enterprise systems to the cloud (and a pay-per-use infrastructure-as-a-service model), consequently improving flexibility, availability and scalability. It also guided a leading frozen foods manufacturer through the creation of a comprehensive digital solution that maximized order volume and facilitated a streamlined consumer loyalty system.
SMB Market Leader: Deloitte
Deloitte this year regained the SMB Market Leader status it last held in 2015. The company understands the need for small businesses to better respond to changes in the marketplace: a recent in-house survey found that 80% of U.S. SMBs aren't taking full advantage of digital technology such as cloud software and analytics.
One of Deloitte's key talking points recently has been the need to ensure ongoing innovation by making it a deliverable within the outsourcing agreement (beginning with the RFP). Key areas of technology implementation include cloud services, process automation and cognitive applications, innovations that "offer new ways for businesses to interact with customers, vendors, and internal stakeholders," the company states.
Customer Satisfaction Leader: HCL Technologies
Earning the highest customer satisfaction rating is even more impressive in the Outsourcing/Integration category, where clients are particularly tough on their solution providers. HCL's core competencies include integrated services for end-to-end global product lifecycle management, and global labs and innovation centers designed to transform ideas into real-world solutions.
Significant moves in 2017 included the acquisition of automation-driven data management platform Datawav and the internal launch of an AI-powered process transformation platform. The company's 2018 began with news of a reseller agreement with SAP in which the HCL MRO (Maintenance, Repair and Overhaul) solution will be marketed as SAP EAP (Enterprise Asset Management).
View the full results from the Readers' Choice Survey 2018 here.