Readers' Choice Survey 2018: Mobility
Get great content like this right in your inbox.
Subscribe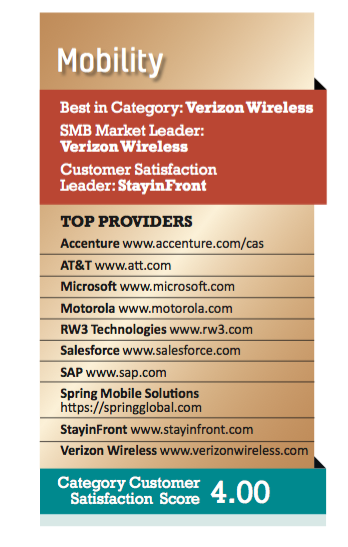 Best in Category, SMB Market Leader: Verizon Wireless
Verizon Wireless is the fourth solution provider to capture Best in Category honors in the last four years, which makes Mobility the most volatile category in the Readers' Choice survey.
The company has emerged as a leader by offering a standout combination of general wireless communication offerings — like its national 4G LTE wireless network — and a number of supply chain-specific solutions (such as sales force management/automation) that connect people, vehicles, equipment and devices through a secure network increasingly powered by IoT and machine-to-machine technologies. Oh, yeah, it can also supply the communication devices.
Verizon's asset tracking and fleet management solutions and resulting analytics help clients make better-informed decisions, control costs and improve customer relationship management. Verizon also offers workforce productivity and security tools designed to make collaboration fast, easy, secure and reliable.
The vendor's small business outreach includes a variety of starter incentives such as discounts, rewards and referral programs on a scaled-down menu of services reflecting the virtual nature of small business in the 21st century. In 2017, the carrier began offering unlimited data plans for SMBs. Dubbed Go Unlimited, Beyond Unlimited and Business Unlimited, the plans are designed to provide better value while maintaining the same technological quality.
Customer Satisfaction Leader: StayinFront
StayinFront earned one of the highest Customer Satisfaction scores of all this year in a category where the technology increasingly is becoming less a stand-alone solution and more a table-stakes capability of all other business technologies. The company's key sales force solution, StayinFront TouchCG, provides a single system equipped with full retail execution, selling, analytics, and management reporting tools to drive sales growth in both traditional and modern retail environments.
Appliance maker Breville last year began using TouchCG to give its Australian field force interactive calendars, automated processes and guided workflow to complete retail tasks more efficiently and manage territories more effectively.
Noteworthy: AT&T
Communications giant AT&T has been a consistent leader in the Mobility marketplace, having earned Best in Category, Customer Satisfaction and SMB Market Leader in, respectively, 2017, 2016 and 2015. Its tools for mobile workforce management and salesforce automation (among others) combine with its general communications prowess to create a powerful solutions provider.
Through the AT&T Asset Management Operations Center, manufacturers can track, monitor, and manage virtually any connected asset from one centralized user interface. This solution simplifies IoT implementations, provides visibility on a single dashboard, and can help improve operational efficiencies. Elsewhere, the company's Fleet Management and ELD (Electronic Logging Device) Compliance tool identifies new opportunities to manage costs, improve fleet maintenance and refine scheduling, dispatch and response.