05/03/2019
P&G brandSaver: May 2019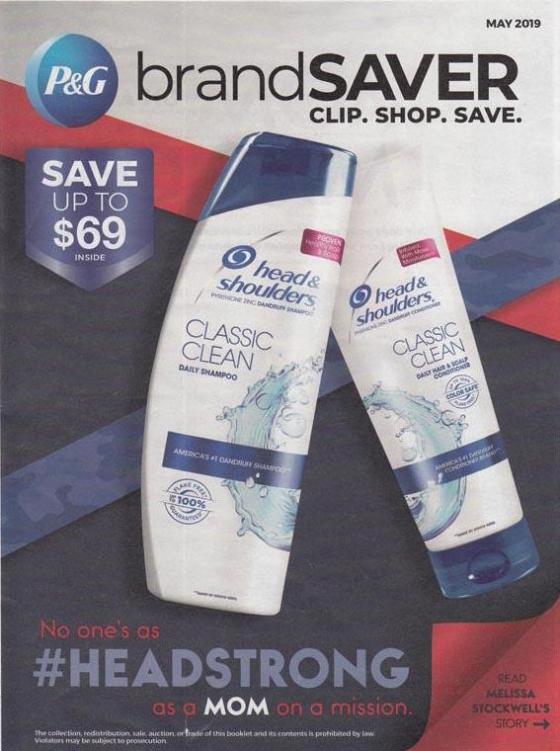 Procter & Gamble tied in to the May 12 observance of Mother's Day by spotlighting two-time Paralympian, U.S. Army veteran and mom Melissa Stockwell in this month's edition of brandSaver.
Distributed on April 28 via Valassis, the stand-alone insert's front page depicted shampoo and conditioner from Head & Shoulders above a "no one's as #headstrong as a mom on a mission" message. The cover also boasted of up to $69 in coupons (depending on the market) contained within and encouraged uses to flip the page to read Stockwell's story.
An interior spread continued the "mom on a mission" theme with a short bio on Stockwell, who competed in the 2008 Beijing Paralympics after losing a limb in active combat four years prior. Head & Shoulders noted in the spread it was celebrating Stockwell — now a mom — "in support of the headstrong men and women among all us." A "#headstrong mom" theme continued through the rest of the FSI event.  
In additional themed activity:
Pantene plugged its new intense rescue shots "for more great hair days."
Febreze dangled a BOGOF deal on a refill for its Plug SKUs.
Tide plugged its new 10X Heavy Duty liquid laundry detergent, positioning it as a "heavy duty tool for heavy duty stains and odors." 
Crest used a full-page FSI to invite consumers to try its new "product of the year" Gum Detoxify and direct them to doctors.com/oral-health to learn more about gum care. 
Old Spice, Secret and Gillette deodorants joined for a full-page feature employing an "All the best in fresh" message. 
Bounty and Charmin encouraged shoppers to "stock up for spring" while Puffs indirectly tied in to allergy season by promising its Plus Lotion tissues "will soothe your nose — through the sneezes, the wheezes, and the blows."
Mr. Clean heralded the arrival of its Clean Freak deep cleaning mists by spotting them next to its Magic Eraser sheets and cleaning pads. 
The event also plugged new SKUs from Cascade, Home Made Simple, Fixodent, Oral-B, Metamucil, Gillette and Pampers. 
Brands including Olay, Herbal Essences, Always, Gain, Dawn, Swiffer, Prilosec, ZzzQuil, Align and Downy were also represented in the event. 
See P2PI for this week's retailer overlays.