P&G brandSaver: February 2019
Get great content like this right in your inbox.
Subscribe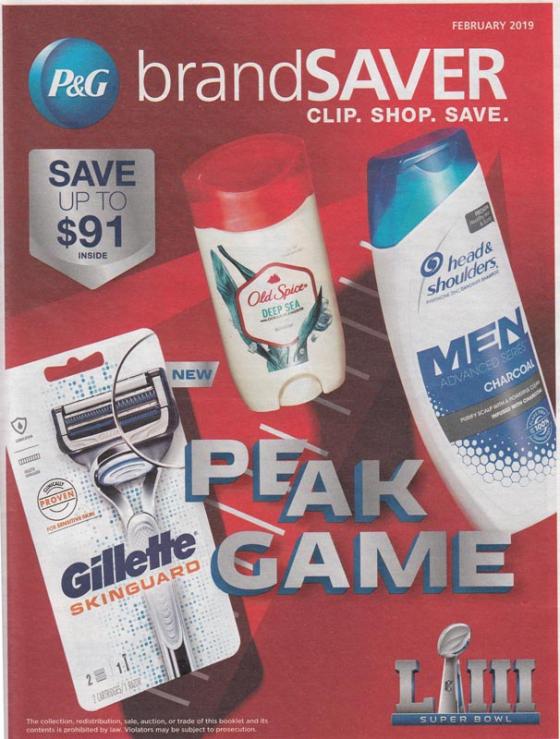 Procter & Gamble shined a spotlight on its official sponsorship of the National Football League's 2019 Super Bowl in its February edition of brandSaver.
Distributed on Jan. 27 via Valassis, the stand-alone insert's front page depicted Head & Shoulders, Old Spice and Gillette SKUs alongside the official logo for this year's Super Bowl. Employing a "peak game" message, the cover also boasted of up to $91 in coupons (depending on the market) contained within. 
The first interior spread continued the football theme, encouraging shoppers to "become a style champ," and spotlighting product from the aforementioned brands such as the new Gillette SkinGuard razor. A "Become a savings champ" theme continued through the rest of the FSI event.    
In additional football-themed activity:
Olay challenged shoppers to "change the game" with its SKUs promising "28 days to visible results."
Old Spice, Olay, Secret and Gillette joined for a spread delivering $6 in coupons to help shoppers "get into the fresh zone."
Bounty and Charmin encouraged shoppers to stock up on the brands' SKUs to "be game ready."
Febreze dangled a buy one, get one free (BOGOF) offer on its Air Effects or Small Spaces sprays to help "prepare for game day odors."
In other activity, P&G tied in to February's designation as "Black History Month" with a full-page FSI communicating "My black is …" followed by multiple empowering adjectives before ending in "beautiful." The FSI directed users to P&G's My Black is Beautiful website (mbib.com) and plugged its Head & Shoulders "Royal Oils" and Pantene "Gold Series" collections. 
In additional noteworthy activity:
Febreze Plug dangled a BOGOF deal on a refill.
Gillette touted up to $5 in savings on razors including the new Venus "sensitive smooth" razor.
An FSI spread plugged national franchising and conversion opportunities for Tide dry cleaners. 
Always used a full-page FSI to spotlight its #LikeAGirl cause campaign and its pad donations that aim to stop the drop in confidence that girls experience at puberty.
Hair Food shined a spotlight on its new sulfate-, dye- and paraben-free hair product, while dangling a BOGOF offer.
An FSI plugged P&G's sponsorship of OWN's Home Made Simple and highlighted the show's new host, Laila Ali.
Brands including Herbal Essences, Pampers, Crest, Swiffer, Downy, Prilosec, Vicks VapoCool, Metamucil, Vicks NyQuil, Gain, Tide and Bounce were also represented in the event.
See P2PI.org for this week's retailer overlays.