NRF 2018: Things You Shouldn't Have Missed
Get great content like this right in your inbox.
Subscribe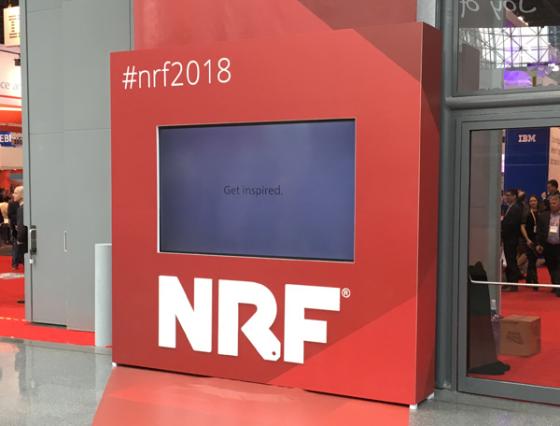 The editors of CGT sister publication RIS News present their list of "had to see" booths at the National Retail Federation "Big Show" in New York.
IBM highlighted new visual recognition and natural language understanding capabilities, specifically made for the fashion industry. The solution gives consumers the ability to search and discover new products based on image similarity. Trained natural language and visual recognition services can understand or extract smaller attributes including color, pattern, print, fabric, brand, size, and occasion and category specific attributes. Consumers can shop asking natural language questions or via a trending look book from Pinterest.
NEC displayed the power of face recognition in the mock store environment. Booth visitors were encouraged to have their photo taken and create a brief profile. As they travelled through the "store" cameras followed their movements and various applications personalized and tracked the shopping journey.
Samsung displayed its Connected Spaces, an all-in-one pop-up store solution that gives brick-and-mortar retailers a platform to create a pop-up store infused with data collection and analysis capabilities. The solution uses Samsung Nexshop software — the company's cloud-based digital store platform with real-time behavioral sensing — along with IP and mobile devices. In addition to analysis capabilities, the solution allows store associates to interact with shoppers using organized cloud-based content via tablets or interactive displays, for a more engaging customer experience. 
Panasonic displayed a host of smart-edge devices designed to create and leverage next-gen retail data. The solutions provider highlighted its in-store analytic capabilities, rugged warehouse and store devices for inventory and order management, transparent digital screen for store windows, projection touch-screen technology, and much more. 
In the SAS booth, expo attendees were able to experience a hands-on augmented reality tour that illustrates how analytics drives digital relevance based on demographics, household preferences, past in-store behavior and inventory optimization. The interactive tour highlighted how analytics supports contemporary retailers whether they're adopting IoT sensors, beacons or RFID tags or stepping up to an even higher level with chatbots, artificial intelligence and machine learning to understand customers' needs and preferences. 
Tableau showcased how top retailers are using its software to evaluate sales, customer analytics, customer ID and segmentation, CPG planning and forecasting, supply chain solutions and more. Attendees had the opportunity to participate in a virtual reality experience demonstrating Tableau dashboards within a retail store environment.
As always, Microsoft had a massive presence on the show floor, highlighting some of the cutting-edge deployments and innovations from its technology partners. Among the game-changing tech in the booth was Lowe's autonomous inventory bot that uses computer vision and machine learning to roam the aisles of Lowe's San Francisco test stores and provide management with an up-to-date view of inventory levels on the shelf. Kroger was also on hand demoing its smart shelf solution. The unique digital shelf signage allows the retailer to seamlessly change prices and offer a personalized experience to shoppers. The tech is currently live in 17 stores, and Kroger plans to aggressively roll it out to 140 stores by year's end. 
Impinj displayed how Rain RFID technology can be used by retailers to go beyond simple inventory tracking. In a series of live demos, Impinj showed how RFID can ensure customer orders are accurate, track customer orders throughout the supply chain, provide interactive fitting room experiences and process quick, seamless checkout, among other functions.
Intel's booth showcased how the company is helping brick-and-mortar retailers revolutionize the way they are doing business. Memomi showcased its MemoryMirror technology, which records makeup sessions or allows users to virtually see makeup projected on their face and change colors and looks. Dutch retailer G-Star piloted the Intel Responsive Retail Sensor in over 20 stores, and has plans to scale globally to an additional 100 stores. Bossa Nova Robotics showcased their shelf-scanning robot already being tested. Gourmet candy retailer Lolli & Pops showcased how it uses computer vision and AI to provide a personalized customer experience. Through computer vision, Lolli & Pops "Magic Makers" recognize loyalty members in real-time as they enter the store. Then, using AI-enhanced analytics, they access members' preferences and make personalized product recommendations. 
Cisco transformed its booth into an eye-catching display of digital disruption by creating its own toy store. ToyBox, a fully functional retail store enabled through a variety of technologies helped showcase the outcomes digital technology delivers. Beginning the journey on a mobile phone, "shoppers" got to use an interactive map to find their pre-chosen wish list items in the store. Thanks to RFID & QR codes on items, they were able to scan and add the items to purchase. Digital screens and advertisements changed based on shopper's proximity thanks to facial recognition and the checkout line was as smooth as walking through with scanned items already paid for through the app.
Visit RIS News for more of their coverage from the show.