NFI Acquires e.p.t. Brand
NFI Consumer Healthcare has acquired the e.p.t. over-the-counter pregnancy test brand from Prestige Brands Holdings.

"We are extremely excited to be entering the women's health OTC market with the acquisition of e.p.t. and embarking upon the next avenue of growth for our OTC business," NFI chief executive officer Susan Gregory said. "NFI will ... continue to focus on [the brand's] expansion into existing and new market channels."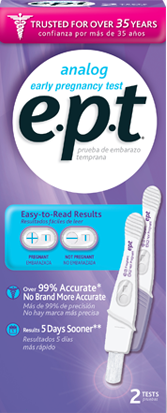 A division of Gregory Pharmaceutical Holdings, NFI markets OTC products in such categories as arthritis pain relief, anti-itch, joint and muscle cream, foot care, health & wellness and sleep, primarily for the mass retail sector. It acquired Emu Oil three years ago, and claims to have grown that business' flagship Blue Emu brand more than 300% since then.
Introduced in 1977, e.p.t. was the first OTC pregnancy-test kit in North America. Today, the test kits are marketed in both analog and digital formats, also broadly via mass retail channels.
Prestige's varied brand portfolio includes Comet, Spic and Span, Luden's, Efferdent, Massengill, Ecotrin, Nytol, Monistat and Compound W.