Krafting Insights
Get great content like this right in your inbox.
Subscribe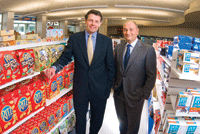 Kraft Foods Inc.'s products are in "99 percent of U.S. households." As of the last census (2000) that's 105,480,101 - quite a staggering number. To accomplish this, it goes without saying that the company is meeting the needs of consumers. Kraft has an entire group within the business dedicated to consumer insights, but beyond that, one member of the company is working to shape insights for the industry. Part of Kraft's strategy also includes a commitment to "rewire the organization for growth," and technology plays a leading role.
Kraft has had a "best-in-breed" systems environment that was built throughout the history of the company, mainly over the last 20 years. Yet, with a complex mix of business systems and disparate platforms born from acquisition, the company began to look toward future needs and thus, improved integration. With a successful SAP implementation in Europe from about 2000 to 2004, the next step is North America.
The European implementation will serve as a base, obviously adjusting legal, statutory or trade requirements. But the goal is, according to Fritz Schuele, senior vice president and Catalyst program leader, Kraft Foods, "a truly global footprint in terms of our business processes and our systems landscape;" to have "one language" with "regional dialects;" one set of processes and one set of systems platforms. 
Kraft is about 14 months into its "Catalyst" implementation, which is leveraging SAP ECC6 as the underlying platform. Schuele says, "In Catalyst, we are currently focusing on our back office processes, as well as trade performance management. We have had a number of successful go lives over the last few months. The second wave of Catalyst will then focus on front-office functionality such as more extensive support for our sales force, marketing, product lifecycle management and a systematic look at how we can comprehensively address the various information needs across the company. We will be able to plan and manage the enterprise with the exact required information readily available when and where it is needed." With the ultimate goal of improving processes and decision support throughout the company, Schuele points out that the first priority is getting the back office "right" in order to build the foundational capabilities.
In regard to business processes, Schuele equates it to the "chicken and the egg" paradox. Which came first: the desire to reengineer business processes or the availability of technology that allows streamlining of business processes? "There were ongoing initiatives to optimize our business processes, and those will be enabled by the Catalyst platform. In other areas, however, Catalyst is now the trigger for looking at ways to simplify and harmonize the business process," he notes.
When asked about master data management (MDM), Schuele describes it as "critically important" and "an ongoing focus." He explains, "We probably didn't understand the magnitude of master data management at first, but we learned quickly and haven't had any issues with master data. In fact, we now see a huge opportunity to get ahead of the game and are tackling master data very proactively ahead of any future implementation."
Defining the Industry
As the back office project is up and running and with an ongoing implementation taking place for the next year or so, Kraft has started to look at the front office strategy. "The back office is about productivity, however the front office is where we are going to get growth for the company," says Mark Dajani, senior vice president, information systems, Kraft Foods. And for this, he explains, the strategy is to "align with SAP as much as possible."
Yet, this is not simply adding functionality or modules already available, but helping create new or shaping current solutions for mutual benefit, according to Dajani. Of course in doing so, it is necessary to look at the "white space" that exists in the front office. "Our focus with SAP in terms of what we call the white spaces is around sales and marketing and specifically on insights, promotion management and product lifecycle management. We would like to see that Kraft's requirements are understood so that as solutions are developed we have what we need," he says.
He explains that Kraft has senior leaders whose jobs are to establish, drive and align process roadmaps with the business units across the company. For every business process the company has a roadmap; a gap analysis is done, and that gap analysis is leveraged to drive Kraft's requirements with SAP. "Also on the Catalyst project team we have process owners who work with us to bring together all of these roadmaps," says Dajani.  
He considers white space to be an opportunity for both companies and the industry as a whole. As such, he joined SAP's Consumer Products Advisory Council (CPAC). He calls this a "phenomenal forum" because its members are CIOs from leading consumer goods (CG) companies, including Brown-Forman, Colgate-Palmolive, Empresas Polar, Kimberly-Clark Corporation, Nestle and Unilever.
Collectively, the CPAC workstreams examine the needs of the industry, identify gaps and help drive the direction for areas needing investment, areas worthy of partnerships and areas where full potential has not been realized. For example, Dajani says, "I have a lot of passion for and believe that the next big area of transformation in the CPG industry is sales and marketing - specifically consumer insights in terms of the extended connectivity of information." Thus, he volunteered to head the insights workstream where he discovered that many of the other member companies also had high interest.
In looking at this space, Dajani reveals that there was a lot of "skepticism." The more they studied it, the more they realized why. "We decided that the most important thing we could do as an industry is come up with some common terms," he says.  Many months were spent working together to define the language, ensuring they were all referring to things in the same way. Questions asked included:  What are the information sources? How are they defined? For what are they being used? How should they be thought about?
The group came up with a framework (see sidebar) for a common understanding. Dajani says, "Now when the CPAC member CIOs talk about insights, we talk about it in the same way. That to me is a big win. I feel we need to get everybody in the CPG industry thinking the same way and using the same vocabulary, then we can advance."
Inevitably the question of rivalry has to come up. If companies are defining things the same way and using the same solutions, then how do you gain competitive edge? Dajani says, "Ability to execute." Using an aspect of data insights as an example, he points out that if Kraft implements a Demand Signal Repository (DSR), and the same DSR functionality is delivered by SAP to all of its peer companies, success depends on how quickly insights are gathered and how well Kraft leverages the data and makes it actionable. "A new insight might drive a new product in a new market, or in a new category, and it's really about how quickly we can get that product on the shelf," he says.  
Certain software, Dajani continues, is not going to give you differentiation, but how you use the software will.  He says he thinks of software as an organizational structure - the organizational structure is not going to give you an advantage or disadvantage. "How you lead within that structure is what's going to make a difference," he concludes. The foundation for this success goes back to having an IT organization that works hand in hand with the business units like at Kraft.
Going Forward
Dajani calls Kraft's use of technology "opportunistic." He says, "There are cases where if we need to exploit technology, we exploit it. Then there are cases that are simply about pure efficiencies. One area he is especially focused on is end-user productivity. "This is one of the biggest things on my agenda this year," he indicates. A lot of new tools to support this have been rolled out already  -  for example, a new search engine from Microsoft. They also will move to SharePoint 2007 and implement an internal social networking tool that will better enable collaboration.
"Cleaning up the back office, shaping the front office, changing the culture in end-user computing and collaborating on industry initiatives - this is very big year, a critical cultural change for us," he affirms. Looks like that last 1 percent of households won't be far behind.