Kraft Foods Drives Change
Get great content like this right in your inbox.
Subscribe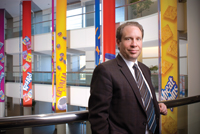 For a company of
Kraft Foods Inc.'
s size, moving product is no small task. In the United States alone, 500 shipping points support more than 6,000 destinations. Initiatives to centralize the company's transportation planning and execution operations in the United States started in 1997, and Kraft has continually sought ways to optimize and improve the basic benefits of a transportation management system (TMS) ever since.
"To keep it simple; we aim to deliver our products at the lowest store-landed cost while balancing inventory and customer service requirements," says Philippe Lambotte, senior vice president Customer Service and Logistics for Kraft, who oversees the customer supply chain from plants to customer warehouses/shelves for its direct store delivery system.
Lambotte adds that an effective logistics strategy is also critical for Kraft to meet its aggressive sustainability goals, which include reducing global energy usage by 25 percent, energy-related CO2 emissions by 25 percent and manufacturing waste by 15 percent by 2011 (using 2005 as a base).
For Kraft, helping to achieve these goals by way of transportation management means working to significantly reduce the total distances traveled, streamlining its delivery routes and making the most of truck loads.
Raising the Bar
In order to continuously drive cost and service improvements in both its refrigerated and dry transportation networks, Kraft determined that a new TMS would help raise the bar in terms of the dynamic management of freight movements.
Lambotte adds, "While we were satisfied with our scale, Kraft moved to a shared service transportation concept end of 2007, which required more detail on the cost to serve for each of our businesses [cheese, beverage, snacks, etc.] than the current TMS could provide."
This was part of a worldwide strategy to create empowered business units supported by shared services, logistics being one of them. The business units own the total profit/loss for their products, and the shared services provide the scale.
After performing a detailed comparison of software packages available in 2006, Lambotte and his team chose
Oracle
Transportation Management (OTM) because it offered a "more holistic approach to transportation and the most flexible application architecture." A part of Oracle Supply Chain Management, OTM is the re-branded transportation management system that Oracle acquired when it purchased G-Log in November 2005.
The multi-year implementation of OTM for planning and execution was conducted in a phased approach across all U.S. locations for Kraft's internal or customer pick-up and delivery sites. "The scale of our business drove many systems and applications challenges since we have more than 2,500 trucks on the road each day, and most processes had to be totally automated," says Lambotte.
To overcome these challenges, Kraft personnel and Oracle consultants worked closely to develop enhancements and functionality that met the company's requirements, all of which are now part of the standard offering.
Specifically, the two companies co-developed an innovative cooperative routing feature that allows Kraft to identify recurring shipment patterns that can be handled by the same equipment and driver, starting and ending at the same equipment depot.
The end result is that planners can perform strategic analyses of Kraft's complex and dense network of locations and shipments, and identify ways to create more efficient routes for its fleet vehicles as well as contract carriers. Kraft now uses cooperative routing capabilities on a day-to-day basis as part of its operational planning and execution processes.
A New Network
Today, the new TMS integrates with Kraft's
SAP
ERP system and is used for automated planning of full truckload orders that meet specified criteria upon order creation. On the planning side, Kraft also leverages shipment pooling, multi-stop and capacity capabilities. The system also provides the company with carrier commitments (daily counts and allocation percent by carrier/lane), EDI and fax-based tendering, as well as enhanced freight payment and audit functionality.
Live since the end of 2007, Kraft is realizing benefits from its TMS implementation and corresponding business processes.
From a planning and capacity standpoint, OTM allows the planning team to be more proactive and less reactive given the ability to forecast future needs based on information received from the integration with SAP ERP. The company has also experienced improved levels of customer service to internal locations and external customers through improved metrics.
Enhanced freight payment and audit capabilities have increased options to negotiate rates and pay invoices accurately; upped the percentage of automated payments; accelerated exception resolution; and improved allocation of costs associated with different products. Overall, these new capabilities have helped to increase the efficiency of the payment team, allowing them to bring on more business with the same number of or fewer people.
In transportation execution, Lambotte says that compliance among truck drivers to routing guides has improved. And, using the cooperative routing functionality, an increased percentage of lanes are now engineered as cooperative routes that begin and end at or near the starting point. This ensures "full trucks that never stop," says Lambotte, who also reports that the technology needed to automate the identification and execution of cooperative route orders was coming on line at press time.
"We believe we can move from approximately 12 percent of our volume moving on cooperatively routed lanes to a possible 30 percent," he reports. As cooperative route benefits increase over time, Kraft will consider rolling out the application to other locations around the world.
Supporting Sustainability
Kraft has created a framework that builds sustainability into the beginning or design of any given project. Sustainable logistics has been identified as one of six key areas that when managed efficiently can help to achieve Kraft's sustainability goals throughout its entire system -- from farm to fork.
The company already requires that its carrier partners be SmartWay certified by the United States Environmental Protection Agency. This program identifies products and services that reduce transportation-related emissions. Kraft has also equipped private fleet trucks with a mechanism that reduces consumption during idle times.
Now, equipped with cooperative routing capabilities, "our new transportation management system is a cornerstone of our sustainability efforts. We are able to drive out empty miles [more than 500,000 miles were reduced in 2007] and minimize fuel and emissions," reports Lambotte.
"Overall, this transportation management project has allowed us to create unique capabilities for our business units and customers, allowing Kraft Foods to balance cost and service in a sustainable manner. We believe this will raise the bar of our performance levels for years to come," closes Lambotte.
About Kraft Foods
Kraft Foods (www.kraftfoodscompany.com) makes today delicious in 150 countries around the globe. From American brand icons like Kraft cheeses, dinners and dressings, Maxwell House coffees and Oscar Mayer meats, to global powerhouse brands like Oreo and LU biscuits, Philadelphia cream cheeses, Jacobs and Carte Noire coffees, Tang powdered beverages and Milka, Cote d'Or, Lacta and Toblerone chocolates, Kraft's brands deliver millions of smiles every day. Kraft Foods Inc. (NYSE: KFT) is the world's second largest food company with annual revenues of $42 billion. The company is a member of the Dow Jones Industrial Average, Standard & Poor's 500, the Dow Jones Sustainability Index and Ethibel Sustainability Index.
In February 2009, Chairman and CEO Irene Rosenfeld unveiled the new Kraft Foods, just two years into a three-year turnaround plan that was launched to return to sustainable growth. Three new ingredients have been added to the company's recipe for success: A higher purpose that acts as a common call to action; values in action that guide behavior; and a new look and feel to visually depict Kraft's renewed energy.
New Purpose: Make Today Delicious
New Values in Action: Drive a High-Performing Culture
New Corporate Identity: Kraft Foods gave its corporate logo a facelift (pictured left) that features a smile, the natural reaction to delicious foods and experiences, and a colorful flavor burst.