J&J Brings Tech-Driven Startups to NYC
Get great content like this right in your inbox.
Subscribe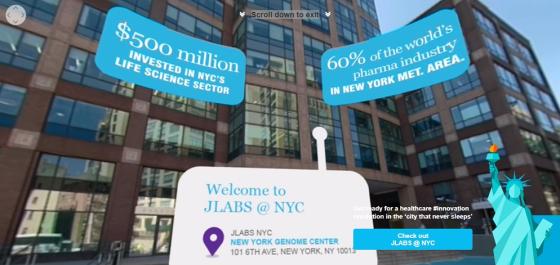 This month, Johnson & Johnson Innovation LLC unveiled "JLABS @ NYC," a 30,000-square foot space dedicated to "early stage" companies specializing in the biotech, pharmaceutical, medical device and health tech industries. The collaborative effort involves Johnson & Johnson Innovation, New York State and the New York Genome Center.
The project is housed in the New York Genome Center in the city's SoHo neighborhood. To date, it is home to 26 companies that are using analytics, artificial intelligence, blockchain and other technologies and scientific disciplines to advance healthcare (see the list below). The space accommodates up to 30 entities.
Part of the $70 billion-plus J&J empire, Johnson & Johnson Innovation focuses on forming collaborations between entrepreneurs and the company's various global healthcare businesses.
JLABS is a global effort involving more than 370 companies. Its flexible platform is designed to provide startups with large-company advantages while preserving an entrepreneur's equity and developmental freedom. This includes alleviating the cost constraints that often slow down or halt sorely needed health care initiatives.
"For too long, patients and consumers have not fully benefitted from the incredible genius throughout the world," said Melinda Richter, global head of JLABS. "New York and its environs are home to some of the greatest minds in scientific innovation. By opening up vital industry connections, entrepreneurial programs and a capital-efficient, flexible platform to help alleviate the cost burden, NYC will light up our world."
"This new 21st century incubator supports our efforts to boost economic growth by investing in cutting-edge research and technologies that advance health," said New York Governor Andrew Cuomo. "By investing in JLABS @ NYC, we're connecting early-stage companies with the tools, resources and networks to succeed while enhancing life sciences."
Work done at JLABS @ NYC complements that of the New York Genome Center, whose role is to translate genomic research into new diagnostic tools and treatments.
Among the current JLABS @ NYC residents that are applying analytics, AI and blockchain to advance medical science include:
A2A Pharmaceuticals' mission is to leverage proprietary computational systems, including AI

,

to accelerate development of novel drug alternatives for life threatening diseases.
Envisagenics' AI platform analyzes RNA-sequencing data to develop cures for diseases caused by splicing errors.
EpigenCare measures skin quality and matches profiles to existing products on the market with direct-to-consumer skincare tests based on epigenetic markers and blockchain technology

.

Fited automates the creation of custom-fit medical devices using patient photos and medical images. An end-to-end digital and AI-driven design platform "learns" the skills of the people who manually create braces, orthosis, prosthesis and implants today.
Mymee's Digital Therapeutics program reverses the symptoms of chronic autoimmune disease through data analytics and health coaching, thereby reducing or eliminating the need for expensive drugs.
Savor Health addresses the nutritional issues of cancer patients through an AI-based care platform.
While J&J has a "hands off" policy regarding the work of JLABS residents, future acquisitions are probably not out of the question. In 2017, J&J's free cash flow reached $16.8 billion, putting it in a very strong position to invest in and acquire smaller companies, said analysts. And in recent years, many of its top-selling prescription drugs have been threatened by cheaper generics.
JLABS also has facilities in San Diego, San Francisco, South San Francisco, Boston and Lowell, MA, Houston, Toronto, Shanghai and Beerse, Belgium. All locations are accepting applications from biotech, pharmaceutical, medical device, consumer and health tech companies.