EY Names Spins' Olson an 'Entrepreneur of the Year'
Get great content like this right in your inbox.
Subscribe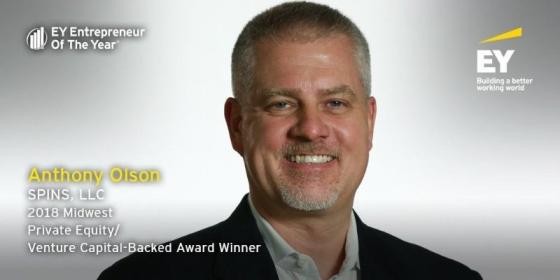 Tony Olson of Spins received the Entrepreneur of the Year 2018 Award in the Midwest. The award, presented by EY, recognizes entrepreneurs who are excelling in areas such as innovation, financial performance and personal commitment to their businesses and communities. Olson was selected by an independent panel of judges, and the award was presented at an event on June 13 at Navy Pier in Chicago.
During Olson's acceptance, he recognized the pioneers of the Natural and Specialty Products Industries – the early farmers, brands and retailers who sparked the change in the North American food-supply system for a cleaner and more transparent chain. Today, Olson and his more than 250 employees are proud of helping lead the industry toward a more vibrant America, by increasing the presence of natural, organic and specialty products across the retail landscape.
"This industry started out with a few idealistic entrepreneurs who set out to change the food-supply system in North America," said Olson. "To get rid of products with artificial colors, flavors, and ingredients and replace them with clean products that are transparent and good for the planet, leading to more vibrant living through good nutrition. I want to give a shout-out to those folks."
"Spins is at the starting point, and we are excited about what the future holds," he mentioned regarding the evolution of Spins alongside the industry and its plans for significant growth.
When Olson assumed ownership of Spins in 2004, its success was far from assured. Today, he and his team serve more than 100,000 store locations with the health and wellness expertise brands and retailers need to compete in a revolutionized marketplace. 
In addition to serving as CEO of Spins, Olson champions a corporate wellness program, Vibrancy360, which drives a multi-faceted approach to health and facilitates community service across the greater Chicagoland area. Also a co-founder of Salt & Light Coalition with his wife Izabel Olson, Ph.D., his impact is local and global, healing and empowering survivors of human trafficking in Chicago, as well as opening the Salt and Light Academy in Myanmar in April 2018.
"Every year, we are impressed by the ingenuity, passion and undying optimism exuded by the entrepreneurs we meet and honor through this awards program. They don't follow trends — they define them. EY is proud to celebrate the Midwest Finalists in this year's Entrepreneur of the Year program," said EY's Midwest Program Director, Lee Henderson.
As a Midwest award winner, Olson is now eligible for consideration for EY's Entrepreneur of the Year 2018 National Awards. Award winners in several national categories, as well as the Entrepreneur of the Year National Overall Award winner, will be announced at the gala event this November in Palm Springs, California.