The DAM Truth About E-Commerce
Get great content like this right in your inbox.
Subscribe
Future retail success depends on 'digital asset management'
Additional Resources
Shopper Marketing sister publication Consumer Goods Technology covers the DAM/PIM needs of consumer packaged goods marketers and retailers on a regular basis.
Straight Talk: Breaking Down PIM Myths
Click on attached files at right.
Did you meet that June 1 deadline for the Walmart Store Assortment Online Initiative? What about your category deadline for the Kroger Program Mercury effort? And has anyone provided the redesigned packaging images to Amazon yet?
If questions like these aren't yet keeping you up at night, then you probably need to spend at least a few days re-evaluating your current e-commerce strategy. E-commerce is key to the future of consumer products, and the road to e-commerce success – or ruin – is paved with product data. Ensuring success will rely on effective digital asset management (DAM).
"At every stage of the journey, the role of information rises to the top of the list of what's important to shoppers," concludes the 2015 "Pulse of the Online Shopper" report from comScore Inc. and UPS. In fact, 73% of the 5,000-plus online shoppers surveyed in the report called "detailed product information" important to their selection process.


On the flip side, 66% of digital shoppers say they abandon a website if they don't find the information they need, according to Salsify, Boston, and 87% say they're unlikely to buy from a brand again after experiencing inaccurate product data, according to Chicago-based Shotfarm. Both companies are specialists in product information management (PIM).
"If you look at it from the consumer perspective, there are things [shoppers] do in the store, like picking up the package, that make them feel comfortable with their purchases. Online, we have to provide all the content they need to make them feel just as comfortable," says Dan Toporek, vice president of PR/corporate communications for Walmart Global eCommerce & Technology.
"The quality and completeness of the data submitted is the single biggest influence on your sales growth and brand loyalty," Walmart stated in an August 2015 letter to suppliers about the aforementioned initiative – the latest step in an aggressive plan that has taken Walmart.com's product library from 2 million to 9 million units in just a few years.

That's because, as Toporek notes, product information on Walmart.com also impacts the retailer's brick-and-mortar sales. Deloitte finds that 64% of all in-store sales are influenced by digital activity. And Field Agent finds that 84% of consumers research a product online that they plan to buy in a store.
Yet some product manufacturers are still hesitant to allocate the resources needed to ensure that their product content is accurate and consistent across the digital universe. And if manufacturers don't supply the content themselves, retailers are forced to "cobble it together, which leads to an incomplete/inconsistent digital shelf and a poor shopper experience that impacts sales for everyone," says Michael Murray, CEO of content builder itemMaster LLC, Skokie, Illinois.
The problem is widespread: an estimated 33% of abandoned digital shopping carts are caused by incorrect or misleading information. And some experts estimate that nearly every product detail page contains some type of data error.
"We spend so much time making sure that we've got the greatest packaging on the shelf," says Steve Kinsey, manager of digital shopper marketing & e-commerce strategy at GSK Consumer Healthcare. That same level of care and control needs to be exercised online, experts say.
"This is the digital extension of your packaging and your shelf space," says Natalie Williams, North American product leader for reference data at Nielsen, New York. "You need just as impactful an experience in both environments. It erodes your brand equity if you're not consistent."
In addition, it's difficult to begin developing a merchandising plan for the "digital shelf" or undertake advanced shopper marketing activity if you're stuck dealing with the accuracy of packaging images and product descriptions. "You can't start determining effective content strategies if you're constantly dealing with factual errors," says Danny Silverman, senior vice president of customer strategy at e-commerce analytics specialist Clavis Insight, Boston.
To use a common phrase in the marketplace, what product manufacturers need is a "single version of the truth" for their data, a central repository of highly accurate information that can be easily managed and distributed.
That goal is made even harder to achieve "because in e-commerce, there's one truth for Walmart, one truth for Amazon" and so on down the list of top retailers, says Rob Gonzalez, co-founder of Salsify. "So there's really one central source for truth" that must then be connected to systems that can modify and distribute content appropriately and efficiently to meet the needs of various retailers.
"Every retailer has slightly different requirements when it comes to the data and images they want and how they would like to receive them," says Jen Brevick, director of e-commerce for Coca-Cola Co. "Our challenge as manufacturers is to understand these requirements and create ways to meet them."
Getting Content With Content
There are four general content types that collectively drive success in e-commerce:
1. Basic product attributes. This is the standard supply-chain data that manufacturers have provided retailers for decades to classify and categorize products: item number, weight, package size, item price and basic description, along with a packaging graphic or two.
"Most manufacturers probably have 90% of this data in-house already – they just don't know where to find it," says Kara Romanov, managing editor of Consumer Goods Technology, a Stagnito + Edgell publication. "IT probably knows where it's all hidden."
2. Additional basic information. The rest of the product information that resides "above the fold" on a typical product detail page. It includes more descriptive information such as benefits and claims, additional graphics (maybe even a 360-degree package view) and perhaps some "marketing color" like "Why Buy" bullet points.
"You want to get these first two elements disseminated as broadly as possible," Kinsey explains. "The first is to help retailers categorize and index the item, the second is to give consumers the information they need to research or buy the item."
3. Enhanced content. The more extensive information and elements that, for instance, would make up an A+ page on Amazon.com: product usage info, how-to videos and other consumer information that can help influence purchase.
Here's where data analytics and digital shopper marketing come into play. But some of the largest and more advanced product marketers admit to having done little in this area thus far – because they're still getting their arms around the basic data.
4. Search-driving content. The visible and invisible content that your search-engine optimization agency is already providing (hopefully). The other relevant words, related need-state phrases and common misspellings that get your products onto the crucial first page of results.
Here's where the e-commerce "flywheel effect" comes into play, because the quality and quantity of content from the first three buckets improves the product's standing in search results, which leads to more page views and sales – which then improves search results even more.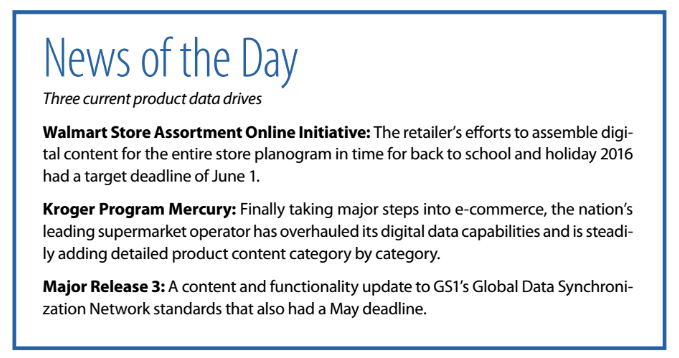 Steps to Success
After you throw in the crucial need for retailer-specific data, the roadmap for digital asset glory consists of four steps that likely will require more internal resources than you're currently devoting, as well as assistance from at least a couple of outside vendors.
1. Collect and/or produce all the necessary content assets. For manufacturers, building the initial database hasn't been as easy as it might seem. "The content was everywhere – some of it was on manager desktops," remembers Michael Callahan, director of e-commerce for kitchenware manufacturer Groupe SEB, about his earlier days helping appliance maker Jarden Consumer Products build up its online capabilities.
"When it came time for a lot of manufacturers to digitize their assets, they realized that their content was located all over the world under people's desks," says Gonzalez at Salsify. "If you have multiple siloed systems, it can be a total mess."
Once you collect all the data, it then needs to be modified for e-commerce purposes: That "KFT M&C" listing might work fine for supply chain needs, but it won't help an online shopper much. And you'll also need a process for tailoring the data to meet retailer-specific needs.
Who should be involved in content development? Everyone. Shopper marketers often end up doing much of the work "because they care," says Murray. And the account-specific tailoring is often left to the sales teams. "But leadership at the highest levels of brand ownership must be hands-on, too, to ensure that the brand is well presented everywhere," Murray says.
This need for cross-functional alignment led digital content developer WhyteSpyder, Fayetteville, Arkansas, to coin (and service-mark) the term "Markendising" to reflect the idea that digital content development "is a new job category," chief executive officer Eric Howerton says. "Merchandising is focused on the retailer. And marketing is looking at global messaging. You need someone to focus on data and content for the omnichannel shopper."
Ultimately, the work " really is just rolling up your sleeves," says Callahan. "We were data dumping everything we could find [at first] so we could see the total landscape, and then we started evaluating and deciding what we needed."
2. Store and maintain the data. This requires a DAM that, ideally, isn't unique to e-commerce but constitutes an enterprise-wide system that can satisfy all of the company's content needs and, therefore, facilitate cross-functional assimilation and alignment.
"You need a single version of the product truth, but with content that's diverse enough to feed all the different systems," says Susan Sentell, CEO at Gladson, Lisle, Illinois, a leading vendor for basic content development (see box, below) and distribution.
Although the terms are somewhat interchangeable, there is consensus for using "DAM" in reference to internal systems for storing and maintaining digital assets and "PIM" for the systems that will effectively deliver the content to other parties. And then there's "master data management" (MDM), which refers to the enterprise-wide systems that house all of a company's business data.
So, ideally, your e-commerce DAM is at least compatible with the MDM if not an actual component of it. Among the leading providers of product data management cited in Stamford, Connecticut-based technology consultant Gartner's latest "Magic Quadrant" are Stibo Systems, Riversand and Informatica. StyleLabs, King of Prussia, Pennsylvania, is among vendors focused on marketing-specific DAMs.
"There are many potential uses for the data: customers, business users, trading partners, stores, distribution centers, legal/regulatory, merchandising/selling, analytics, our manufacturing plants, corporate brands, etc.," Chris Kirkland, business solutions architect at Kroger, told Consumer Goods Technology to explain the broader impact of the Program Mercury effort. "All of these groups benefit by a much richer set of data."
3. Supply the right data to each retail partner. This will require a PIM that can seamlessly accept content from your DAM – if it doesn't also serve as your DAM – and deliver it to all necessary parties, hopefully tailoring it to whatever specifications might be needed. (For that last task, working with one of the retailer's preferred suppliers often is the easiest way to go.)
"We're doing as much as we can to support our retailers. But retailers need to set up the necessary infrastructure," says Callahan.
The larger retailers typically have (or are building) systems that facilitate direct data input if manufacturers want to go that route. For that option, Shotfarm's Lapchick offers this scenario: A sporting goods manufacturer has two major sales seasons and 15 major accounts. Feeding all of the necessary content to those accounts takes roughly 3,000 hours, or 1.5 employees. But the vast majority of the workload must occur over two six-week windows. "And, there are 110 additional accounts to worry about," Lapchick concludes. "So how do you staff for that?"
Walmart, for one, has been trying to streamline the process for manufacturers, Toporek says. It has identified a number of preferred content service providers. It's also built up the internal team and later this year will roll out a new supplier portal that makes it easier for vendors to enter information directly, he says.
4. Maintain consistency and accuracy. Keeping your content correct and up to date calls for vigilance and diligence. That's where data tracking and analysis shops such as Clavis, San Francisco-based Content Analytics and Profitero, Dublin, Ireland, provide assistance.
Before launching a new information portal in summer 2015, Target told product suppliers that it was losing millions in sales because only 50% of item setups were error-free and implored them to "elevate the importance of implementing your own data quality and process improvements."
And now retailers and other content providers like Amazon and Google are beginning to realize that analytics are a carrot they can use to entice manufacturers to provide better content. (Google wants to beef up the content in its Google Shopping network).
Tips for Getting Started
If it hasn't been made clear yet, fully acknowledging the vital need to develop a strong process for digital asset management right now is the simple, but critical, first step. Continuing to allocate resources based on current sales volume will likely cost you future sales. (It might also be why your current online sales are so low.) Some companies are still tapping one or two people to "take care of e-commerce" for the entire organization.
In his three years at Jarden, Callahan helped the e-commerce team grow from two people to 15. He then moved to Groupe SEB – and another two-person staff. "But we have a lot of cross-functional support for Amazon and are doing very well there," he says. "And the company knows we now have to focus on all the dot-coms. We'll get there."
The necessary resources more than likely will also include at least a couple of third-party vendors. As GSK built its capabilities, "we quickly realized that some of this knowledge wasn't in-house. But there are experts out there," says Kinsey.
Finding the right vendors is "a challenge" that "requires the engagement of several internal departments and experts to get the right provider," adds Brevick.
Manufacturers who've been at this awhile also suggest taking things one step – or one retailer – at a time. Start with the products that have the greatest online sales potential. And making the vastly demanding (but strategically crucial) Amazon your first mountain to climb is a solid plan. The wealth of data Amazon requires will give you a strong foundation – and many of their practices have become de facto standards across the industry anyway.
Finally, do your homework. Vendors in the space are producing a wealth of (mostly) objective information that can help marketers get a handle on the tasks to undertake and even help compile the data points needed to secure more internal resources. (To get started, visit P2PI.org/digitalassets for a list of relevant articles and reports.)
"Developing capabilities around content takes a long time," concludes Brevick. "To do it right, there are many departments involved – from IT and design to e-commerce and sales. Plus, there are external partners that retailers rely on that need to be considered."
"It's complicated, but it's rare that we get a chance to be on the cutting edge," says Kinsey at GSK. "I'm fascinated by the confusion. It's fun to watch things evolve."