03/18/2010
Welch's Takes Control of Data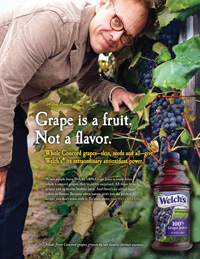 With products sold in more than 50 countries worldwide,
Welch
's faced an increasing number of supply chain challenges related to the management of high-volume incoming and outgoing perishable goods; expanding product lines; rigorous lot tracking requirements; and evolving customer demands. The company's production facilities were collecting more information on the flow of materials and inventory than ever before, and they needed an effective, accurate method for collecting and managing this data. Moreover, accelerating the speed of transactions from the order of raw materials through shipment of final product was critical to achieving lean, streamlined operations.
Welch's had recently implemented Oracle Process Manufacturing (OPM). In order to fully leverage this new enterprise system, the company needed to automate the cumbersome, manual processes that were slowing things down on plant floors. For Welch's, it was critical that the supply chain solution not only meet the company's functionality requirements, but also integrate seamlessly with OPM, thus minimizing operational disruptions. In addition, Welch's required the following capabilities:
Improve inventory data integrity and accuracy
Increase speed of reporting processes
Reduce inventory, produce accurate on-time deliveries
Provide management with better visibility from order through delivery
Streamline inventory and warehouse processes
Enable data synchronization, as required by an increasing number of customers
Provide electronic capture of critical business data at time of creation
All Systems Go
Welch's selected the TAKE Supply Chain Gemini for OPM mobile software solution. Welch's concurrently implemented TAKE's Compliance Label Manager (CLM), a barcode and radio frequency identification label management solution that automates labeling processes without the need to invest in custom code, consulting or new infrastructure.
It was essential that the system go live immediately in order to limit downtime. The two companies worked together for four months prior to implementation preparing all of the systems and data transfer.
"The data collection system needs to be built and configured using a 'floor to the store' philosophy" says Gordon Conkling, business process specialist, Welch's. "A successful approach to implementing and designing the system will be focused on the customer requirements and management expectations." 
As a result of the seamless data execution, the entire system was deployed in just three days and met management's expectations.
"The activities required to collect the data on the floor should support management expectations for efficiency, accuracy, reporting and other ERP modules requirements," advises Conkling.  
Benefits Abound
Today, Gemini controls inventory data collection and management across Welch's entire product line of juices, spreads and fruit products. Welch's has improved operational control, inventory accuracy, visibility and order fulfillment by automating processes across three production/warehousing locations nationwide. The system captures data across all plant functional areas, including receiving, processing, packaging, warehousing, maintenance and quality.
Currently, Gemini enables the company to trace lots and batches within 24 hours providing visibility greater than 99 percent of the time with inventory accuracy rates exceeding 99 percent.
In addition, the system has enabled Welch's to gain control over product compliance -- a significant feat considering ever-increasing food safety regulatory requirements. 
---
FAST FACTS
Company at a Glance
Headquartered in Concord, Mass., Welch's is the processing and marketing subsidiary of the National Grape Cooperative. It is owned by nearly 1,200 family-farmers across America and in Ontario, Canada, who are responsible for growing the Concord and Niagara grapes, which are pressed to produce Welch's juices and other grape-based products. 
Supply Chain Success
Today, Welch's is able to trace lots and batches within 24 hours, providing visibility greater than 99 percent of the time with inventory accuracy rates exceeding 99 percent.