Readers' Choice Survey 2019: Outsourcing/IT Integration
Get great content like this right in your inbox.
Subscribe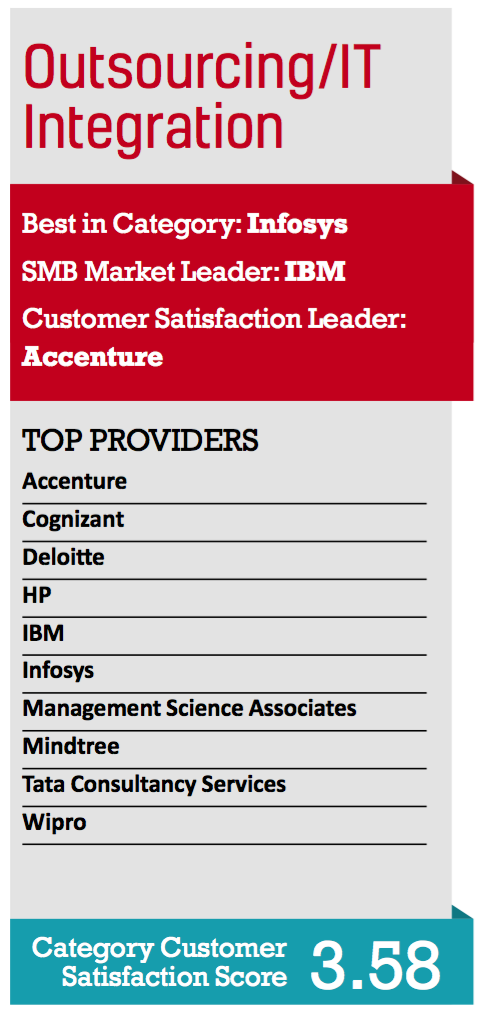 The CGT community's preferred providers of business outsourcing and/or IT services and integration.
Best in Category: Infosys
The company received high praise from several respondents in earning Best in Category honors this year. One CGT reader named Infosys his most valuable IT partner "due to their level of integration and their extensive capabilities." Another called the company "a strategic partner that ... has demonstrated value for more than 10 years."
Infosys is building out a four-pronged corporate strategy that seeks to scale its agile business, energize its core, reskill its workforce and localize operations, the last of which led to opening facilities in markets across the U.S. In 2018, Infosys launched a new Microsoft Cloud Business Unit and a partnership with Google Cloud to develop transformation and migration services for clients.
SMB Market Leader: IBM
The company is deeply involved in digital transformation projects, including adoption of cloud architecture for core infrastructure. (One survey taker was "satisfied so far" with its work in these areas.) IBM's overall commitment to cloud-based business became pretty evident last fall, when it announced plans to acquire open source cloud software provider Red Hat for $34 billion.
The company also recently announced completion of more than 100 successful SAP S/4HANA implementations (including supermarket chain Smart & Final), along with a slate of new advanced features for its on-premise private cloud platform that include the integration of powerful AI capabilities.
Customer Satisfaction Leader: Accenture
Why did Accenture earn this year's Customer Satisfaction recognition? Maybe because it simply provides "good customer service," as one survey taker said. (The company scored a 3.75/5 rating overall.) Accenture has been recognized specifically for its efforts assisting clients with large-scale SAP and Oracle implementations.
In 2018, Hershey Co. tapped the company to lead its SAP S/4HANA implementation, the goals of which are to streamline manufacturing and supply chain processes, gain real-time customer insights to inform decision making, and accelerate revenue-generating innovation to drive growth. Elsewhere, AB InBev is leveraging Accenture's NewsPage Distributor Management System to better manage sales and distribution operations in Africa, and also engaged the company's implementation services in a three-year contract.
Noteworthy: Mindtree
Mindtree offers a broad range of outsourcing and IT integration services. One extremely satisfied Reader's Choice respondent specifically noted that the company "helped us revolutionize learning through gamification." Mindtree has been investing in an "automate-everything," platform-based approach, which it says has driven larger deals and more industry recognition.
A key priority has been finding innovative ways to reskill the workforce to help staffers succeed in the modern information economy. Among recent client efforts was the digital transformation project it handled for a multi-national CPG to align its marketing channels, and the development of a robotics-driven automation process for a UK-based CPG's distribution network.