Readers' Choice Survey 2019: Consulting
Get great content like this right in your inbox.
Subscribe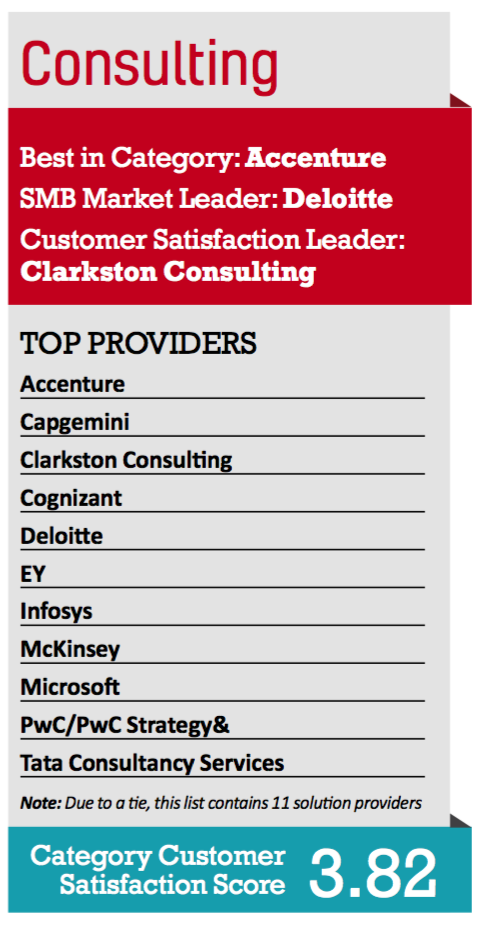 The CGT community's preferred providers for third-party strategic and tactical consulting services.
Best in Category: Accenture
Accenture once again earned Best in Category honors by offering services that span retail execution, promotion management, front office and goods mobility solutions, and store compliance. One client cited the firm as its most valuable partner overall "because they understood our retail execution strategy and are helping us execute with high standards and scale." Carlsberg engaged Accenture to transition its IT infrastructure to the public cloud as part of the beer maker's strategy to be an intelligent, digitally enabled, connected enterprise.
Accenture has cited three trends heavily impacting the rules of the game for CG companies: the need for frictionless business, data veracity and citizen AI (the last referring to the ways in which AI can benefit society as well as business).
SMB Market Leader: Deloitte
Startups are disrupting many traditional consumer goods categories, but as they grow they begin facing many of the same challenges as legacy enterprises. SMBs have been turning to Deloitte in large numbers to help them tackle challenges in human capital, strategy and operations, and technology. Flour supplier Ardent Mills tapped Deloitte to help it undergo a technological "transformation at startup" when it launched several years ago by combining several existing companies.
In 2018, Deloitte enhanced its internal services by establishing partnerships, such as an alliance with Blue Prism that brings robotic process automation to clients, a collaboration with Google and SAP to jointly develop cloud strategies, and a move to become an Amazon Web Services partner.
Customer Satisfaction Leader: Clarkston Consulting
Clarkston again topped the Customer Satisfaction rankings in the Consulting category with another score that was a full point higher than the category average. One respondent offered the following praise: "Exceptional bench strength and process knowledge, a true business partner and willing to have the hard discussions when required."
The firm was called out by Gartner for its work in helping consumer goods companies drive digital transformation through upgrades to the SAP S/4HANA ERP platform. During 2018, Clarkston announced a partnership with cloud-software provider Veeva Systems to help clients mitigate the risks driven by more stringent, tighter quality regulations while providing demonstrative evidence of quality management. Clients include Coca-Cola and L'Oréal.
Noteworthy: Tata Consultancy Services
Digital transformation has been a huge growth driver for TCS, which works with large retailers including Best Buy and The Home Depot as well as wholesale distributor and retailer ALDO Group. The fast-growing firm offers CG companies a range of IT services and solutions; recent projects included an SAP implementation for a global toy manufacturer, a cloud-based TPM makeover for a food manufacturer, and a cloud-based digital platform for a global food ingredient maker.
TCS was recognized by Gartner as a "Magic Quadrant Leader" for data center outsourcing and hybrid infrastructure managed services last year, due automation in part to its new cognitive business operations unit, its cognitive automation on platform, and its enterprise intelligent automation business.