02/21/2019
Readers' Choice Survey 2019: Cloud-Based Architecture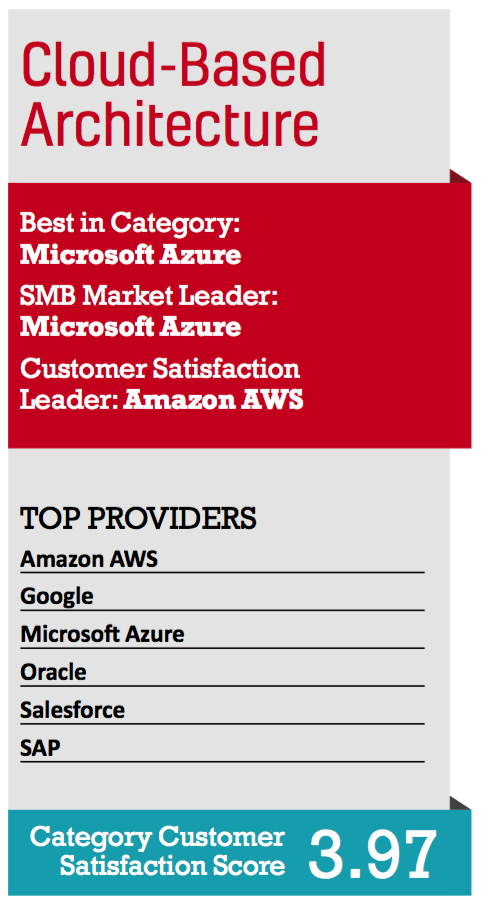 The CGT community's preferred providers of cloud computing platforms that allow companies to collaboratively store, share and develop business-critical data and other information.
Best in Category, SMB Market Leader: Microsoft Azure
Consumer goods companies of all sizes are fans of the Microsoft Azure cloud platform, leading to its success as both overall category leader and SMB vendor of choice. Survey respondents praise Azure as "a good platform" that is "pretty easy to use and stable," as well as "easy to integrate with our internal [internet download managers], since they [also] are Microsoft-based." One CG exec called Microsoft her most valuable partner "because we have been able to roll out cloud services (such as) Power BI and collaboration on SharePoint and Skype very quickly and economically."
In 2018, Campbell Soup Co. announced plans to modernize its information technology infrastructure by using Azure to streamline workflows and drive efficiencies. Beer maker Carlsberg Group and its partners will use Azure to accelerate innovation by leveraging artificial intelligence, DevOps and analytics. And Columbia Sportswear is leveraging Microsoft Dynamics 365 and Azure for its retail, call center, customer relationship management and merchandising operations.
Among a plethora of recent partnership news, JDA So ware will build software-as-a-service solutions on Azure, which now also is powering Nielsen Connect, the media and retail insights giant's enterprise data solution.
Customer Satisfaction Leader: AWS (Amazon Web Services)
In the second quarter of 2018, Synergy Research estimated that AWS enjoyed a 34% share of the cloud infrastructure market. While the solution's penetration of the consumer goods market isn't quite that high, it apparently has been satisfying the clients it does have: AWS scored a 4.4 rating overall. Among the companies who've chosen to run on AWS are Unilever, Dole, Ferrara Candy Co., Del Monte, Bose and McCormick & Co. "We've only begun to dabble, but pricing, scalability and management options are attractive," noted one CGT survey taker.
AWS announced several enhancements to the platform in 2018, including three new services to help clients build more quickly, new database capabilities, and deeper integration of mission-critical SAP applications.
Noteworthy: Google
A growing number of CG companies are choosing Google Cloud for its wide range of computing, storage, migration, database, networking, management and development products and services. Fans typically cite low costs and services that are "fast and easy to use, but data gravity plays a key role," as one survey taker stated. New announcements and releases in the last year included a new Global Partner Ecosystem structure, updates to the Cloud Spanner globally distributed relational database service, and the acquisition of DORA (DevOps Research and Assessment), a company specializing in exactly that. Clients include Barilla, Colgate-Palmolive and Johnson & Johnson.