Readers' Choice Survey 2018: Supply Chain Planning
Get great content like this right in your inbox.
Subscribe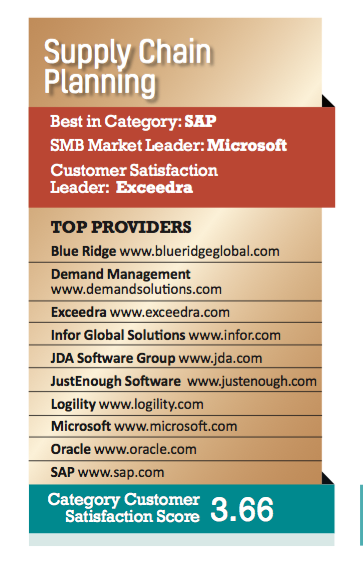 Best in Category: SAP
Not surprisingly, SAP's Readers' Choice supply chain dominance extends to the planning function (where we tracked its "Best in Category" wins all way the back to 2007). The company's Demand-Driven Business Planning solution provides a single platform to forecast demand and plan production, replenishment, transportation, inventory, and network design. Clients include Duzey Group, Vestel and Yorsan.
"The ability to integrate the entire supply chain in one application provides the most value for our organization," said one client respondent, while identifying SAP as its most valuable solution provider. In late 2017, the company extended its cloud-based SAP Integrated Business Planning suite to better accommodate collaboration outside the enterprise.
SMB Market Leader: Microsoft
Microsoft has now held the distinction of SMB Market Leader in three of the last four years. The business edition of Microsoft Dynamics 365 helps SMBs handle financing, inventory management, sales, purchasing, reporting and analytics, and project management (with operations "coming soon").
The company recently began bringing artificial intelligence into the Dynamics 365 capabilities set with chatbot and virtual assistant tools. The offerings are pitched as giving companies a chance to start easily and "grow easily" as business growth demands. "Our response me is so much quicker now, and that creates loyalty and happy customers," according to client Christopher Gates, business operations manager of Quantico Boot, in marketing materials for the platform.
Customer Satisfaction Leader: Exceedra
Exceedra has built a solid reputation in the CG market over the last two decades as it grew from a UK business to a multinational organization serving global customers. Those customers apparently like Exceedra's supply chain planning tools, since they came out to the polls in solid numbers and gave the vendor a satisfaction rating that was head-and-shoulders above the category average.
Designed exclusively for the consumer goods sector, the Exceedra Supply Chain S&OP platform supports demand and supply planning. The solution "allows us to forecast production plans and orders by day and SKU," said one client. "They provide us with full demand planning and investment appraisal in an effective tool," said another.
Noteworthy: JDA Software
JDA's Enterprise Supply Chain Planning and Optimization platform promises automatic, dynamic plan updates in real time. Top clients include Conagra Brands, Kraft Heinz and Hershey Co. The company's forward-thinking innovation initiatives include its own JDA Labs testing facility as well as JDA FLEX, a strategy for solution integration designed to implement current technology improvements and also identify future trends.
At this year's NRF Show, JDA announced a relationship with Mulesoft to power connectivity for digital supply chain transformations as part of the broader FLEX strategy for accelerated integration. JDA also recently struck a formal deal to help the Retail Industry Leaders Association develop best practices for digital supply chain transformation.