Readers' Choice Survey 2018: Product Information Management
Get great content like this right in your inbox.
Subscribe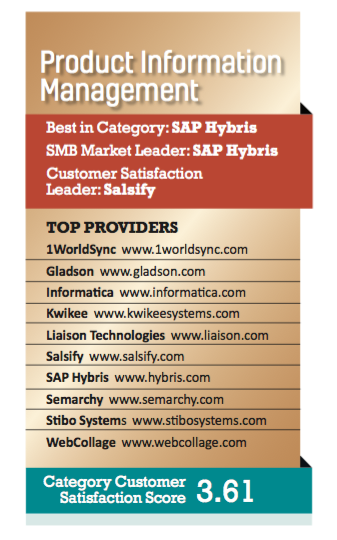 Best in Category, SMB Market Leader: SAP Hybris
SAP is the lone "major player" in a still-evolving and highly competitive technology category: Four of this year's vendors weren't on last year's PIM list. SAP Hybris' status is, of course, aided and abetted by its full-service e-commerce capabilities, not to mention its parent company: SAP continues to integrate the platform with its other key business technologies.
SAP Hybris Product Content Management (part of the Hybris Commerce Cloud stack) helps consolidate, structure and maintain a simplified, single source of truth that will satisfy a client's e-commerce needs but also fuel "omnichannel customer experiences" by providing enterprise-wide access for use in marketing campaigns and other activity. The platform also syncs with SAP Hybris Digital Asset Management by OpenText to create, store and share rich media. Clients include Henkel Corp., RB and Maui Jim.
In a survey conducted last year on behalf of the vendor, Forrester Research noted that the Hybris ecosystem "includes a large, global implementation partner network, which customer references lauded for its breadth and depth and high standards for inclusion." One of our survey respondents even declared that SAP Hybris' work in B2B content management "is analogous to what Amazon has done for the B2C market."
For the SMB market, SAP Hybris offers a scaled-down version of its feature- rich enterprise solution.
Customer Satisfaction Leader: Salsify
Additional evidence that the PIM solution category is still evolving is the relatively low customer satisfaction scores it gets. Salsify, which has earned a spot on the Readers' Choice list since CGT began showcasing the technology space in 2016, topped the ratings this year. Clients include such leading packaged goods companies as Mondelēz International, Coca-Cola Co. and Campbell Soup Co.
Salsify's customer base has grown by 95% recently; the company boasts that more than 60% of the world's top product manufacturers are now using its platform. To address that growth, Salsify increased its employee ranks by nearly 50% in 2017. Last fall, it became the first PIM vendor to let customers publish directly to Amazon Vendor Central within its platform through integration with the e-tailer's new API.
Noteworthy: 1WorldSync
The commercial offspring of the GS1 global data synchronization initiative, 1WorldSync has been a key vendor in the PIM market since the company launched in 2012. Its content management platform is designed for businesses to exchange authentic, enriched product content to meet the evolving demands of connected commerce. Clients include Kellogg Co. and Reynolds Consumer Products.
Near the end of 2017, 1WorldSync announced a strategic partnership with Label Insight to create a comprehensive solution for product data distribution and transparency. The agreement united 1WorldSync's extensive product content database with Label Insight's high-order attribute data to facilitate the global dissemination of comprehensive product information to retailers and, ultimately, increasingly discerning consumers.