Readers' Choice Survey 2018: Enterprise Resource Planning
Get great content like this right in your inbox.
Subscribe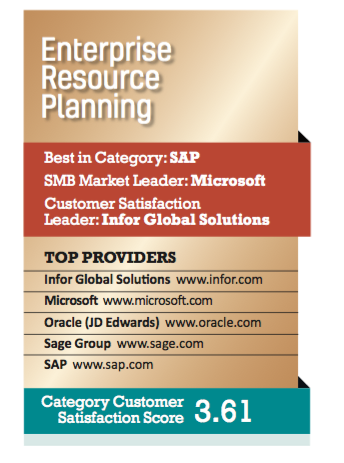 Best in Category: SAP
SAP is the perennial Best in Category for ERP solutions, this year garnering 45% of total respondents. The company will seek to maintain that hefty market share as it guides customers through a migration to the S/4HANA platform before phasing out other legacy systems by 2025. The world's largest public consumer goods company, Nestle, is already undertaking the move worldwide.
Released last September, the latest S/4HANA upgrade continues SAP's efforts to facilitate the real-time flow of information across the enterprise by adding new technologies such as IoT and AI. The platform "enables visibility, standardization, centralization and conformance across our dispersed global business," said one client. For small businesses, meanwhile, the vendor offers SAP Business One, which promises management of "every aspect" of the business with deployment taking as little as two weeks.
SMB Market Leader: Microsoft
It could be argued that, when it comes to SMBs, Microsoft is the "SAP of ERP," since the company accounted for 42% of the responses from small and medium-sized businesses this year.
Designed specifically for SMBs, the Microsoft Dynamics NAV platform covers all the ERP bases: financial management and accounting, business intelligence, manufacturing, supply chain, sales and marketing. The platform "is the lifeblood of our company systems-wise. Without it, we wouldn't be able to run," said one client, who selected Microsoft as his most valuable vendor. The newly released NAV 2018 includes a suite of AI-driven APIs for collecting data and consumer sentiment from text, audio and video.
Customer Satisfaction Leader: Infor Global Solutions
"Very satisfied" was how one client succinctly expressed his experience with Infor. The company's industry-specific CloudSuite series includes unique platforms for food and beverage, fashion, discrete and process manufacturers; SMBs get their own options as well.
At the 2018 NRF Show, the company celebrated the third anniversary of its Infor Retail division by touting the 2,500 fashion, grocery and retail clients it now serves worldwide. The CG client roster includes Tandy, L.L. Bean and Red Wing Shoe Co. Last summer, Infor launched Coleman, an artificial intelligence tool for the CloudSuite platforms that mines data and uses machine learning to improve processes and make business recommendations throughout the supply chain. In April, it acquired Birst, Inc., an advanced business intelligence platform and a pioneer of cloud-native analytics and data visualization.
Noteworthy: Oracle
Oracle has multiple horses in the ERP race. While most Readers' Choice respondents employ the JD Edwards EnterpriseOne platform, the company also offers a more-eponymous Oracle ERP as well as Oracle EPM (Enterprise Performance Management). It also owns NetSuite, the solution it acquired in late 2016 to move into the SMB market.
JD Edwards EnterpriseOne covers financial management, asset lifecycle management, order management and manufacturing management. Recent improvements have focused on mobile functionality via cloud architecture, IoT and real-time analytics. Clients include Pharmavite and Pernod Ricard. The NetSuite SMB stable features Lucky Brand, Topo Athletic and Asics.