Readers' Choice Survey 2018: Demand Data Analytics
Get great content like this right in your inbox.
Subscribe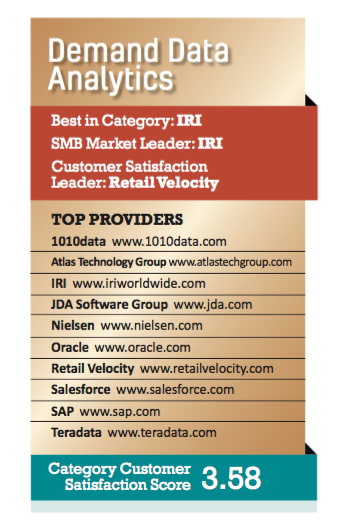 Best in Category, SMB Market Leader: IRI
IRI sits atop the Demand Data Analytics category for the second straight year. The POS data giant consistently broadens and improves its capabilities by moving into new sales channels, deepening its partnerships with retailers and strengthening its analytics prowess.
One major initiative in 2017 was building up e-commerce understanding, harmonizing actual sales data with proprietary panel data to provide a clearer view of a channel that's still pretty hazy; an alliance with Clavis Insight helps add some causal info to the equation. Key client wins during the year included Hershey Co., which will utilize IRI to "help us make faster and better decisions, so that we can target the right consumer in the right channel in the right moment," Hershey senior director Abbey Asem said in a release announcing the agreement.
While its partnerships with global consumer goods companies and national retailers garner most of the attention, IRI rose to the top of our SMB ranks as well this year. The need for analytics shops to embrace smaller CGs is evident in IRI's own industry research, which consistently finds newer brands stealing market share from the traditional leaders.
Among other efforts, the firm last June introduced an IRI Personalization suite that helps marketers customize promotions and definitively measure effectiveness.
Customer Satisfaction Leader: Retail Velocity
Retail Velocity apparently continues to churn out happy customers by offering easy-to-use, readily accessible analytics tools. CGT content partner Supply Chain Insights recently acknowledged the company's ability to "clean and harmonize the data that enables their CPG clients to better generate actionable intelligence." And one Readers' Choice respondent tapped Retail Velocity as its most valuable vendor for "the team's ability to modify their software to fit our needs." Clients include Revlon, Hanesbrands and Bissel.
The company's analytics tools are built to empower CGs to identify insights, share them across internal functions and develop real-time sales and inventory strategies. Through its Velocity tool, clients can access a library of more than 300 retailer and distributor adaptors, providing more precise sources of store-level POS and inventory signals like weather, shopper demographics, social media sentiment and syndicated data.
Noteworthy: Nielsen
Nielsen held the top spot as Best in Category, SMB Market Leader, or both in each of the last three years. And it wasn't very far behind the leaders in either slot this year. The other POS data giant's price and promotion platform helped General Mills empower the "everyday users" of the sales force with flexible, account-specific analytics that drove incremental sales, pleased retailer partners and earned the CPG our 2017 Customer Management Award.
Last April, Nielsen rolled out Everyday Analytics, a suite of tools designed to make advanced analytics accessible enough to drive daily decision-making. In September, it acquired Visual IQ, a provider of multi-touch attribution modeling for advertising on digital platforms.