Readers' Choice Survey 2018: Consulting
Get great content like this right in your inbox.
Subscribe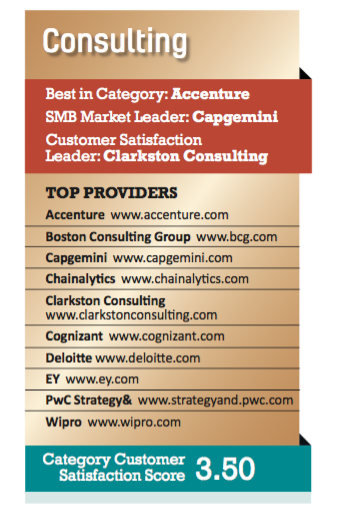 Best in Category: Accenture
In addition to its vast size and scope (9,000 tech consultants across 40 industries), Accenture attributes its strength to the fact that it's also part of the tech ecosystem. One customer echoed that idea by praising the consultant's "excellent combination of business/functional knowledge and technical expertise." "Accenture is helping to drive business transformation and restructuring our processes to a higher level," said another.
The perennial "Best in Category" consultant presented its own general strategic position last September in an industry report that advised consumer goods companies to "evolve to a modern enterprise which can operate at two speeds: one for efficiency to support the core business and one for agility to support the new models that must be established."
SMB Market Leader: Capgemini
Capgemini returned to the Readers' Choice ranks (after a two-year absence) with a bang by earning the SMB nod. The consultancy has been helping CG clients build customer-centric supply chains, predictive analytics capabilities and personalized consumer engagement strategies. Recent tech initiatives have included helping customers "find their voice" in the area of conversational commerce.
While celebrating its 50th birthday in 2017, Capgemini expanded its digital commerce expertise by acquiring Lyons Consulting Group and Itelios and its overall IT chops by grabbing the North American operations of tech services specialist Ciber Inc. Last spring, Tim Bridges took the helm at the Consumer Products, Retail and Distribution unit.
Customer Satisfaction Leader: Clarkston Consulting
Clarkston claims to have a 14-year average client satisfaction rating of 97%. Since the consultancy's Readers' Choice customer satisfaction score was a full point higher than the category average, CGT has no reason to argue. Clients include L'Oreal, Coca-Cola, Pfizer and Seventh Generation.
The company has been building out a new management practice first launched in 2016 to help clients develop a detailed understanding of why companies struggle to innovate and how breakthrough innovation actually occurs. Another key focus is digital transformation: Clarkston has been hiring new staffers to focus exclusively on helping customers understand and adopt new digital solutions.
Noteworthy: EY
EY understands that the current challenge for traditional CGs is to identify strategies that will let them maintain business continuity while adopting the changes needed to succeed in an evolving marketplace — what Richard Essigs, principal in EY's Consumer Products & Retail practice, recently called "addressing both the 4th quarter and the 4th Industrial Revolution."
Areas of expertise include strategy, supply chain, finance, people and organizational change, and IT risk and assurance. Blue chip customers include Procter & Gamble, Mondelēz International and Nike. Among key areas of emphasis these days are retail transformation, winning in emerging markets, creating a "fit for the future" supply chain and, as always, driving growth and improving commercial performance.