Readers' Choice Survey 2018: Business Intelligence
Get great content like this right in your inbox.
Subscribe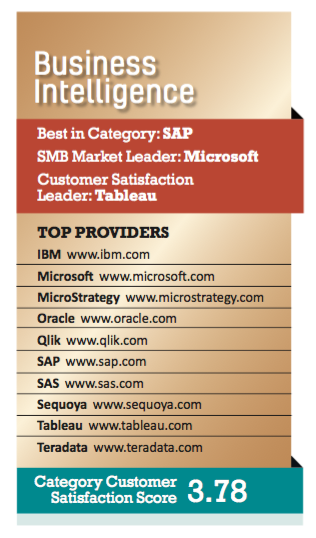 Best in Category: SAP
SAP's prominence in the consumer goods market (and just about every other industry) makes it the Meryl Streep of Readers' Choice voting. Outlining the company's various BI solutions (SAP BusinessObjects, Analytics Hub, Roambi, etc.) would fill up the page. The goal of all, of course, is to deliver insights throughout and across the enterprise that will drive better business performance.
Like the rest of the market, SAP has been busy modifying and upgrading its suite of tools to add AI capabilities and keep moving to cloud-based platforms. Building up its partner stable has been another key initiative.
SMB Market Leader: Microsoft
Microsoft's status in the SMB segment of the consumer goods market is reflected in one simple fact: Roughly 40% of SMB Readers' Choice respondents identified the company as its BI partner. The fact that Microsoft's customer satisfaction ratings are well above the category average suggests that many of these clients are content with that choice.
Among recent activity, a fall 2017 upgrade to the Microsoft Power BI Desktop suite was designed to speed up the data-to-insights time line by, among other improvements, eliminating the need to import data by enabling direct access to Microsoft Azure or other big data warehouses.
Customer Satisfaction Leader: Tableau
Speaking at the NRF Show in January, Coca-Cola shopper insights director Douglas Waller quantified the ways in which Tableau's tools ended the "organized chaos" that once typified activity on the CG's Walmart/Sam's Club team, where the excessive time spent on information management left too little time for interpretation: Seven people, 15 hours and 30 Excel reports were reduced to three people, three hours and five dashboards. Waller said a common question among team members now is, "Can you Tableau this for me?"
The tools also strengthened Coke's partnership with Walmart when the retailer needed help finding solutions for its category-level out-of- stock issues. The analysis recovered $20 million in lost Coke sales in just the first 13 weeks.
Noteworthy: MicroStrategy
Earning a high customer satisfaction rating from a significant number of clients earned MicroStrategy the "noteworthy" nod for the category. Recent efforts to improve its agile analytics capabilities led ZDNet to proclaim last month that MicroStrategy "is back" after a few quiet years.
The company is focused on helping global enterprises such as Campbell Soup Co., 3M, Coach and Dr Pepper Snapple Group apply advanced analytics and mobility solutions across diverse and complex data to improve processes throughout the value chain. One Readers' Choice respondent cited the company as his "MVV" (most valuable vendor) because of its ability to provide "key business insights."