Kyocera Boasts a Supply Chain Worth Copying
Get great content like this right in your inbox.
Subscribe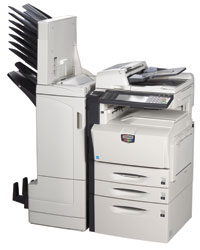 With a head office in Japan, factories in China as well as a distribution area extending throughout Australia, New Zealand and Oceania - Kyocera Mita Australia, a subsidiary of Kyocera Group, faces inherent geographical inconveniences.
This distributor of  digital copiers, network-ready multifunctional devices, laser printers and wide-format imaging products also grapples with three-month lead times, purchase order constraints as well as stocking commitments. According to John Fraser, logistics and operations manager, Kyocera Mita Australia, forecast accuracy is critical in this industry as his team manages frequent model changes, short lifecycle products and spare parts. Considering its ability to mitigate these looming challenges, Kyocera Mita Australia's supply chain success is tough to copy.  
Mastering Forecasting
Kyocera Mita Australia's head office in Osaka, Japan requires a rolling 12-month forecast from Fraser's team to plan for production. Although the company manages more than 10,000 SKUs, many of them are spare parts and are not subject to the same order constraints as finished goods and consumables. As the purchase order date approaches for finished goods for example, the company locks the forecast into an increasingly strict variance of what the team can change. The month before placing an order, the head office locks the finished goods forecast into a 10 percent variance. With little room for error, the forecasters rely on Demand Solutions.
The company has experienced economic success with Demand Solutions Forecast Management (DS FM) and Requirements Planning (DS RP) since implementation in 2001.
"Because one small mistake can shake up our operation, it's important that we trust our forecasting tool," says Fraser. "Demand Solutions, combined with improved internal discipline, has reduced our inventory by 60 percent, causing our storage and shipping costs to also reduce by 60 percent," says Fraser. "The return on investment has been unbelievable."
Along with purchase order constraints, Kyocera Mita Australia must also keep a stocking commitment. At the beginning of each month, the company can only have one-month's stock on hand with a grace period of another month - a maximum of two-month's stock. Constantly aiming for improvement, the forecasting team tries to carry the minimum one-month inventory.
"Unlike most supply chain planning packages on the market, Demand Solutions does not require my team to conform to the software," says Fraser. "The tool supports multiple processes and ways of thinking. We have the freedom to decide what's best for us and our operation."

Original Thinking
Although Australia is the smallest of the continents, it's nonetheless a vast distribution area. Kyocera Mita Australia has regional sales offices in each of the five main states and in New Zealand. The factories located in China and Japan currently ship all of the company's stock to Sydney where a third-party logistics provider then delivers it to customers throughout the continent. To get closer to the customer and increase efficiency, the company is planning to redesign its physical supply chain. Under the new model, Kyocera Mita Australia will replenish stock directly from the factories in Asia to third-party warehouses in each of the capital cities - cutting out the bottleneck effect that happens in Sydney. As the company removes a logistical step, it is adding a forecasting one - requiring each state to submit a forecast.
"We don't want to be in a situation where we have too much inventory because it could be a long way away from where we need to stock," says Fraser. "That's why we're going to use a Demand Solutions Collaboration tool - DS Feedback - to give regional sales managers the opportunity to own their sales forecast."
Kyocera Mita Australia implemented DS Feedback in New Zealand in 2006 and plans to implement the solution in Australia soon. The collaborative module extends the core forecasting activity to include internal departments as well as external trading partners.