Effie Case Study: Walgreens 'Do Deo Better'
Get great content like this right in your inbox.
Subscribe
Program: Walgreens "Do Deo Better"
Manufacturer: Unilever
Lead Agencies: Team Unilever Shopper; Geometry Global
Award: Awareness, Trial & Conversion (Bronze)
Walgreens noticed a slip in sales of its deodorant category as more shoppers looked to replenish at mass merchants or other drug chains while largely not engaging with the category. Deodorant gets shopped when it's added to a list, and a shopper tends to stay loyal to the brand he trusts. Why risk the pit stains?
Walgreens shoppers also want shopping to be easy for the deodorant category, further echoing that they want the brand that doesn't let them down in their cart quickly and move on. With the "Do Deo Better" program, Unilever disrupted this behavior with a clean-looking in-store display solution and integrated program.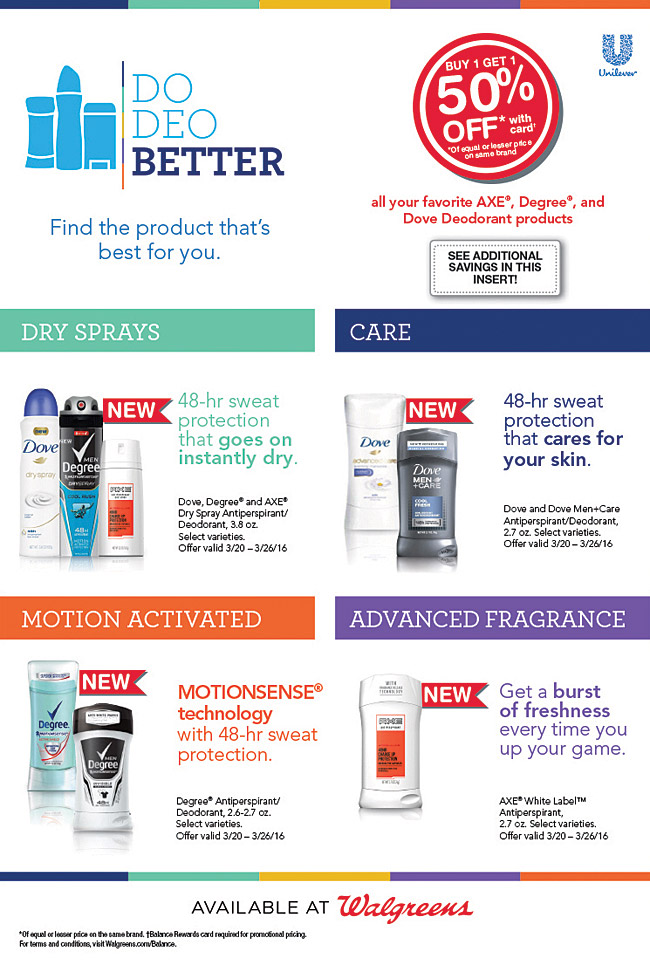 The solution was a color-coded, way-finding display system that organized the Axe, Degree and Dove men's and women's brands by shopper need states. For example, deodorants were organized on the shelf and on signage in four areas: "dry sprays," "care," "motion activated" and "advanced fragrance." Each area touted what that style of deodorant manages such as a deodorant in the "care" section comes with 48-hour sweat protection but it also is gentler and "cares" for a consumer's skin. It's filed under a blue color bar that correlates to the signage and supporting materials.
The endcap, shelf talkers and case cards worked alongside print ads, targeted email blasts to Walgreens' Balance Rewards members, posts from influencers, digital and mobile media ads, digital coupons, a custom brand page on Walgreens.com and sampling. Unilever says it's the first needs-based segmentation for the category at Walgreens that guided shoppers through the process of picking the right deodorant for them, not just the one they're used to.
Balance Rewards data showed the program grew the category by more than 10% and significantly increased sales for the manufacturer. The key to the program was using education to enlighten shoppers who tend to be less interested in swapping out a deodorant and see the category in a fresh and new way.