Effie Case Study: College Care Essentials
Get great content like this right in your inbox.
Subscribe
Program: College Care Essentials
Manufacturer: Johnson & Johnson
Lead Agency: Geometry Global
Award: Single-Retailer Program: Mass Merchants (Bronze)
Targeting the timeframe between when allergy season ends and when cough, cold and flu season begins, Johnson & Johnson developed a new market for its upper respiratory products at Walmart: college students and their parents with a back-to-college push. The effort ran from September to November, as opposed to the usual early summer campaign. 
J&J created the "College Care Essentials" program out of the insight that college kids, while excitedly independent, still look to their parents for help when feeling sick. A Mintel study showed that 90% of Millennials "heavily rely" on parental suggestions for treating allergies as well as cough, cold and flu. "College Care Essentials" billed J&J and Walmart as the facilitators between parents and kids for sniffle season, better preparing students for their time away. The campaign had a warm tone, and the lead messaging exclaimed: "Ditch the Sick, Share the Care."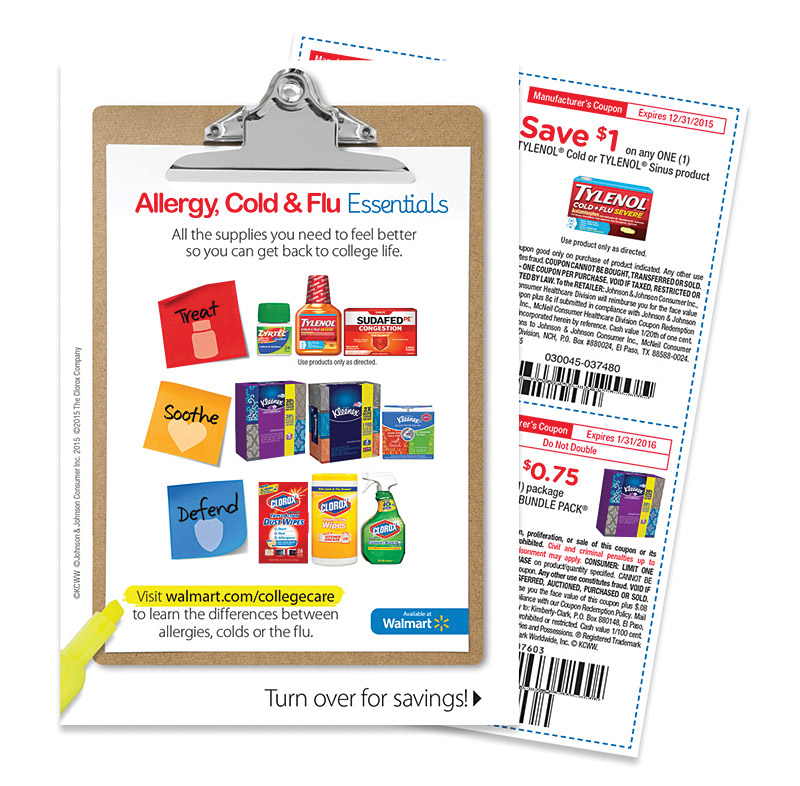 J&J teamed with Kimberly-Clark's Kleenex and Clorox Co.'s namesake to be cross-category partners, boosting the overall budget and awareness of the program. "College Care Essentials" featured those brands' products along with J&J's Tylenol, Zyrtec, Visine, Benadryl and Sudafed, and the campaign targeted Walmart stores near universities as well as the college campuses themselves. The campaign reached parents and students with a two-prong approach, communicating to them separately. For example, in the Walmart stores, displays like endcaps and shelf talkers spoke to newly arriving students and how to treat an illness. Students were also targeted through sampling in-store and digital display ads. 
Parents meanwhile were hit with a targeted email blast, digital ads on Walmart.com, advertorials in print magazines and native text. Both parents and students were targeted via a Walmart.com microsite, paid search and flyers. On-campus, brand ambassadors handed out flyers during key weekends that parents were present. Door hanger signage met students at their dorms, too; it included a coupon and a sample of Kleenex tissues.
For the digital work, J&J geo-targeted areas with high pollen counts and flu cases to reach students in high-risk locations in the U.S. – in real time. All partners involved in the promotion saw year-over-year sales increases. Walmart, specifically, saw a bump by 12%.