Target Embraces Conveyor Belt Ads
Get great content like this right in your inbox.
Subscribe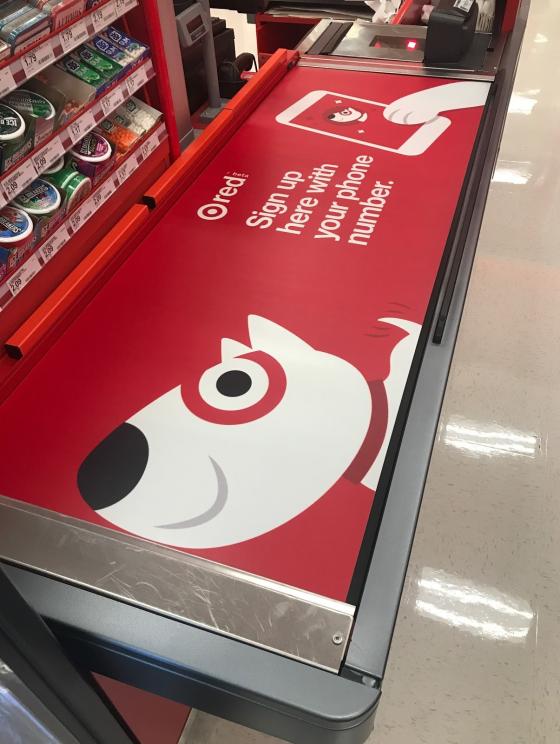 Target has completed installing conveyor belt ads at more than half of its 1,800 stores, further securing its status as the market leader in embracing the unique in-store advertising medium. 
The mass merchant last year installed MessageWrap conveyor belt ads in 950 stores to spotlight its Drive Up service and at 50 Dallas-area stores to promote its Red loyalty pilot program. The retailer first used the advertising medium in 2015 to tap in to the first "Force Friday" by deploying conveyor belt ads that mimic the film franchise's signature opening crawl. 
"That was the first big MessageWrap program that any retailer did, in the early days of bringing MessageWrap to market," Nathan Vanderploeg, MessageWrap's chief executive officer, told P2PI. "How far the use has grown since then, now supporting so many more retailers and initiatives." 
So far, the mass merchant has not used the advertising medium to promote specific brands. "Because the ad space that MessageWrap provides is so high profile, right now they only want to put their 'biggest bets' of the year on MessageWrap — the two biggest right now being Drive Up and the Red loyalty [program]," Vanderploeg said. 
According to Handstand Innovations, the supplier of MessageWrap, the relatively new marketing medium results in up to 78% shopper awareness of the advertisements at checkout. Those results are based on over 1,200 exit interviews conducted by Saint Joseph's University Academy of Food Marketing of MessageWrap campaigns at Target, Costco, Ahold Delhaize, Kroger, Giant Eagle and Albertsons Cos. in 2018.  
Similar to Target, the aforementioned retailers have used the advertising medium to promote their own initiatives, such as Kroger's ClickList and curbside grocery pickup programs as well as Albertsons' Just for U program and same day delivery service. 
NOTE: For more images of MessageWrap conveyor belt ads and other displays and signs at Target, visit P2PI.org. Path to Purchase Institute members have access to more than 6,500 images and 1,170 articles of marketing and merchandising activity at Target, along with a full Retailer Profile outlining the chain's operations and strategies.