Microsoft Becomes a Grocer
Get great content like this right in your inbox.
Subscribe
Partnerships with four chains give the software giant a lead role in the future of packaged goods retailing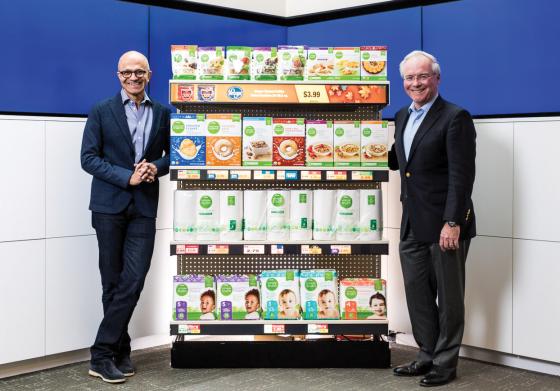 The news came fast and furiously in early 2019, as software giant Microsoft unveiled agreements with Kroger, then with Walgreens and finally with Albertsons to help those top-10 retailers use new technologies to transform their shopper engagement strategies.
At Albertsons, the partnership's lofty goal is to digitally transform the customer journey, optimize internal operations and deliver better products and services. The enterprise-wide pact with Walgreens aims even higher at transforming health care, with retail plans including the test of "digital health corners," a store-within-a-store concept focused on showcasing relevant devices. And work with Kroger not only involves a digitally driven reinvention of the store experience but also a joint effort to launch "retail as a service" products for the rest of the industry.
Although Microsoft has a long history of providing software solutions to retailers, those three announcements – coupled with last summer's agreement with Walmart to accelerate the retailer's digital transformation by adding cloud and artificial intelligence tools to an existing partnership – made it clear that the grocery channel has become a key focus. While Microsoft is bringing a wide array of tools to the relationships, one commonality across all is the implementation of its Azure cloud platform.
Another common denominator is the goal of helping Kroger, Walgreens, Albertsons and Walmart identify "what grocery is able to do to better serve their customers" and retain the perception of brick-and-mortar stores as "a destination," according to Greg Jones, Microsoft's director of industry solutions, worldwide retail and consumer goods. "It's not just a technology decision, but [a decision to] work together to expedite innovation and transformation," Jones said.
The flurry of announcements was "the culmination of a lot of hard work" that wasn't necessarily all timed to coincide with the National Retail Federation's annual Big Show in mid-January, according to Jones. But it certainly helped the company generate even more buzz than usual at the event.
Much of the coverage played up the fact that both Microsoft and its new partners share a common competitor in Amazon, whose well-publicized inroads into the grocery channel have largely inspired toward driving the transformations underway at all four retailers, and whose AWS Cloud has a substantial lead on Azure as the top cloud platform for business.
Speaking at the NRF show, Kroger chief executive officer Rodney McMullen said that while Amazon's presence wasn't the driving force behind the collaboration, it "made the partnership much easier to talk about."
Speaking to CNBC in January, Albertsons chief information officer Anuj Dhanda acknowledged that, in addition to its technology acumen and experience with retailers specifically and large companies in general, the fact that Microsoft isn't also trying to sell groceries was a factor for the company when choosing its partner.
For us, it's very much about working with our customers, bringing the innovation of both sides to the table for joint problem solving," says Jones. "We're always partnering and never competing with our customers."
A spirit of collaboration is readily apparent in the Kroger agreement, in which Microsoft will team with the retailer's Sunrise Technologies division to "package up and bring their technology to market to benefit the industry," said Jones. "This is a customer that is now very much a partner."
That sentiment is also evident in their "Connected Store" activity, which currently entails a two-store pilot of digital technology designed to enhance the shopping experience while collecting critical shopper data.
The partners took a "Let's go ahead and get it started" approach to launching the pilot, McMullen said at NRF. "We're more focused on what's next than what's there now."