Juicy Juice on Tour With Kidz Bop
Get great content like this right in your inbox.
Subscribe
Harvest Hill Beverage engages concertgoers to promote Splashers pouches
Activation Plan
BRAND: Juicy Juice Splashers
KEY INSIGHT: A family-friendly concert environment is the ideal venue to promote juice.
ACTIVATION: As sponsor of the Kidz Bop national tour, Harvest Hill Beverage is using sampling and other on-site engagement with its target audience. A sweepstakes, coupons inserted into CDs sold at retail and digital advertising support the effort.
Harvest Hill Beverage Co.'s Juicy Juice Splashers is the official partner of the Kidz Bop "Best Time Ever" national concert tour, and Epsilon, Irving, Texas, is leading an experiential marketing campaign for the brand.
New York-based Kidz Bop "records kid-friendly versions of today's biggest pop music hits sung by kids, for kids," according to its website, and Harvest Hill Beverage is leveraging the family-friendly concert environment for sampling and to engage its target market of children and their families.
The company knew that introducing the Splashers pouch format into an already cluttered juice category might be a challenge. To better understand how to differentiate the product, Epsilon conducted focus groups to gain consumer insights and inform the activation strategy. The groups revealed that once consumers taste Juicy Juice Splashers, they are sold.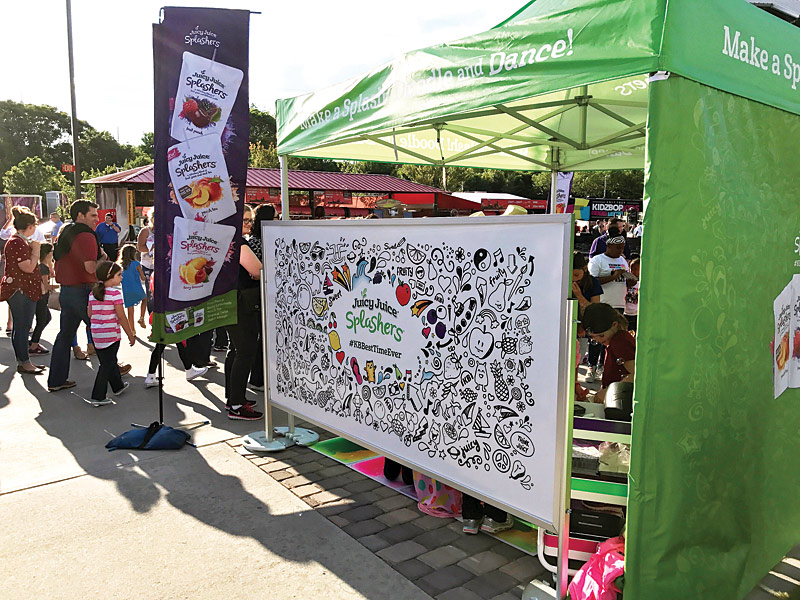 Positive flavor reactions spark re-examination of the package and ingredients, which offer a balance between mom's need for a low-sugar drink and her children's need for great taste, says Ilene Bergenfeld, Harvest Hill Beverage chief marketing officer.
"We challenged Epsilon to find a platform for which we could drive national engagement with moms and kids so they can learn about and try Juicy Juice Splashers," Bergenfeld says. "Kidz Bop was the perfect partner to achieve these goals while aligning with the brand's values such as health and wellness, fun and kid-centric."
The tour kicked off May 5, in Raleigh, North Carolina, and will visit 50 cities through the fall. The experience at each concert includes Juicy Juice signage, a co-branded video played on stage before the show and during intermission, and an onsite activation footprint designed to entertain families with coloring boards, hula hoops, limbo and premium giveaways. Audience members can receive a sample after each performance.
At retail, the "Kidz Bop 35" and "Kidz Bop 36" CDs will include a $1 Juicy Juice Splashers coupon at Walmart, Target and Amazon.com.
Epsilon also developed a sweepstakes that is being promoted during the tour. Winners will receive a trip to New York or Los Angeles, a session with an official Kidz Bop stylist and a walk-on role in a Kidz Bop video.
Other elements include a national FSI, banner advertisements on the Juicy Juice Splashers and Kidz Bop websites, and social imagery and video for Juicy Juice-owned channels managed by Brand Connections, its New York-based digital agency. 360 PR, Boston, also worked on the promotional elements.
Harvest Hill Beverage will measure coupon redemption and sales volume, as well as the number of samples distributed on-site during the tour, Bergenfeld says. The company also will analyze information collected from the sweepstakes to determine the best ways to engage with key audiences following the tour.
"Event activation remains an important component to brands' overall customer experience and helps develop genuine emotional bonds, driving growth," says Richard McDonald, president of Epsilon's agency practice.