Effie Case Study: Eggo Waffle Bar Food Truck
Get great content like this right in your inbox.
Subscribe
Manufacturer: Kellogg Co.
Lead Agency: The Integer Group
2018 Shopper Marketing Effie Award: Single-Retailer Program, Mass Merchants (Silver)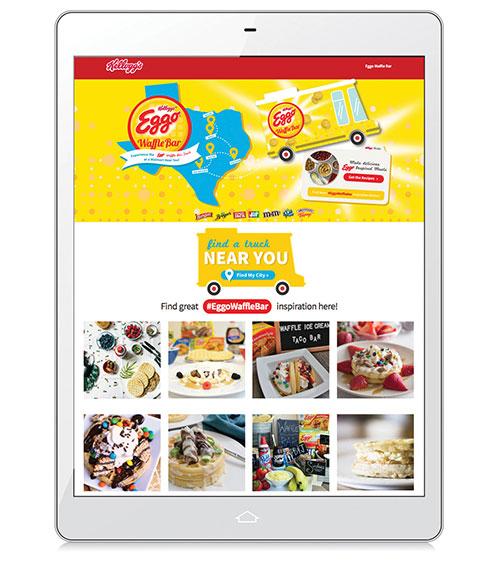 Stuck behind cold vault doors down the frozen aisle, frozen foods are challenged with getting out in front of shoppers. Kellogg feels this pain with its Eggo waffles, which also don't play nice in a sampling station or get much secondary display. Kellogg tackled this issue at Walmart by driving an Eggo waffle food truck out to 200 Walmart parking lots in Texas to show just how versatile the Eggo waffle is in various meals.
Kellogg synced up the Eggo with big-name partners for big recipes and toppings from products by J.M. Smucker Co., Unilever, Conagra Brands and Mars Chocolate. Shoppers visiting the food trucks had choices of toppings or could spin a wheel to choose different toppings to make a game of it. The trucks came with a party atmosphere, since there were cornhole/baggo boards out front for visitors to play, or they could eat their waffles at pub tables. Staff handed out coupons for waffles to use in-store that day. The #EggoWaffleBar hashtag was linked to photos and videos shared over Facebook Live, Instagram and elsewhere. Kellogg created a site,
EggoWaffleBar.com, as a hub for information on where the truck would be, social posts from the events, blogger content and recipe content.
The campaign ultimately targeted busy moms looking for new ways to pump up mealtime and set out to increase incremental sales at Walmart. Kellogg set aside 30% of its budget for this program on paid social media influencers, generating 44 million impressions across Facebook, Instagram and Twitter.
Sales of Eggo waffles went up by more than 21% at stores where the food truck rolled into town. The biggest increase was an uptick in shoppers buying bigger package sizes of Eggos – adding to the incremental purchase goal – as well as buying newer flavors such as waffles with chocolate chips.