Dylan's Candy Bar Hooks Up with Target for V-Day
Get great content like this right in your inbox.
Subscribe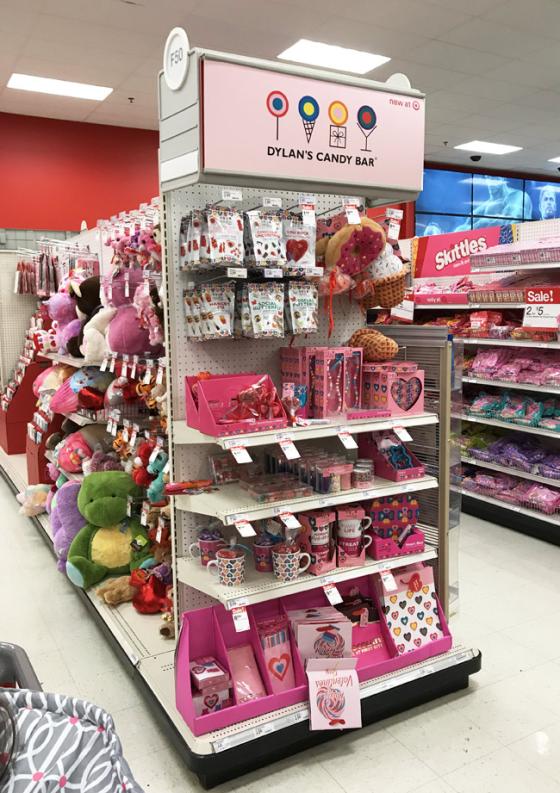 Target teamed with boutique candy shop chain and lifestyle brand Dylan's Candy Bar to launch an exclusive collection of giftable SKUs ahead of Valentine's Day. 
The Dylan's Candy Bar collection rolled out to Target stores in January and includes holiday-themed chocolate bars, confectionery gift boxes, plush toys with gummies, candy necklaces, heart-shaped lollipops, mugs and gummie SKUs. Products range from $1.99 to $9.99.
"We developed exclusive artwork for Target for this collection, putting a love-filled spin on some of our most popular everyday items for Valentine's Day," said Dylan's Candy Bar founder Dylan Lauren in a Jan. 19 post on the retailer's A Bullseye View blog. "For example, the candy necklace is one of our bestsellers, so we made a Valentine's Day-themed one for Target — it's the cutest accessory to give to your daughter to wear for the holiday."
In stores, the collection commands prime merchandising space within Target's seasonal department on endcaps with headers identifying the products as "new at Target." Facebook, Instagram and Twitter updates also tout the SKUs. 
Launched in 2001, Dylan's Candy Bar operates stores in cities including New York, Chicago and Los Angeles that carry more than 7,000 edible treats as well as candy-inspired lifestyle products ranging from lip gloss to gummi-bear shaped erasers. The SKUs at Target are Dylan's Candy Bar's first mass retail collection. 
"I've always been a huge Target fan and I love the past partnerships that they've done with other like-minded brands and designers," Lauren said in the blog post. "Target does a great job at presentation and I knew they would deliver on telling the story that we wanted to communicate for Valentine's Day with our candy."
More Exclusives 
Elsewhere in stores, Target is celebrating Valentine's Day as it's done in past years, deploying a storewide campaign and stocking a variety of exclusive confectionery product including:
a pack of "Peanut Butter Love Bugs" chocolates from Hershey Co.'s Reese's, 
caramel and milk chocolate "Love Notes" from Mars Inc.'s Dove, and 
an 11-ounce "Love Mix" pack of Mars' Skittles. 
The aforementioned exclusive SKUs are stocked on shorties or in-line displays. A feature in the retailer's Feb. 4 circular touted the Dove chocolates as well as exclusive white chocolate creme brulee squares from Ghirardelli Chocolate Co.'s Ghirardelli. A display ad on target.com also supported, directing users to a page listing "only at Target" candy SKUs from national manufacturers.
In the greeting card aisle, shelf talkers dangle a free plush animal with purchase of three greeting cards. Cards from Minted and those priced under $2 are excluded from the offer, which is valid through Valentine's Day, Feb. 14. The plush animals are stocked on merchandisers positioned near the cards. 
The retailer's Valentine's Day marketing plan also encompassed in-store endcap headers spotlighting gift ideas and decor, ceiling signs and radio spots.