Circle K, PepsiCo Spotlight NFL Rookies
Get great content like this right in your inbox.
Subscribe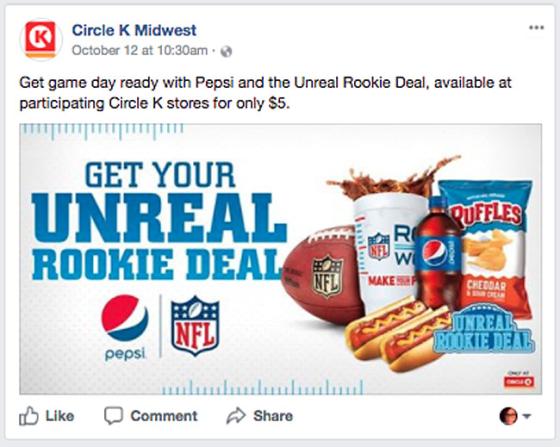 Circle K is kicking off football season by partnering with official National Football League sponsor PepsiCo/Frito-Lay to run a campaign spotlighting rookie players.
The effort centers on an "Unreal Rookie Deal" comprising two hot dogs, a bag of potato chips from the manufacturer's Ruffles, and a choice between a 20-ounce Pepsi bottle or a proprietary Polar Pop beverage. The offer is valid from Sept. 1 through Feb. 4, 2018.  
In stores, clings on coolers and fountain machines, wobblers affixed to Frito-Lay floorstands and a Pepsi- and NFL-branded Polar Pop cup spotlight the deal. Display ads within nfl.com and circlek.com, a promotional page within regional Circle K websites, Facebook covers and an Oct. 12 update posted on Circle K's Polar Pop and regional Facebook pages, and a series of skits posted on Pepsi's YouTube account support. 
The aforementioned digital and in-store activity also serves to promote PepsiCo's "Rookie of the Week '17" program, which allows consumers to vote on an NFL rookie via nfl.com/rookies. Each week during the 2017 football season, an NFL player will be selected through the page to receive "Pepsi rookie of the week" honors. 
In other football-related activity, Circle K is teaming with MillerCoors' Coors Light to run a football-themed sweepstakes awarding a Rose Bowl Stadium experience. Members of Circle K's Easy Rewards loyalty program enter from Sept. 1 through Oct. 31 by purchasing a 12- or 18-pack of Coors Light and scanning a barcode found within the retailer's mobile app at checkout. Cooler clings and a mobile application ad support.