Bobbi Brown Brings Wellness to Walmart's Beauty Department
Get great content like this right in your inbox.
Subscribe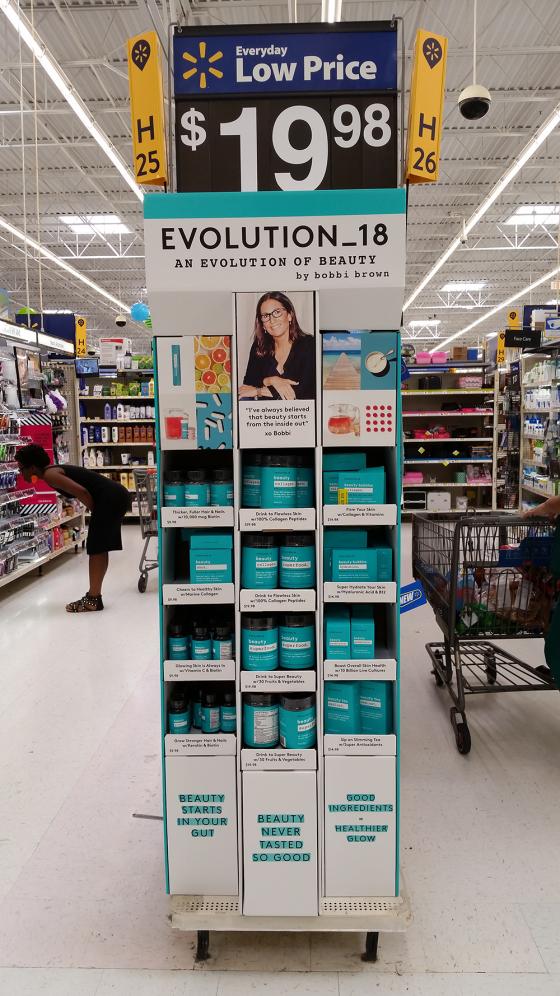 After parlaying her beauty experience to launch wellness brand Evolution_18, makeup artist and beauty-industry icon Bobbi Brown teamed with Walmart to launch a 10-piece collection of beauty-boosting powders, shots and capsules priced under $20. The products are available across some 1,500 Walmart stores and on walmart.com.
With its first foray into beauty ingestibles, the mass merchant is firmly positioning the product category in the world of beauty by stocking the collection on a dedicated endcap display in the beauty department rather than with other vitamins in the pharmacy. The white-and-turquoise display clearly identifies the benefits of each SKU with phrases such as "drink to flawless skin w/100% collagen peptides" and "glowing skin is always in with vitamin C & biotin."
"This is a new segment for us," vice president of merchandising, beauty at Walmart Jody Pinson told Forbes. "We think it will continue to raise our credibility with our customer and within the industry."
Social media posts from a dedicated brand account as well as from Brown support, including a "behind-the-scenes" look at planning for the endcap display in which Brown thanks indie brands Harry's and Hello ­— also sold in Walmart — for "advising." Other posts indicate that various Evolution_18 beauty SKUs have sold out both in stores and online, but will be re-stocked.
"A lot of time this kind of product is only available to people who shop luxury," Walmart cosmetics buying Melanie Deschaine told Forbes. "We wanted to make sure we were able to bring this product in partnership with Bobbi to make it acceptable to all customers no matter their income."
In the planning, Brown worked closely with Walmart's beauty and OTC teams to assure quality and efficacy of the formulas, which have been simplified from their original formulations, Forbes reported.
On walmart.com, a dedicated brand showcase supports the line, offering a promotional video starring Brown. (See below.)
Brown first launched Evolution_18 as a direct-to-consumer brand and also has an agreement with QVC.