Amazon Go in Chicago
Get great content like this right in your inbox.
Subscribe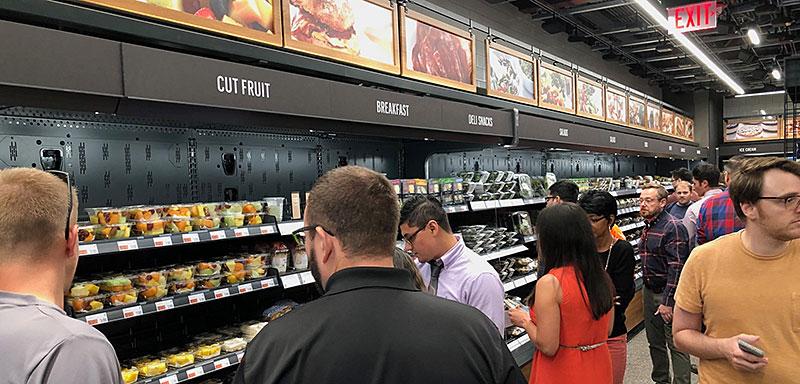 Editor's note: This installment of "Shopping With Steve" was executed by Bill Schober, editorial director of Shopper Marketing magazine and the Path to Purchase Institute.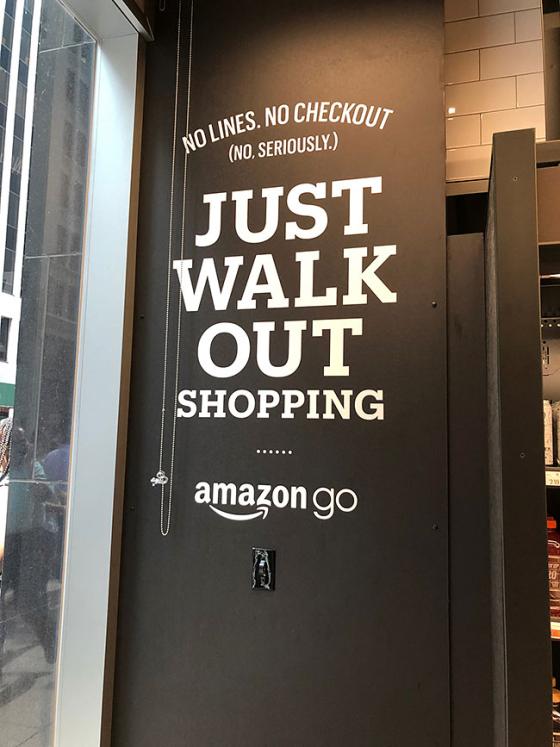 On Sept. 18, I visited the 1-day-old Amazon Go store in Chicago (at 113 South Franklin Street). This is the fourth Amazon Go store, as there are three in Seattle, but imagine this: New York City and San Francisco are still waiting for theirs.
And this just in: Bloomberg is reporting that, "according to people familiar with the matter," Amazon might have as many 3,000 more of these cashierless stores operating by the end of 2021.
The Chicago store was crowded and hectic, so some of the images in this little guided tour aren't of the best quality.
There are two signs beckoning people to come in. There was a short line at the door, but they bring you in pretty fast. The Amazon staffers had apps that kept count of the number of shoppers inside, and it looked like 80-85 at any one time was the max.
An Amazon staffer showed people how to enter the store by scanning the QR code on their phones. Once you download the Amazon Go app, you have to log in and link it to your Amazon account. It took about a minute.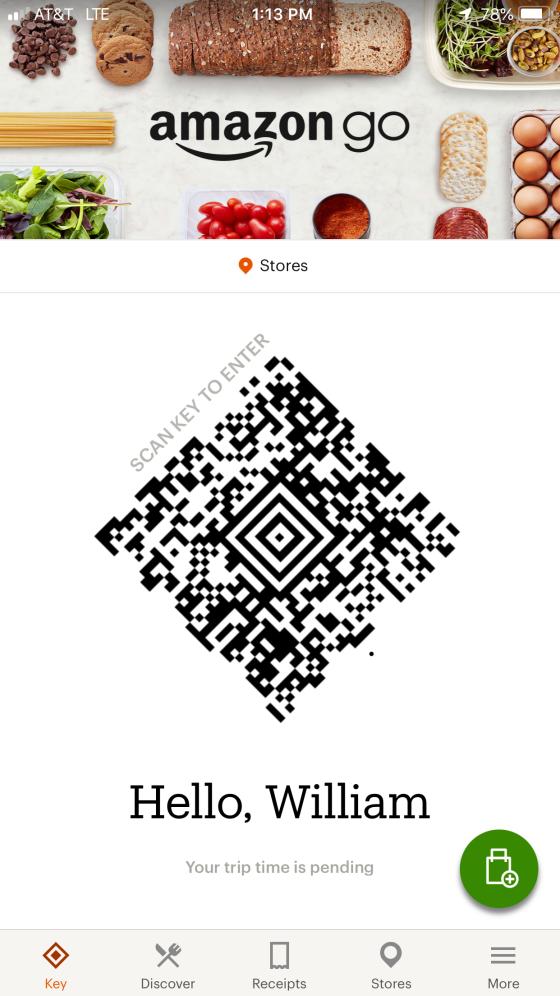 Then you get a QR code on your screen that you wave to get in. (Finally, a useful application for a QR code!) Note that you can't screenshot the QR code to let someone else in. It seems to be dynamic and changeable. 
Here are more of my observations (and see the gallery below):
there is plenty of navigational signage.

there were a bunch of store employees restocking – they were going non-stop.

with shelf-edge signage, note the "So Good It's Gone" sign for out-of-stocks. As merchandise is taken away, a traditional P-O-P device (a constant-force-spring "pusher" sign) comes forward. Very old school.

check out the mechanicals – mainly (what I assume are) the networked scanning devices. I think they are in the fridge shelves and certainly up on the ceiling, where there are a dozens upon dozens of devices installed above the lightsaber-like lighting fixtures.

you can see the mobile app screenshots, starting with their tutorial and including the receipt.

there is a shopping bag kiosk and an endcap full of Amazon branded knick-knacks.

after you leave, you can stop at a condiments area and/or heat things up.