Walmart Uncorks Own Wine Label
Get great content like this right in your inbox.
Subscribe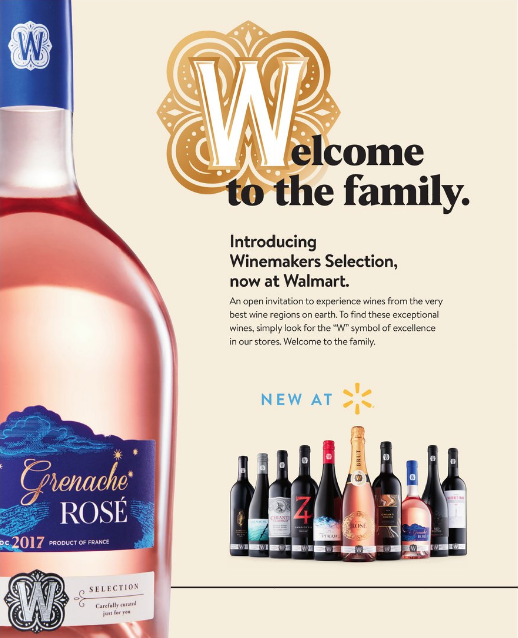 Catering to consumers seeking new experiences in the wine aisle, Walmart entered the private label wine market earlier this year with the launch of its own wine brand: Winemakers Selection.
Walmart's wines are not intended to compete with the likes of Trader Joe's private label Charles Shaw wines — better known as "two-buck Chuck" — or other super-low-priced varieties. While Walmart's initial assortment is modestly priced between $10 and $16, the bottles are meant to "drink like a $30 to $40 bottle of wine," Walmart senior adult beverage buyer Nichole Simpson told USA Today.
Rolled out to some 1,100 stores, the introductory collection includes 10 wines including a French sparkling rose, an Italian sangiovese from Tuscany and a Californian cabernet sauvignon from Paso Robles, CA.
In its "Tips & Ideas" blog, Walmart outlined the intention behind giving each wine an individual label to reflect the history of the individual varietals and the regions they came from. While the labels are all unique, each bottle bears the same elaborate "W" insignia to distinguish Walmart's own offering from the rest of its extensive wine assortment.
The debut has been largely well received. Rather than focusing on what was available quickly at scale, Walmart used a more intentional approach to sourcing. The adult beverage buying team had traveled to meet with growers and winemakers, and blind tested every option they considered, the Washington Postreported.
"I looked at the data to see what gaps we were missing, and I saw that our customers are looking for more premium or super-premium wines," Simpson told the Washington Post. "You have the major popular brands driving the business, but Millennials are less loyal to brands and eager to explore cool labels or different varietals, and they're willing to buy up."
In stores, the offering receives its own real estate adjacent to national brands in the wine aisle, identified with aisle violators. Circular features supported at launch, while display ads on websites such as foodandwine.com linked to a dedicated walmart.com showcase offering a variety of wine-related content.
Chief merchant Steve Bratspies told Winsight Grocery Business that wine was a crucial category in reinforcing an image of quality that has been a focus of Walmart as it gets its grocery business in shape. Wine comes with the benefit of providing merchandising opportunities, can draw trips and can help get an extra item in the basket, Bratspies said, stating that Walmart is currently "undershared" in the category compared to peers. The retailer will add 11 more wines to its label next spring, expanding the price range to up to $36 per bottle.
"Today, consumers really don't care about brands anymore. They're seeking alternatives," said executive director of the American Wine Society Dave Falchek while speaking on a panel in November at the Private Label Trade Show in Chicago, as reported by P2PI sister brand Store Brands. Falchek said the spectrum of different types of styles and tastes that consumers are interested in when it comes to wine is expanding, and this presents a major opportunity for retailers.
"The current trend in the entire U.S. wine industry is of course premiumization, and what we think of as private label wine — lower-priced tiers, two-buck Chuck – that's over," said co-panelist Maryrose Rinella, director of own brands product management at Albertsons Cos. "Retailers are assorting private label wines at all price points and in unique blends, imports, domestics, etc."
Rinella said Albertsons sees its private brand wine assortment as an opportunity for the retailer to have a point of differentiation compared with the competition. "We can choose and curate unique wines that fit our customer profile. And we can achieve better margins," she said. "Typically, branded wines get a 30-35% margin. Private label margins are at 50-55% while premium private label wines offer even higher margins."
Other retailers are also ramping up their unique wine offerings as customers seek more booze options. Target has been expanding its recently introduced, exclusive California Roots wine label while also striking a partnership with Instagram darling Yes Way Rose. The mass merchant reportedly has been gaining more liquor licenses and expanding its alcohol aisle to more stores, with a goal of offering alcohol in 80% of stores by the end of this year.
Kroger, which sells exclusive brands, is piloting a wine home-delivery service in select markets across 15 states. Texas grocer H-E-B likewise has rolled out beer and wine delivery services. Discounter Aldi introduced its wine Advent calendars to select U.S. stores this year, selling out in minutes across multiple locations and hitting ebay.com the same day for exorbitant prices. Even convenience store chain 7-Eleven is getting in on the action, recently adding its first premium vintage label, Voyager Point, to its private label wine offering.
These chains are taking their cue from longtime wine seller Costco, which offers a wide selection of wines under its Kirkland Signature private label. Seeking not to get left behind, Trader Joe's breathed some new life into its iconic Charles Shaw wine earlier this year by introducing organic options. The new line features a fresh modern label design and the innovative packaging twist of a resealable cork.