Walmart Stays the Course
Get great content like this right in your inbox.
Subscribe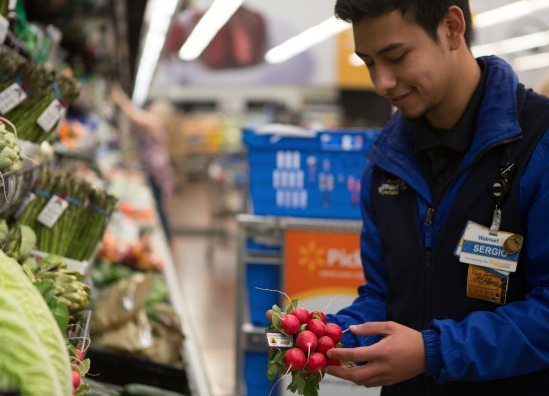 On the heels of disappointing fourth quarter e-commerce sales, Walmart has revealed several updates related to the business.
In terms of fulfillment speed and flexibility, executive vice president of central operations for Walmart U.S. Mark Ibbotson noted during a presentation this week at ShopTalk in Las Vegas that the retailer is rolling out its in-store Pickup Towers for online orders to as many as 650 stores by the end of the year. Whenever possible, the kiosks will be positioned near checkout.
Initial deployments had positive results, with net promoter scores improving greatly for stores with the towers. "We actually found people placing orders just to use it," Nobotson said.
Meanwhile, Walmart is tweaking its approach to another innovative fulfillment capability: the completely automated dispensing system the retailer tested for online orders in Oklahoma. After being in operation for less than one year, the stand-alone proof of concept will be decommissioned and future iterations will instead be integrated into the fabric of the store, at least in part to avoid condensation problems created by windy weather conditions, Ibbotson revealed. The concept will come to a store in Texas by the end of the year, he said.
The retailer additionally is expanding grocery pickup for online orders to another 1,000 stores to reach more than 2,000 locations by the end of the year (general merchandise is already able to be picked up at all stores), and concurrently plans to roll out same-day delivery to 100 metropolitan areas.
In a new move, Walmart also will reportedly open 500 new FedEx Office locations inside its stores. 
"This is a great step for Walmart," said vice president of marketing at OrderDynamics Charles Dimov in an emailed statement. "With FedEx Office locations in store, Walmart becomes even more of a destination for many needs, and impulse buys. The next possible step is the synergy of making both FedEx and Walmart stores as pickup points for in-store pickups. Again this caters to additional purchases, as 58% of pickups result in additional buys."
President and chief executive officer of walmart.com Marc Lore also took a turn on stage at ShopTalk in his first public appearance since the release of the company's latest financial results, with digital sales rising just 23% — less than half of the increases seen in previous quarters. When asked about the deceleration of e-commerce sales, he brushed off the dip and said that Walmart will stay the course and "keep doing what we're doing."
Lore said Walmart and Jet.com will continue to operate as separate business units, and indicated that the retailer would continue to acquire digital brands while also incubating its own as it did with the recently launched Allswell mattress and bedding brand — a low repeat purchase but high order value category. Because it takes longer to build repeat purchase oriented businesses, those categories are ideal for acquisition.
"Digitally native brands will really help to make Jet a more extensive property," said Walmart's senior vice president of digital consumer brands, and founder and ceo of Bonobos, Andy Dunn, who took the stage with Lore. The pair told attendees to expect these brands to eventually end up on Jet.com.