Walgreens Spotlights 'Soup & Canned Meals' for Eight Weeks
Get great content like this right in your inbox.
Subscribe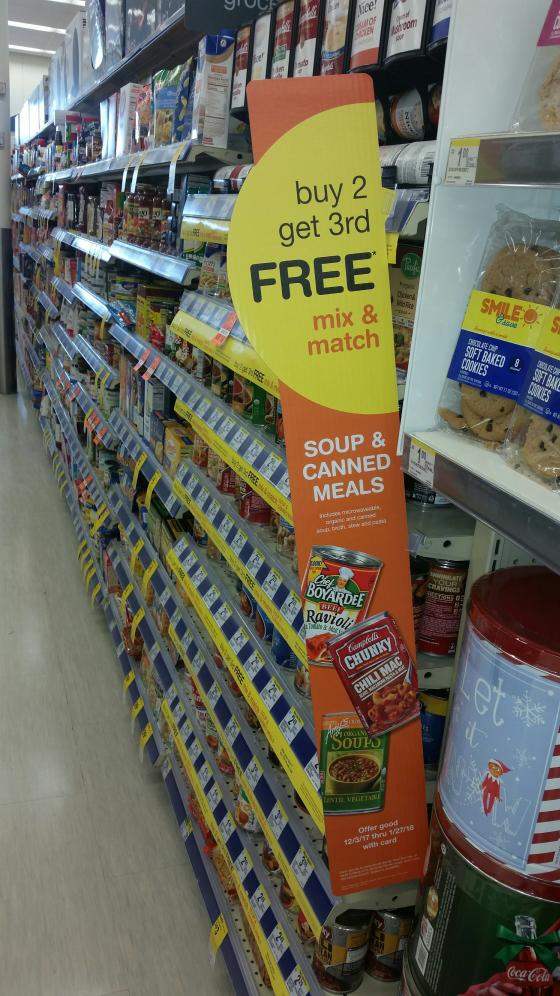 Walgreens extended its familiar, category-based "buy 2, get 3rd free" incentive to packaged foods in December 2017, allowing Balance Rewards cardholders to mix and match "soup & canned meals" products to receive the free item.
The promotion runs Dec. 3 through Jan. 27. Supporting materials, including circular and coupon-book features as well as in-store signage, further define the category as including microwavable, organic and canned soup as well as broth, stew and pasta. 
National brands are included in the supporting materials. For example:
The December coupon-book feature depicted General Mills' Progresso and Campbell Soup Co.'s Campbell's and Campbell's Chunky products.
The January coupon-book feature depicts Campbell's Chunky and Swanson, Conagra Brands' Chef Boyardee, and Amy's Kitchen products.
Aisle violators depict Chef Boyardee, Amy's and Campbell's Chunky.
Weekly circular features running since Dec. 3 depict the aforementioned brands and others including Hormel Foods' namesake brand and Campbell Soup Co.'s Well Yes!
Walgreens has been using category-based "buy 2, get 3rd free" incentives for a couple of years, with the number of activations becoming more frequent in 2017.