Walgreens, News America, Sellcheck Offer Best Practices for Effective Selling Moments
Get great content like this right in your inbox.
Subscribe
Minneapolis — Walgreens shoppers are typically mission-based, according to director of in-store marketing design Mike Hattenschweiler, and the retailer is trying to make sure its in-store experience doesn't hinder those missions.
"Their mission is to get in and get out, have a good experience and get on with their lives," Hattenschweiler said. "The vast majority of customers know exactly what they are looking for the minute they walk into a Walgreens. We want to enhance that."
Presenting alongside Sellcheck president Rich Butwinick and News America Marketing vice president Mark Peiser in October at the Shopper Marketing Conference & Expo, Hattenschweiler offered three retailer-focused best practices for effective "selling moments."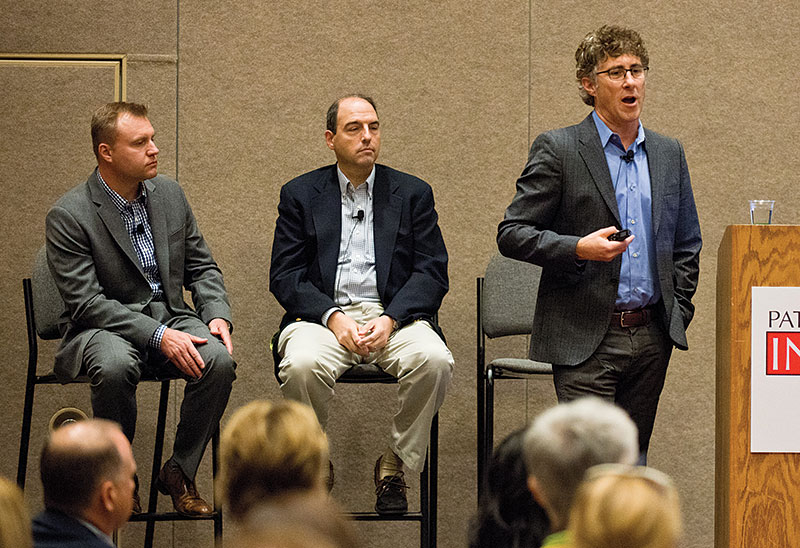 Sellcheck's Rich Butwinick, right, presents alongside Walgreens' Mike Hattenschweiler, left, and News America Marketing's Mark Peiser.
Hattenschweiler said marketers generally must "be mission-specific" because shoppers are on a mission, and those missions are not the same for every retail environment.
To that end, Walgreens has established display guidelines for manufacturers to follow. "We've worked really hard to make sure it's clear to our customers why we've chosen to put this display in front of them," Hattenschweiler said.
Overall, it's important that the communication is easy to read, helps the shopping experience and trip mission, and is inviting, not just disruptive.
Furthermore, Hattenschweiler said it's important to "do no harm." As retailers aim to create the best shopping experience possible, the POS materials must do more than just help the brand or category. They must also preserve the ability to find other brands and categories, and not be generally inconvenient. (See Walgreens Display Gallery.)
As an example, Hattenschweiler detailed how Walgreens has eliminated aisle arches from its stores. While the displays did their job in terms of commanding attention, they hindered the overall in-store experience, he said. "They were starting to block individual visual sightlines; you couldn't see navigational cues. It had an overall negative impact on what we want the customer to experience."
He also said that brands and retailers need to "live in harmony" by keeping in mind the context of the store as well as the collaborative agreement on POS materials. "Every brand has a message; the retailer has messages," Hattenschweiler said. "Knowing that those elements need to work together is critical in building displays that will be successful."
Butwinick and Peiser offered various other best practices for an effective selling moment, including:
Start with clear, unwavering objectives. Stronger communication objectives lead to better selling moments, Butwinick said. They need to be rooted in shopper insights and to identify key purchase barriers. "The ones that are more squishy leave too much room for interpretation, and the execution isn't as strong," he said.
Visualize the benefit. Marketers need to invite attention, not only be disruptive. "You do so by connecting emotionally with the shopper," Butwinick said.
Avoid hiding in plain sight. It's important to take into account the shopping environment. Do displays attract peripheral vision? Are they free of clutter? And, does communication leverage color, motion and placement in the digital space? Is it easy to read?
Be recognized. Marketers need to immediately connect the shopper to the category. "The average time that a consumer spends looking at a shelf sign is five seconds," Peiser said. "If you can't convey what you're selling … they're not going to have any reason to buy it."
Tell a story. Tell a concise, inviting story in the context of the shopping environment and category. Is the message simple and the benefit clear? Does it use visuals to carry the message? Is there a hierarchy of communication?
Know the moment. Knowing the shopper and context of the shopping moment is key to success. Does your content match the context of the shopping environment? Is your presentation focused on aiding the shopper and driving a transaction?
Don't rush to deliver great creative. Give proper time to create, test and pre-qualify the selling moment. Do you have a practice of pre-qualifying creative? Is there time to pre-qualify on a regular basis?