Unilever Leverages Image Technology
Get great content like this right in your inbox.
Subscribe
Suave partners with Shopkick for Veteran's Day promotion at Walmart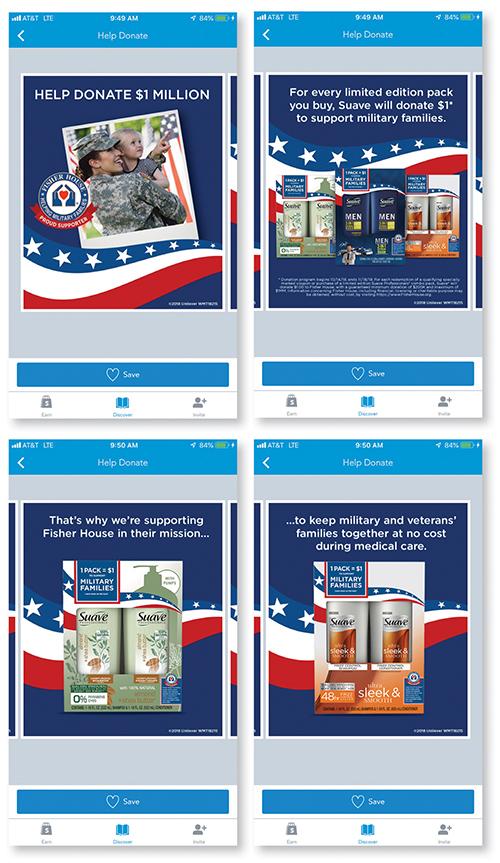 Englewood Cliffs, N.J. — Going beyond mobile scanning of a bar code on packaging to download campaign information and engage with a promotion, Unilever's Suave brand leaned on enhanced image-recognition technology from Redwood City, California-based Shopkick to drive more interest and donations around its recent Veteran's Day campaign at Walmart.
The 2-D image technology inside Shopkick's rewards mobile app gave Suave marketers the ability to place the logo of the Fisher House Foundation on limited-edition packaging, where shoppers could scan that logo and earn "kicks," the Shopkick rewards point system. Then, with any purchase of a Suave pack, Unilever kicked in a $1 donation to the Fisher House, a nonprofit that assists military families.
"Rather than drawing user attention to a bar code of numbers and lines, this innovative 2-D technology draws attention to the unique and differentiating product features that we actually want our customers to notice, whether that be a logo, useful product information and so on," says Jessica VanBecelaere, associate shopper marketing manager, Unilever.
The unique Fisher House logo reads "Helping Military Families," and when Shopkick users scanned the logo for information, they learned about Unilever's $1 million donation goal and how they could contribute to the cause by purchasing the limited-edition Suave products they grabbed off the shelf.
Unilever and Shopkick have been partnering for a few years, including a 2017 effort that helped deliver 2 million meals to hungry children via the hunger-relief organization Feeding America. "We've run successful campaigns in a number of major retailers to drive product awareness for Unilever brands, including personal care products like Dove and Axe and popular food brands like Knorr, Ben & Jerry's and Simply Popsicle," says VanBecelaere.
The Walmart Veteran's Day promotion was the first by Unilever to utilize the 2-D technology. To promote the partnership between Suave and Fisher House, the brand used Shopkick itself with an in-app ad unit that drove app users to Walmart to find products in the aisle to scan and buy. The brand also used the Shopkick platform to reach "an incremental audience of loyal Shopkickers that we may not have reached on our own," VanBecelaere says. "We utilized Shopkick's lookbook capabilities to highlight our limited-edition products wherever consumers may be, whether that be at home, in-store or on the go."
Adding to the money that was raised through the promotion, Unilever promised to donate 10% of the overall campaign budget to Fisher House. The organization gives families of military service members or veterans who are patients at a military or VA medical center a free place to stay nearby. Suave and Fisher House also spread awareness through an online video they created of three service members and their families being helped by Fisher House.
Scans of receipts after purchases at Walmart represented the main key performance indicator of the campaign to track goals toward increased sales at Walmart and donations. The receipts measured purchases and determined the return on assets.
The campaign ran between Oct. 14 and Nov. 18, 2018.