Tyson Leverages Legendary Athletes
Get great content like this right in your inbox.
Subscribe
Custom content from The Players' Tribune links sports legends and summertime grilling
More Information
BRANDS: Ball Park, Hillshire Farm and Tyson
KEY INSIGHTS: When consumers grill they opt for more than one protein; think hot dogs and BBQ chicken. Shoppers will make a separate trip, in addition to routine grocery shopping, when planning a picnic or other summer event.
ACTIVATION: Tyson launched a "Legends at the Grill" campaign using custom content from The Players' Tribune to tie together sports legends and summertime grilling. The program included a dedicated website, email, social media and custom retailer in-store signage.
Springdale, Ark.— Tyson Foods teamed with sports media company The Players' Tribune in the spring to launch a national "Legends at the Grill" campaign, the first promotion since Tyson completed its merger with Hillshire Brands in August 2014 in which the company has leveraged its entire portfolio – including the Ball Park, Hillshire Farm and Tyson brands.
Running May 1 through Sept. 30, the effort pairs summertime grilling and consumers' connection with baseball and soccer legends. Tyson capitalized on the insight that people like to cook "mixed grill" offerings of at least two proteins along with vegetables or other sides. Research also showed that shoppers will make a separate trip, in addition to routine grocery shopping, when planning a picnic or other summer event.
Millennial adults are the core target – those who like to grill for quick meals as well as for summer get-togethers – but the campaign is also meant to resonate with Gen Xers and Baby Boomers.
"The content partnership with The Players' Tribune gives us the opportunity to tap into legendary athletes," says Wendyjean Bennett, director of shopper marketing, Tyson Foods. "While most of our athletes are legends to Millennials, they were heroes to Gen Xers and Baby Boomers. Brandi Chastain resonates well with Millennial moms as a soccer champion and mom, Cal Ripken Jr. played baseball for more than 20 years, Ken Griffey Jr. dominated the '90s, and Johnny Bench played in the 1970s and '80s. Seeing these all-stars at retailers resonates with fans of all generations."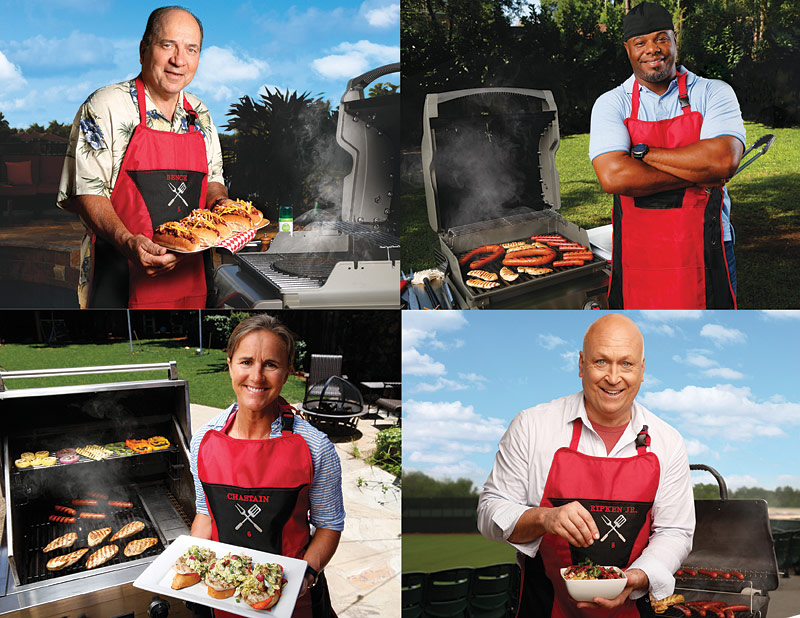 A LegendsAtTheGrill.com promotional site is filled with ThePlayersTribune.com stories and videos as well as 18 recipes developed for the campaign and grilling tips. The legends are featured alongside the brands' hot dogs, sausage and chicken recipes. Ken Griffey Jr. kicked off the first pulse of the campaign, followed by a refresh of the site in August with Chastain given top billing. The former is timed with baseball season and the latter with the 2016 Summer Olympics. Griffey and Chastain were used nationally while Bench and Ripken were used at specific retailers, Kroger and Walmart, respectively.
Print, in-store signage, digital, mobile, social media, website and email blasts are also being used to lead shoppers to stores. "The digital aspects are designed to inspire the shopper to put Tyson's iconic brands at the top of their shopping lists," Bennett says.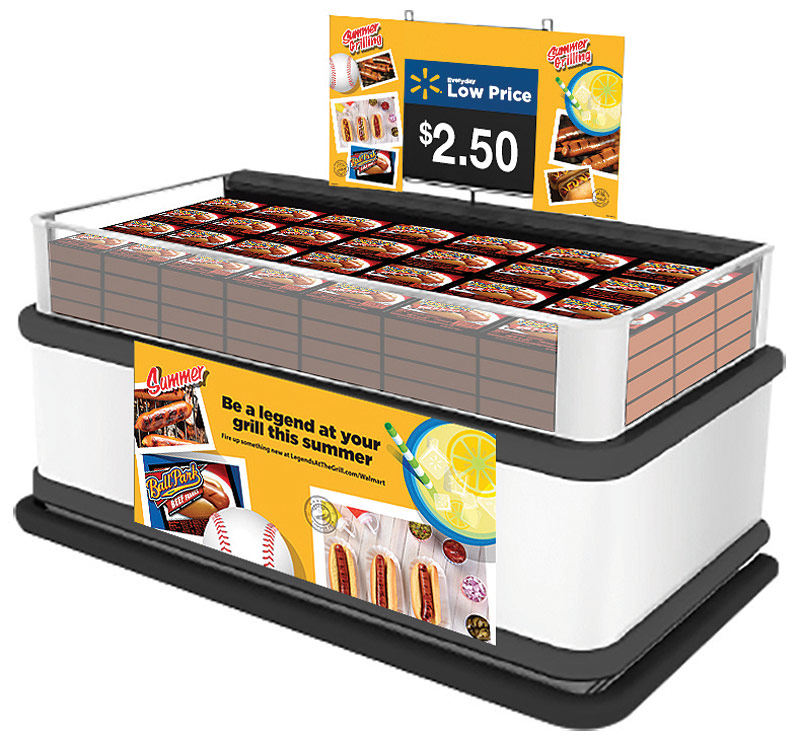 The national campaign is activated in-store at four retailers: Ahold USA, Kroger, Sam's Club and Walmart. Tactics were customized to each retailer. Bennett wouldn't divulge specifics but did say that Walmart had the largest customized displays – refrigerated bunkers that provided incremental display space. The retailer also hosted tastings of new Hillshire Farms Cheddar Wurst smoked sausage links and Ball Park hot dogs. Additionally, Ahold included the program in its Savory magazine. "We leveraged retail-exclusive print publications with longer-form content, recipes and savings," says Bennett. "We employed shelf blades featuring the athletes and recipes on tear-pads, as well as on-pack shopping lists to drive shoppers around stores."
The entire effort came together from inception to launch in 60 days. "We had all hands on deck from shopper marketing, sales, agency, consumer promotions, sales planning, procurement, legal and The Players' Tribune to ensure executional excellence," says Bennett. 
Tyson's shopper marketing agency, IN Marketing, Chicago, developed the campaign concept and was responsible for in-store and digital elements. TPT created custom, co-branded content and handled content distribution. Volume and impressions will be used to measure the campaign's success.