TruMoo 'Trolls' During Halloween
Get great content like this right in your inbox.
Subscribe
More Information
BRAND: TruMoo
PARTNER: DreamWorks Animation
RETAILERS: Walmart, Target
KEY INSIGHTS: October is a big sales and share month for Dean Foods because of the marriage of kid-natured Halloween season and chocolate milk.
ACTIVATION: A national campaign featured "Trolls" packaging, a sweepstakes and TV spots, while retailer-specific activity included discounted movie tickets, silly straws and a variety of digital/social promotion.
Dallas — Dean Foods' TruMoo flavored milk products put on a disguise during the Halloween season: packaging with characters from DreamWorks Animation's "Trolls," which hit theaters Nov. 4.
Halloween has been big business for years, and its strength as a spending driver is stronger than ever. The National Retail Federation estimated that consumers would spend $8.4 billion on items related to the holiday in 2016, topping the record of $8 billion in 2012 and up from $6.9 billion in 2015.
Dean and agencies Curiosity Advertising, Cincinnati, and Shoptology, Plano, Texas – in partnership with Walmart, Target and DreamWorks – executed a promotion titled "Trollicious TruMoo." Nationally, all TruMoo flavors in gallons and half-gallons featured the "Trolls" packaging, and there was a sweepstakes that ran from August through mid-November that awarded a grand-prize family cruise and weekly "Trolls"-themed prizes.
At Target and Walmart, limited-time offers were attached to only the chocolate and Orange Scream varieties. Target offered $5 off a ticket to see "Trolls" via Fandango with the purchase of two half-gallons. Walmart promoted the movie throughout its stores, and exclusive TruMoo containers came with a silly straw.
The national program from Curiosity ran from September through October, while the retailer-exclusive campaigns were in stores from Oct. 21 to Nov. 14 (Walmart) and Oct. 7 to Nov. 14 (Target).
Shoptology chief executive officer Charlie Anderson says both retailers had already supported the movie in other parts of the store – Walmart with a retailtainment event and Target in the general merchandise sections – so both liked the idea of a grocery presence.
Wendy Poer, Dean Foods marketing director, says October is the month with the most sales and share for Dean, in part because of the marriage of kid-natured Halloween season and chocolate milk, but also because its competitors emphasize October and Halloween as well. Poer says Dean's goals were clear for the Trollicious campaigns. "Increased sales, positive ROI, and because we do promotions every year, we're always trying to beat prior year," she says.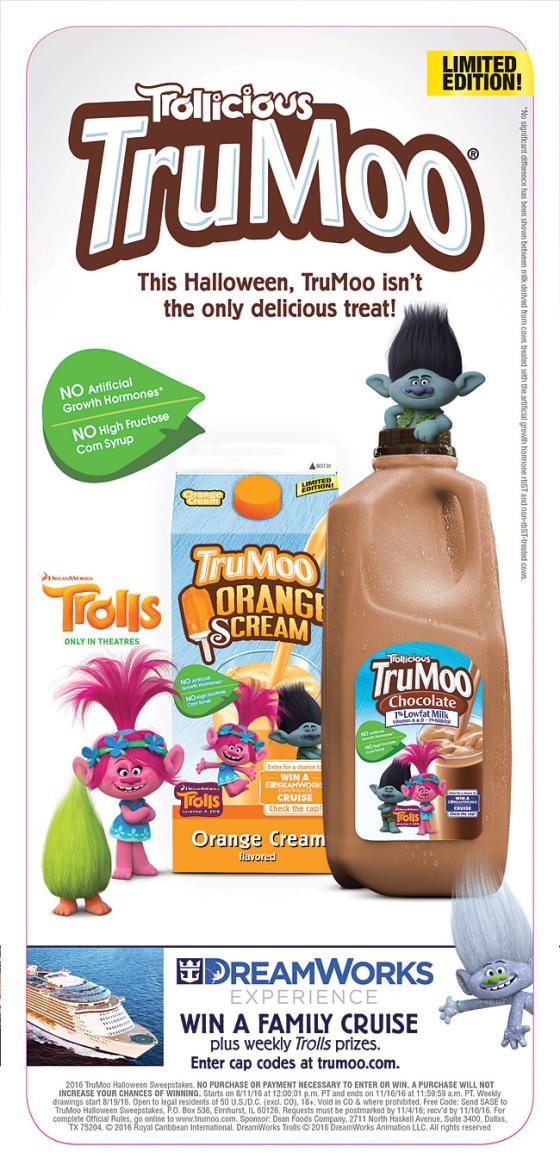 Anderson says for the retail-specific promotions, incremental sales will define success.
There were national TV spots with 10 seconds devoted to TruMoo and five seconds with a "Trolls" presence. Print ads followed this schedule: Family Circle in October and November; Martha Stewart Living in October; Parents in October and November; and Rachael Ray Everyday in October and November.
On social and digital media, each retailer included store locators in different ways. For Walmart, TruMoo-owned accounts at Instagram, Facebook and Twitter posted Trolls-related content with links to a custom site  – trumootrollsgif.com – that enable users to create and share gifs using TruMoo and "Trolls" branding and characters. Once shared, the gif led those on the receiving end back to a site with a store locator.
The store locator for Target was on a Target page at TruMoo.com, to which shoppers were driven by social media and display ads.
In stores, Target had neck hangers communicating the movie ticket promotion that invited shoppers to take pictures of their receipts and upload them at Fandango-operated TruMooTrolls.com to receive a redemption code.
Walmart associates wore "Trollicious TruMoo" pins on their vests.
Display ads drove consumers to both retailers. Anderson says P-O-P was sourced from various vendors, while Shoptology handled all digital media.