Shopper-Facing Technology: Assessing Digital Engagement Tools
The following article is an excerpt from "Digital Shopper Marketing: Understanding New Behaviors & Tools," a half-day course in the curriculum of Path to Purchase Leadership University. The course was developed in conjunction with conversion marketing agency Catapult.
This article provides a method for organizing and analyzing various shopper-facing digital tools based on two parameters: how, where and why they're being used by consumers along the path to purchase, and what specific objectives they are best suited to help marketers achieve.
By considering consumer and shopper behavior, marketers can start to determine what behaviors they want to influence and which ones they might have the ability to influence. By combining those insights with an understanding of the usage data of various shopper-facing tools, they can start to identify the best bets for effective engagement with their brands.
Figure 1 (below) starts to do that in a very basic way by segmenting potential tools based on which of the four mains stages of the path to purchase they're most likely to influence.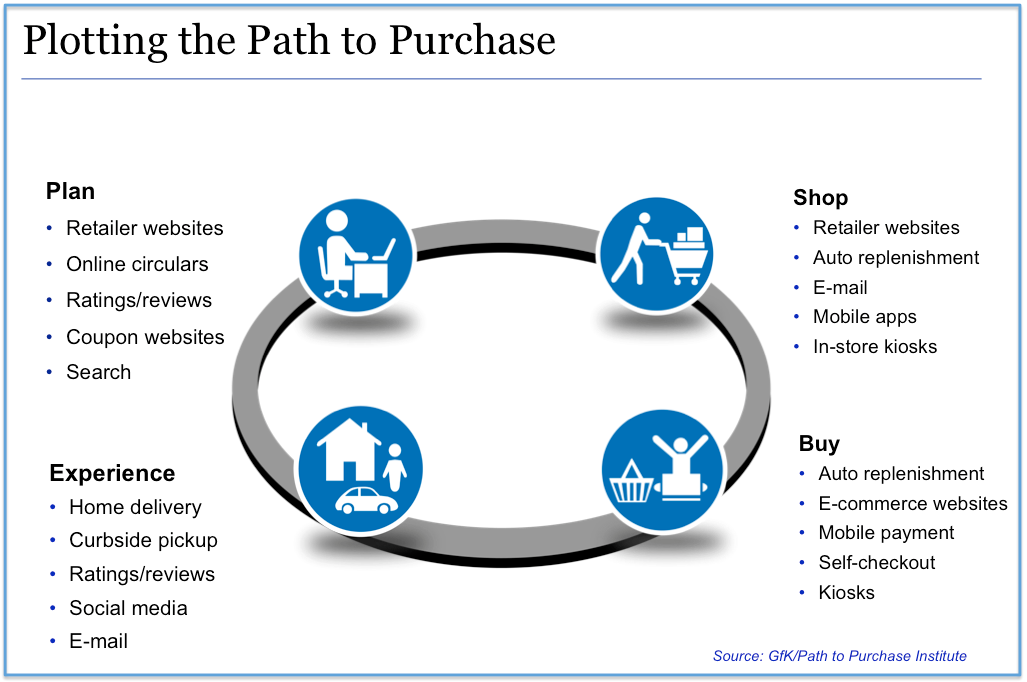 This is a very simplified model: the actual path to purchase is rarely this straightforward anymore. What's more, not every tool works exactly the same way for every product category, and that's a very important point for marketers to remember. Additionally, the same tool can be used to influence different behaviors depending on the target audience and the brand's objectives.
Providing a comprehensive list of digital marketing tactics would quite literally be impossible. With the plethora of tools that continue to roll out for the consumer goods industry, any attempt would become obsolete the moment it was published — although CGT is giving it the old college try.
Therefore, this model is an attempt to give marketers a way to get started by providing a framework for mapping potential tools in an efficient, effective way.
Planning Tools
The most important piece of advice for marketers looking to influence the planning stage is to get on the shopping list. Brands that get on tend to stay on; conversely, if a brand isn't on the list from the start, it's much harder to work its way on later. Many of the tools listed her can help brands do that.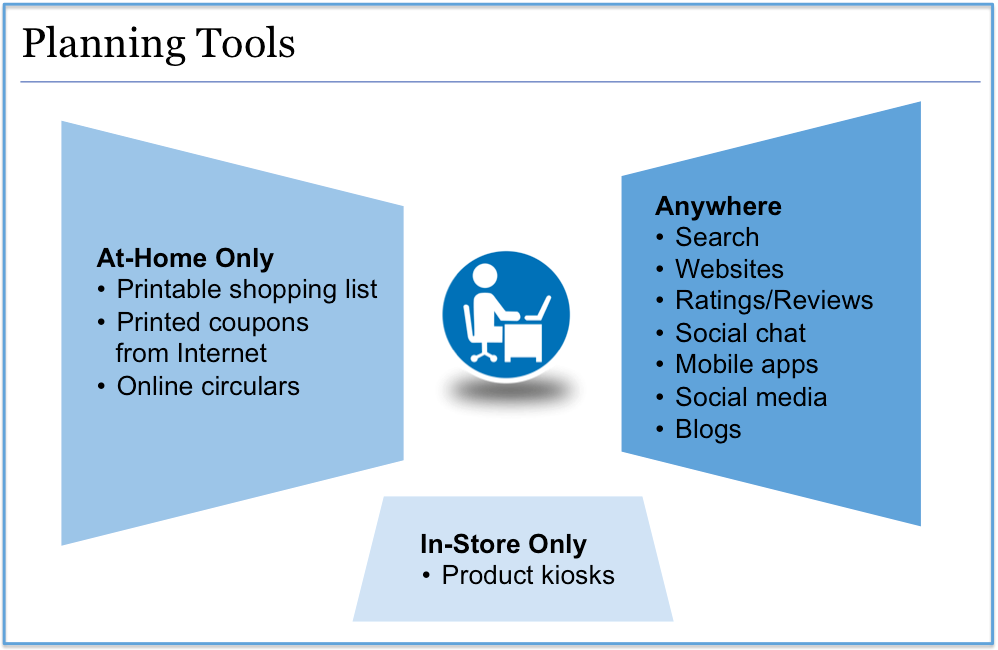 To reach shoppers that aren't making lists, brands need to reach shoppers when they're searching for solutions. Digital shoppers often aren't looking for specific brands or even specific products. Instead, they're searching for dinner that night or ideas for the party next weekend. To reach them in relevant ways, brands must help them find those solutions. Here, social media such as YouTube or Pinterest can be very effective ways to get into the solution set.
Shopping Tools
When it comes to digital shopping, there are multiple pockets of possibilities. There are tools that facilitate online shopping, like retailer websites, search, email, and mobile tools. There are tools that enhance and improve brick-and-mortar shopping, like curbside pickup services and other alternative methods of fulfillment, which we list here because they are having a significant impact on the retailer selection process. And then there are mobile apps and location-based messaging, along with kiosks and hand-held devices in the store.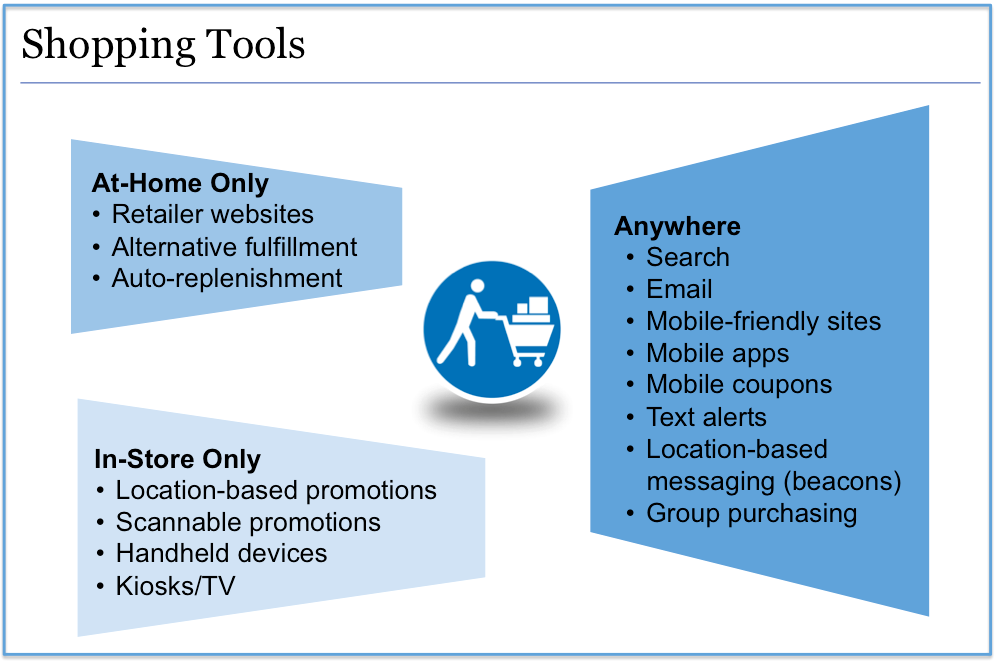 There's also automatic replenishment, a shopper tool that pre-empts the shopping journey entirely: You've heard of one-stop shopping, we've now got one-time shopping. This could end up being a significant issue for brand marketers in the future.
Here is the real sweet spot of shopper marketing, where the shopper is already on the path to purchase and has some ideas in mind. Marketers need to guide them along, eliminate any purchase barriers that might stand in the way, and close the sale. This also is where brands really need to start working in tandem with key retailers to deploy tools that can drive shoppers to the store, either online or in person.
Buying Tools
The next stage involves the actual act of buying, and some of the tools shown in Figure 4 already showed up in Figures 2 and 3 above. That's a point worth noting: high on the list of potential tools should be ones that can keep brands in contact with shoppers across multiple stages of the purchase journey. This is a highly beneficial aspect of digital marketing that wasn't available to marketers in the days when mass media dominated marketing strategy.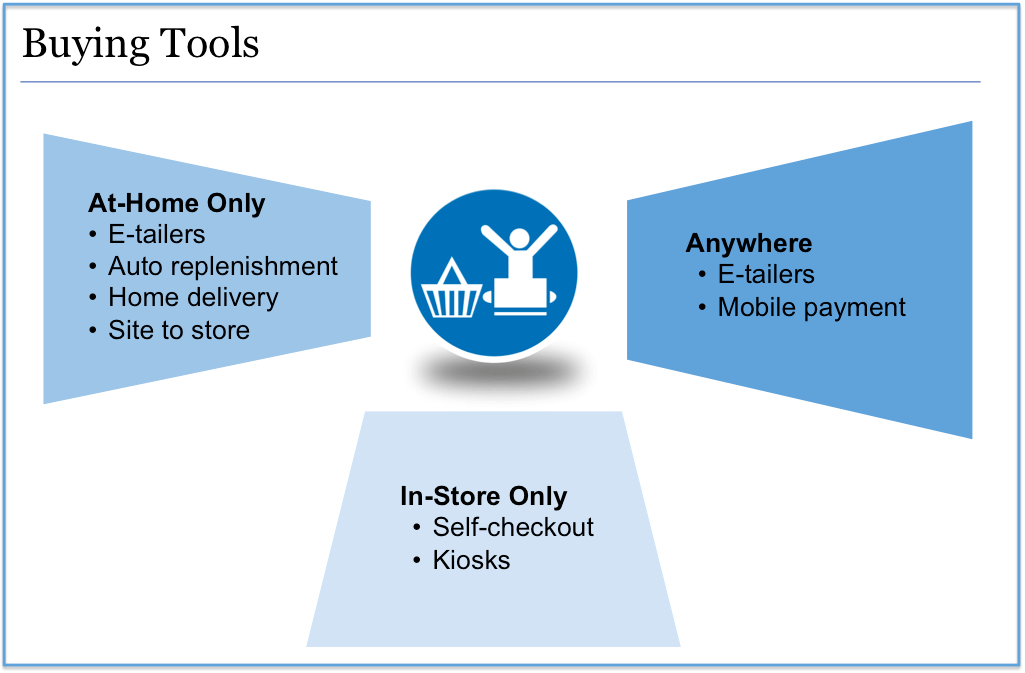 There also are various services that make buying easier such as the alternative fulfillment models and kiosks and self-checkout in-store. These are becoming far more prevalent as retailers seek to provide an omnichannel experience.
Experience Tools
The final stage on this simplified path to purchase journey is the experience. For the purposes of this discussion, we're talking about the experience involved with buying, receiving and using the product — not the experience delivered through the store environment. (Path to Purchase Leadership University has another course called Understanding Retailers that covers the store experience.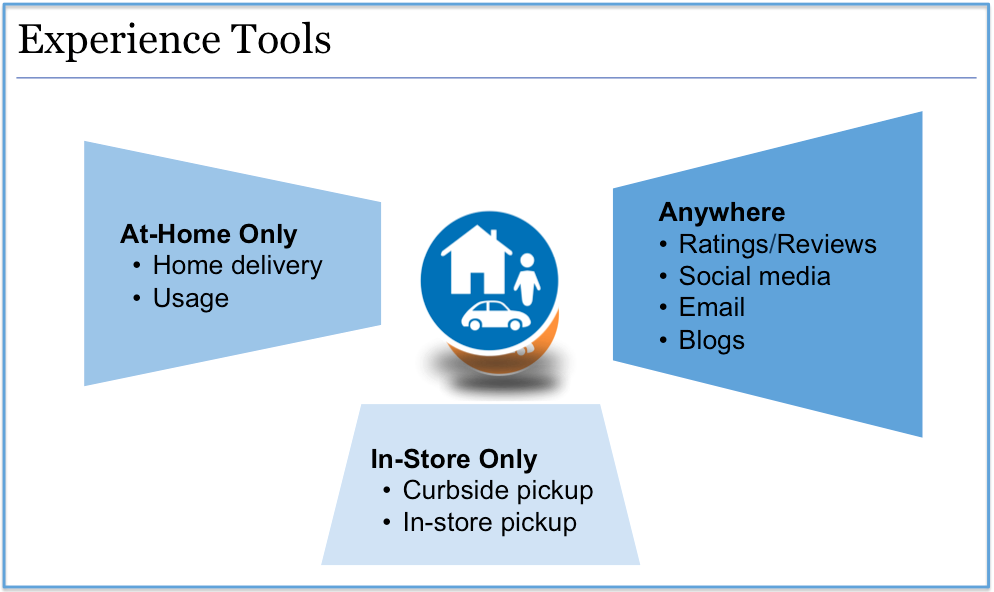 This area encompasses product usage, which begins with the experience of buying in new ways and receiving the product in new ways. Among the new considerations for product manufacturers in this area are packaging and product integrity for shipping by mail and home delivery.
For marketers, the key focus area is another one that illustrates the power of digital technology, in both its most advantageous and riskiest forms. Marketers have a much greater opportunity to maintain an ongoing dialogue with shoppers through email and other methods of communication, to get feedback on perceptions and send offers to drive repeat purchase. That offers a great opportunity for marketers.
But there's also a scarier side, the fact that ratings and reviews have become so influential on the purchase decision, and that discussions about brands on social media have become so prevalent. It's scary because, no matter how much shopper marketers work to influence and guide the conversations that are taking place, it really does remain primarily in the hands of the shoppers. So there's just as much — if not more — work needed to react to what's happening and respond and adjust accordingly.
On a more positive note, we did already mention that a number of marketers are already harnessing the power of ratings & reviews by incorporating them into their creative — up to and including in-store P-O-P materials. The more marketers actively solicit ratings and reviews, the greater chance there is of keeping them more positive and staying out ahead of the negative messages.
Unfortunately, there is no magical, universal list of tools that marketers can deploy, no single roadmap of guaranteed, sure-fire websites, mobile apps or digital promotions that will deliver results. Every brand has its own set of shoppers, retail partners, business objectives and budgets. And those shoppers have different paths to purchase, those retailers have different needs and demands, and those objectives and budgets drive different strategies and program activations.