Scotts Helps Bonnie Grow a Path-to-Purchase Strategy
Get great content like this right in your inbox.
Subscribe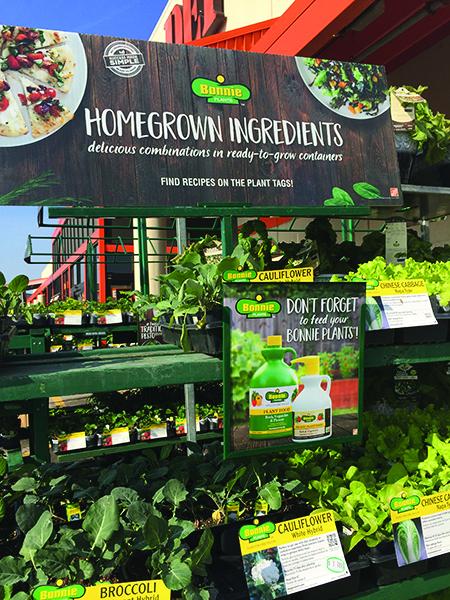 Marysville, Ohio — Union Springs, Alabama-based Bonnie Plants has been in business for nearly 100 years, but the live goods category traditionally has been so commoditized that Bonnie, like most brands, hasn't attempted to do much in the way of path-to-purchase marketing.
But after a couple of decades of partnerships with the Scotts Miracle-Gro Co., Bonnie established a newly energized relationship last year that has Scotts handling all of Bonnie's media and marketing work. Scotts in turn looked to Chicago-based Upshot for ideas on how to build brand awareness and affinity at retailers including The Home Depot, Lowe's and Walmart.
Bonnie previously relied on in-store signage and sponsorship of gardening-oriented radio programming. Scotts and Upshot have worked together to ramp up the in-store presence while adding television, online, social media and mobile to the path to purchase for Bonnie shoppers. "We quickly took stock of what was being done and, where possible, made adjustments," says Sara Gordon, director of marketing for the Bonnie Plants business at Scotts. "It's in Bonnie's best interests that the merchandising looks good. What we had determined was that there wasn't a strong, cohesive communications strategy in place."
Scotts and Upshot developed signage packages consistent within each retailer in terms of fonts, logos and other graphic elements with a unique look for each, Gordon says. "We met with each merchant and asked them what they felt were the key barriers to getting their shopper to pick up an edible herb or plant," she says. They tested some signage in the fall of 2016 to see consumer reaction and then did the full rollout in the spring.
In the case of The Home Depot, for example, they came up with the tagline, "Plants with a Purpose" to encapsulate the brand promise. "They're buying it because they're going to feed their family, or their friends at a barbecue," Gordon says. "It's not just that Bonnie grows high-quality plants, but we can help you grow fresh food."
Market research from the National Gardening Association showed that although Millennials have a "fear of failure" about edible gardening, it is growing among them, particularly those toward the older end of the generation, says Sarah Bader, Scotts' director of insights and analytics. The research also showed, however, that Baby Boomers remain the core, steady consumer. The partners undertook a "bifurcated marketing strategy" that targeted younger consumers with digital, social and mobile while turning to more traditional media for their elders, Bader says.
"One of the major adjustments we made with the partnership taking form was a heavy investment in media," Gordon says. "Bonnie ran a national television campaign this year. There was an effort to drive foot traffic. Retail partners did their own advertising through television, online and store circulars. Bonnie ran digital media, which afforded us the ability to do a stronger call to action and drive consumers to a campaign landing page where they could locate the nearest store – or even buy directly online."
Scotts and Bonnie also invested in paid social media and promotional activities for "Spring Black Friday" and smaller "tentpole" events, Gordon adds. And the partners developed content for The Home Depot such as project videos on how to start an herb garden, says Dayton Dremmery, shopper marketing lead at Scotts. "It was about helping somebody new to gardening get into the category successfully," he says.
Bonnie's Plants doesn't have as much to work with in terms of packaging as most consumer goods, Gordon says, but the partners used the smaller, biodegradable pots to convey basic information on how to plant them along with recommendations to use Miracle-Gro products in doing so. Since the plants are merchandised on trays, the shopper doesn't immediately see the tag on each pot, so the trays have a front tag with information, and racks are designed to hang shelf talkers every 12 feet or so, she says.
The partners focused first and foremost on tomatoes, given that "Bonnie sells more than 60 varieties of tomatoes, and tomatoes are kind of a gateway into gardening," Gordon says. "The new signage has been very well received by the retailers, and we're also hearing good feedback from shoppers."