Schick, Walgreens Promote f.a.b. New Product
Get great content like this right in your inbox.
Subscribe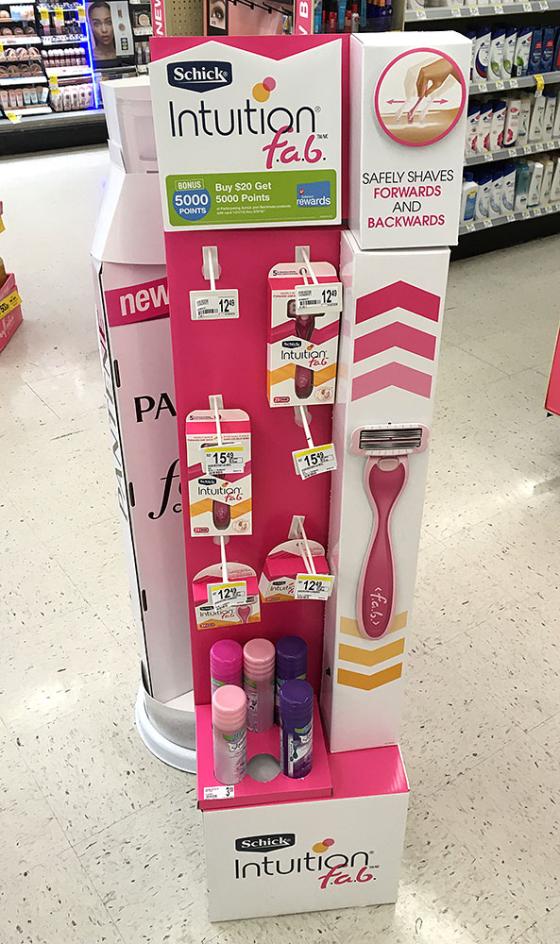 Edgewell Personal Care used multiple tactics to reach Walgreens shoppers after the manufacturer launched its Schick Intuition f.a.b. razors in January.
The f.a.b. acronym represents "forwards and backwards," which refers to the product's innovative bi-directional razors. 
Edgewell introduced the razors with an ad in Walgreens' February coupon book, which hit stores Jan. 28. 
The manufacturer further promoted the product with a Feb. 11 circular feature that dangled a Balance Rewards offer of 5,000 points with purchase of $20 in participating Schick, Edge or Skintimate items. The feature also promoted special pricing and a complementary FSI coupon that was to be distributed the same day.
In stores, floorstands promoting the new razors carry a large, corrugated replica of the razor that mechanically moves up and down to demonstrate the back-and-forth capabilities of the product. The header communicates the points offer, which runs Jan. 21 through March 3.
While Edgewell issued a news release on Jan. 17 promoting the launch, on New Year's Day the Institute found a power wing in an Ashwaubenon, WI, Target store stocking the product.