'Rogue One' Display Named Best of the Times
Get great content like this right in your inbox.
Subscribe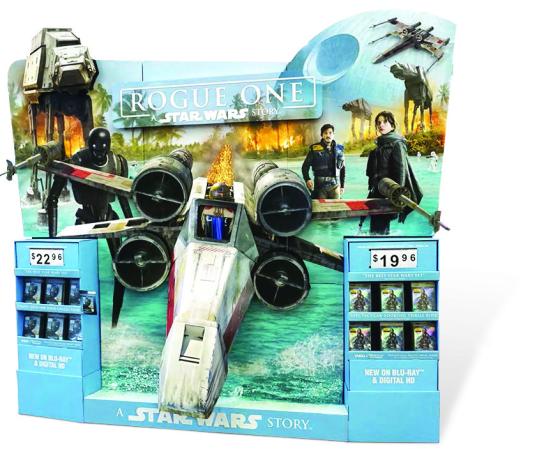 CHICAGO — WestRock earned the 2017 Design of the Times "Best of the Times" award from the Path to Purchase Institute with a sizable, eye-catching, selfie-inducing, standalone display promoting the DVD release of Walt Disney Co.'s "Rogue One: A Star Wars Story."
Standing more than nine feet high and 10 feet across – designed to command attention from a distance – the display was created on behalf of Buena Vista Home Entertainment and distributed at 800 Walmart stores in April 2017.
The display featured movie branding on both sides to alert the shopper that the DVD and Blu-ray were available. The display depicts several of the movie's characters and prominently features an X-wing fighter with a cutout in the middle, where the shopper can place his or her head and snap a selfie that makes it appear they are flying the X-wing while posing with the other characters. In doing so, the piece targets those who like to share experiences on social media and creates a unique photo interaction that increased the opportunity for sales, according to WestRock.
The display manufacturer took direction in terms of the parameters and assets Buena Vista wanted to include and figured out how to arrange them for the most effective presentation, while also accounting for Walmart's front-of-store guidelines, says Diane Anderson, vice president of sales, WestRock. "They will give us a set of assets and say, 'We want something that highlights the X-wing fighter that was in 'Rogue One,' and the characters have to have a major presence," she says.
Buena Vista and Walmart agreed on the renderings that were used and brought in WestRock to handle execution. "We work within those guidelines," Anderson says. "How do we tell their story within the prescribed footprint? How do we best educate the consumer on what product is in the display [and] the different formats included in the release?"
WestRock also works to simplify display construction. "We take a lot of design expertise and a lot of time to be able to develop those programs with the sole mission of making sure it is … as easy to put together as possible," Anderson says.
WestRock did not get involved in the insights or strategy behind such a campaign, nor did Buena Vista share ROI figures, says Anderson. Buena Vista did not make anyone available to comment.
"They are excellent partners in this, they understand their business, they understand retail, obviously, and they facilitate everything we need to do for them," Anderson says. "It is truly a partnership to get something like this in-store."
For more on the 2017 Design of the Times Awards, including the full list of winners, click here.