Ritz Creates Cracker-Buying Occasion at Albertsons
Get great content like this right in your inbox.
Subscribe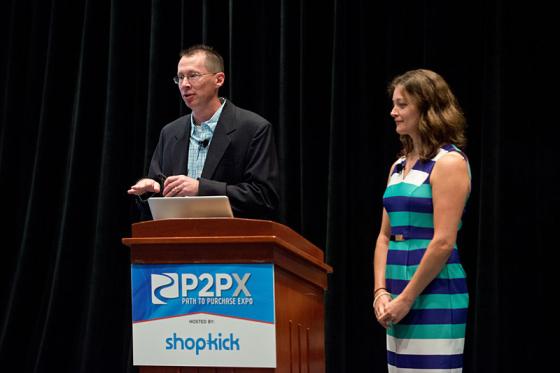 Rosemont, Ill. — Mondelez International wants to get its Ritz products into more baskets, and to do that it needed to understand everything that goes into a shopper's decision to make that purchase. "The challenge was how do we get them to add that one extra product … and what would be that inspiration for them to do that," said Steve McGowan, Mondelez International director of shopper marketing, during Path to Purchase Expo presentation in September.
Working with brand activation agency Geometry Global, Mondelez learned that the cracker path to purchase typically starts with a consumer realizing she's low on the product and then writing the category, rather than a specific brand, on her shopping list. Once she gets to the store, she'll check what brands are on sale and compare prices to choose which SKU to buy. Post-shop interaction with the category is typically limited to recommending the product or purchasing it again.
Geometry also gathered data on the behaviors of Albertsons Cos. shoppers that showed they would look for coupons and peruse the circulars more than category shoppers at other retailers and that finding a recipe could be especially influential in their purchase tendencies.
Ritz combined those insights to develop an overlay for Albertsons for its national "Stack It Up" campaign that would reach shoppers throughout their purchasing journey. Ritz analyzed Albertsons' spectrum of marketing tactics with a particular eye toward pre-shop engagement. The goal of the program was to get shoppers to put a product on their lists, drive awareness and conversion in-store, and inspire shoppers to maintain their buy rate after the promotion.
Working with Albertsons to develop a program that would target Hispanic shoppers, the brand ran targeted digital banner ads that linked to a coupon for the product, enlisted support from regional Hispanic bloggers, and conducted sampling in stores with high Hispanic populations. Ritz also posted recipes on Pinterest and cooking demonstrations on YouTube, some of which were account specific.
Even with their pre-shop emphasis, Ritz understood that displays were still important since 35% percent of people buy the product on impulse. Ritz developed a recipe for a "Quesadilla Fresca Ritzwich" based on an insight that cream cheese and crackers often appear in the same basket, and it plugged the joint purchase with displays near where cream cheese is merchandised in stores. Ritz also supported the in-store activation with shelf talkers from News America Marketing's SmartSource.
Because Ritz already had the research it wanted to use, the program took about four to six months to develop instead of the normal six to nine months. The program hit Mondelez's goals but didn't cause a huge change in the business. The biggest success was showing Albertsons the insights the manufacturer could provide. "It allowed us to be a better partner with them and get a seat at the table for future programs at the organization," McGowan said. "It helped us further the relationship from a joint business perspective."
In the future, Geometry and Mondelez hope to be able to dive even deeper into the data to tailor programs to particular shoppers and retailers. "The more specific we can be when we're asking shoppers what touchpoints and tactics they used, the smarter we can be in the back end on targeting them," Geometry Global director of research Bridget Gilbert said during the presentation. "We don't just ask shoppers, 'Are you using a shopping app?' If they're shopping at Target, we ask them, 'Are you using the Cartwheel app?'"
Mondelez expects to continue building programs based on the cracker research for years and is already working on 2017 programs that will leverage insights from a second study it conducted focusing on cookie buyers that included both survey responses and receipt data. "We can understand for that purchase what else was in the basket, how much did they spend, how they paid," Gilbert said. "Multifaceted data inputs are one way we're really evolving this approach."