Reversing the Declining Foot Traffic Trend
Get great content like this right in your inbox.
Subscribe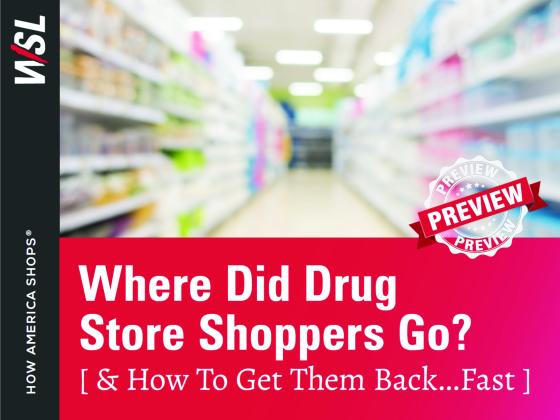 Drugstores need to focus less on convenience and more on health and wellness, WSL report says
Where did drugstore shoppers go, and how can you get them back quickly? That's the focus of a recent report from WSL Strategic Retail that points out that while it seems like foot traffic has suddenly dropped off in the drug channel the past few years, the decline actually stretches back two decades.
Based on an online survey of more than 10,000 adult shoppers in 2016-17, the report notes that a decline in drugstore traffic began in the late 1990s. Less than two-thirds (64%) of women said they had shopped at drugstores in the previous three months, down from 82% in 1996. "While it may seem as if traffic declined precipitously [the past couple of years], that is not the case," says Wendy Liebmann, WSL CEO and chief shopper. "It was at that point that companies and retailers woke up."
This falloff in traffic, however unnoticed for most of that time period, has continued despite macro health trends in the channel's favor, and despite significant investment from chain drug retailers and their manufacturer partners, WSL says. The reasons why range from a changing shopper definition of convenience and the growth of more convenient formats to a shift among younger shoppers to other channels in key categories, the report says.
Liebmann cites reasons like online prescription drugs and the impact of formats like Aldi on convenience trips to get items like milk, beauty stores like Ulta and Sephora in drawing away customers in that category, and mass merchandisers across a variety of categories. "It was a convergence, a quote-unquote perfect storm," Liebmann says. "We started to see, across different categories and different shopper needs, this erosion. ... What misled people to that point is that people were still in the stores, but in reality, not as often."
In the cosmetics category, for example, the percentage of women who said they shop most often or regularly at drugstores fell from 25% to 19% between 2012 and 2016. Specialty beauty shops (such as Ulta and Sephora) went up from 11% to 15% market share, while online cosmetics shopping rose from 6% to 8%. Drugstores ranked below mass for prescription drug sales, and while they ranked second in vitamins and supplements, they fell 4% while warehouse, specialty and dollar stores went up.
"It's death by a thousand cuts," Liebmann says. "It's changed because I can order online and it can arrive tomorrow. The drugstore is on the corner, but so is 'fill-in-the-blank.' Aldi has expanded around the country, Walmart has opened neighborhood markets. … And convenience is not just about location, convenience is about, 'How easy is it for me to get what I want? Is it an easy place to shop?'"
The WSL report shows drugstores struggle to make an emotional connection to shoppers, ranking relatively low on the list of places shoppers say they "feel good" about spending their money. While 80% of shoppers said this about Amazon and 75% each about Costco and Sephora, only 54% each said they felt good about shopping at CVS and Walgreens, and just 45% at Rite Aid.
And while drugstores ranked highly on "feel good" factors like ease of quick trips and appealing rewards programs, they do not match up as well in areas like best use of time and "feels like they really care," WSL found. And they did not fare well on the question of "makes me feel like a smart shopper, Liebmann says. "We all get that the drugstore doesn't have the lowest price, but the fact that people didn't feel like their money is well spent goes to the value proposition."
One key takeaway, Liebmann believes, is that drugstores can no longer win on a convenience real estate strategy. Some are testing delivery of prescriptions, and they're thinking about how to redefine convenience in their stores, she says. "They should be, in the scope of things, about health and wellness. That's one of the few rich opportunities today," she says. "This is the place where you can create a healthy, accessible life."
CPG companies need to recognize that's where drugstores are going to go and talk them through how they can help provide a healthier lens for their perspective categories, she says.
Drugstores also need to reframe personalization beyond simple use of loyalty programs to develop more effective overall algorithms that account for the challenges posed by younger shoppers, Liebmann says.
And finally, they need to realize that their shelves are challenging places to shop and ramp up their merchandising efforts. "For both the retailers and manufacturers, this becomes imperative: How do you redefine that space?" Liebmann says. "It may be right around the corner, but unless you are buying a snack or going straight to the pharmacy, what you're looking for is not easy to find on the shelf."
Health and wellness. That's one of the few rich opportunities today. This is the place where you can create a healthy, accessible life.