Rationalizations
Get great content like this right in your inbox.
Subscribe
Digital Shopper Marketing Landscape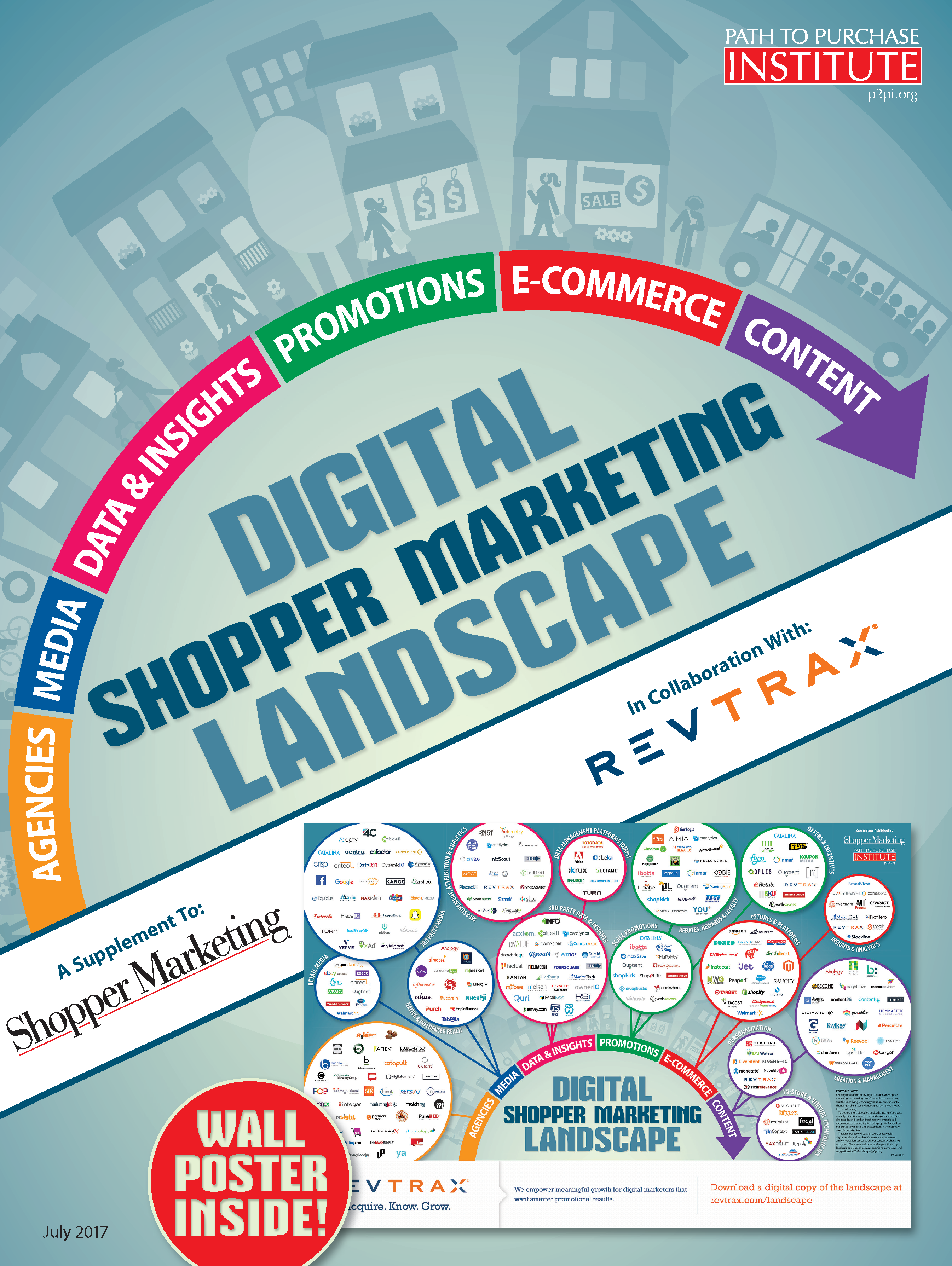 Keeping track of the many vendors and services on the digital side of shopper marketing is challenging. Companies constantly come and go through acquisitions; the underlying technologies are dynamic and changeable; every venture believes its special capabilities justify a listing under every category.
Chiefmartec.com's just-released marketing technology chart, for example, now sports more than 5,000 logos. Comprehensive? I guess. Overwhelming? For sure.
To avoid a similar fate, the Institute's editors, our subject matter experts and the advising executives from almost a dozen CPG companies that helped create our 2017 Digital Shopper Marketing Landscape all recommended that we tighten it up. We focused on major players and tried to list them in their primary area of specialization. This isn't a directory of every conceivable digital vendor and service; it's a reference doc and conversation starter about this constantly evolving discipline.
We expect feedback from companies that think they were underrepresented, so shoot your questions, complaints and suggestions to [email protected] and we'll update this project at reasonable intervals.
A final word of thanks to the folks at RevTrax for their support.
My neighborhood in Chicago is just a few steps off Milwaukee Avenue, aka "The Hipster Highway," so named because thousands of Millennial bicyclists use it to commute downtown. When we arrived in 2002, our little stretch was a relatively desolate area of boarded-up storefronts, an abandoned elevated rail line used by heroin addicts, and a rat-infested junkyard with a ranting proprietor and constantly barking dogs. We did have one store though – the "food-stamp Aldi" – so-named by locals because of the German grocery chain's cash-only/box-yer-own groceries vibe, mysterious brands and East-Berlin-blockaded-by-Russians approach to merchandising. 
Recently, however, things have changed. The city let developers create nearly a dozen high-rise rental buildings on Milwaukee Avenue for Millennials who eschew cars. Called TODs (Transit-Oriented Developments), some of these 200-unit buildings have just 10 parking spots. The theory is that the renters, those superior creatures of the new millennia, will bike, take the El and/or walk everywhere forever. Yeah... we'll see. 
A developer leveled our original Aldi and put up an eight-story TOD with a brand-new anchor tenant: Aldi, the now 1,600-U.S.-store-chain that's investing billions in remodeling and expansion plans. In half a decade, if things go according to plan, Aldi will be the #3 supermarket chain in the U.S. behind Walmart and Kroger. 
As Institute editor Cyndi Loza's visual tour attests, Aldi '17 is fresher, both figuratively in terms of decor and literally in terms of produce, meat and bakery. But as I walked the store, my Baby-Boomer eyes kept playing tricks on me. As I rounded my first aisle, for example, I was surprised to see Hershey, Twizzlers and Kit Kat logos on the lowest shelves. I then drew my eyes level up to Aldi's not-exactly-household brands Schogetten and Choceur. Well, as the kids say in Mülheim, "Stack 'em high, watch 'em fly."
Farther along, I spotted a freezer with one SKU of Twix ice cream bar packages conspicuously wedged into the middle of Aldi's less-than-iconic Sundae Shoppe, Pueblo Lindo and Belmont brands. Finally, in the cereal aisle, I encountered an entire section of what I thought were Rice Krispies, Raisin Bran, Honey Bunches of Oats and Honey-Nut Cheer... wait... no... huh? Well, yes and no. Strategically deployed at floor level, beneath this wall of what turned out to be lookalike Millville brand packages, was one, lonely facing of Cheerios. "Stack 'em low, they don't go." Jawohl.  
Look, I'm no James Comey but even I can tell when I'm getting played. Look up "trade dress infringement" on the P2PI.org website and you'll see that about 11 years ago, Procter & Gamble forced some private label distributors to redesign their packages after some, let's say, similar emulations. Considering all the concern rightfully expressed about Amazon's ability to undermine branding power – (do an Amazon search for "macaroni and cheese" and the obvious top choice is… wait for it: "Pasta Roni") – I wonder how long the national brands (well, at least the cereal folks) will put up with this shelving legerdemain from Aldi.