Profile: Byron Gilstrap, Director, E-Commerce Capability, Coca-Cola
Get great content like this right in your inbox.
Subscribe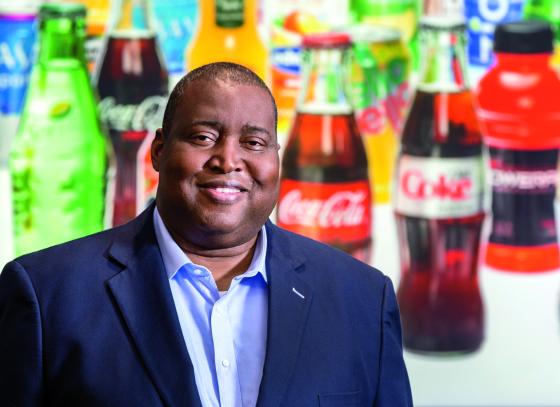 Before his current position, Byron Gilstrap led the development and implementation of Coca-Cola's B2B online platform, MyCoke.com. "It was a great role to really learn and understand the breadth and depth of the entire Coca-Cola system," he says. Today, Gilstrap leads digital shelf, package/product innovation and franchise relations for Coca-Cola North America's e-commerce group. His experience spans strategy consulting, program management as well as developing and deploying digital strategies for companies such as Accenture, Delta Air Lines and The Home Depot.
Tell us a bit more about your current role?
GILSTRAP: I'm responsible for managing the Coca-Cola digital shelf on retailer websites, e-commerce commercialization and franchise bottler relations.
And what about your team?
GILSTRAP: We serve as the E-Commerce Center of Excellence for Coca-Cola North America, which includes a dedicated business development accounts team, strategy and planning, marketing and building world-class capabilities.
What are the team goals?
GILSTRAP: To be a best-in-class supplier to our retailer partners, lead emergence of beverages online and develop key strategic capabilities like marketing and digital shelf to enable growth.
How does your e-commerce team engage with Coca-Cola's shopper marketing team?
GILSTRAP: We have a shopper marketer embedded within our e-commerce team. We also work with the broader shopper marketing group, especially when it comes to opportunities with omnichannel consumers. We also have cross-functional routines to discuss innovation during early brand planning processes.
Speaking of omnichannel, what does that mean to you, both as a marketer and a shopper?
GILSTRAP: Engaging consumers via any device – mobile, tablet, PC, kiosk, etc. – through any channel. As a shopper, I always engage in any way that removes friction. When I travel, I always leverage mobile apps and kiosks. I like to have groceries delivered to me if the available assortment fits my needs. I also prefer an in-store experience at times. I try to think about challenges in e-commerce the same way.
What personal device do you use most often?
GILSTRAP: I generally prefer my tablet because the user experience can be more rich and intuitive.
From your view, how do you see e-commerce developing?
GILSTRAP: Online grocery is quickly approaching a period of rapid growth. Click-and-collect is a powerful fit for U.S. consumers and has the potential to be 40% of online grocery by 2020.
Any particular work your team is doing around this?
GILSTRAP: We recently published a whitepaper, "Retail Remix: Click-and-Collect Insights and Strategies for Success," that has tailored solutions to help retailers win in click-and-collect.
In general, how do you think brands can take better advantage of e-commerce opportunities?
GILSTRAP: It's important that they proactively think about how to integrate e-commerce early into each planning cycle.
How so?
GILSTRAP: For example, from which innovation makes sense for parcel versus click-and-collect and developing content that can be used to build the digital shelf, to having routines in place to stay aligned with shifts in e-commerce strategies.
What do you see as disruptors to the field?
GILSTRAP: Emerging virtual reality, augmented reality and mixed reality capabilities as they become more integrated into e-commerce experiences. It creates a huge opportunity for us to market our brands in new ways.
In the ever-changing digital landscape, how do you stay up to date?
GILSTRAP: In my opinion, the most valuable way is participation in the Path to Purchase Institute's E-Commerce Council. I find it extremely helpful to share challenges and opportunities with my colleagues at other CPG companies. Attendees are all at different places along the e-commerce journey, which allows you to help those who are starting out, and learn from those who are more advanced. I also attend several trade shows every year.
What keeps you motivated?
GILSTRAP: Working with a group of such talented individuals, and working in a space that has so much room to grow and innovate.