P&G Dabbles in Virtual Reality
Get great content like this right in your inbox.
Subscribe
Manufacturer leverages Olympic sponsorship for customer marketing effort with 11 regional chains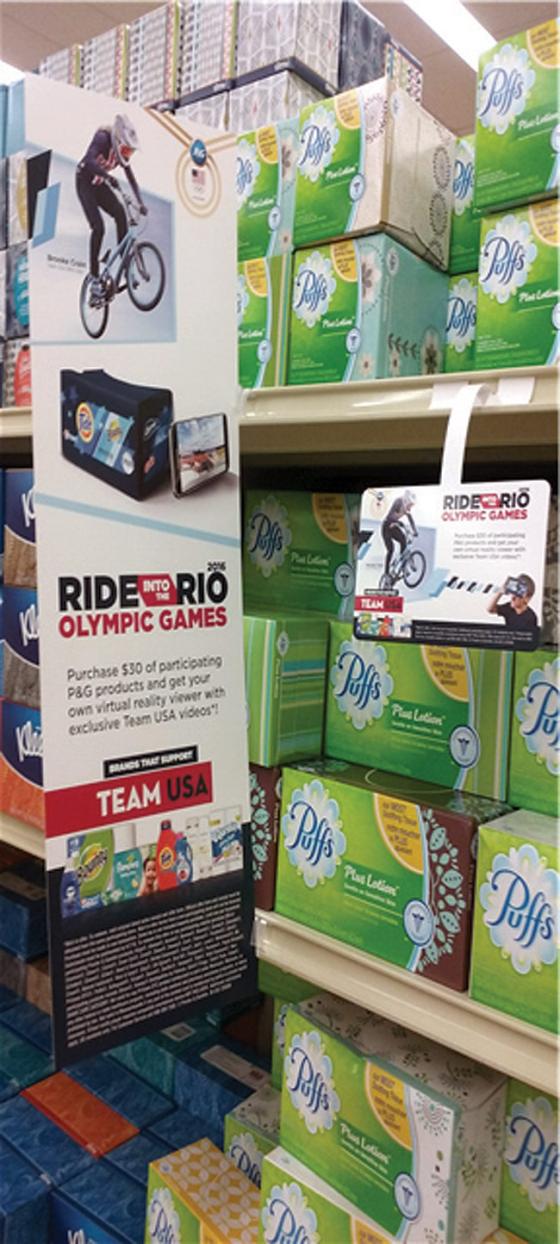 Cincinnati — As part of its global sponsorship of the Olympic Games in Rio de Janeiro, Procter & Gamble executed its first 3-D virtual reality promotional program, outfitting consumers with P&G-branded cardboard viewers and a chance to experience what it's like to train for the events of canoe slalom kayaking, BMX biking and mountain biking.
P&G used the virtual reality (VR) component as a driver to 11 participating, regional grocery chains from June through the end of the Summer Games. In stores, shoppers could buy $30 worth of P&G products, submit their receipt via the mail and later receive a free P&G-branded cardboard VR viewer. P&G also then provided a link to access the VR content. It was the only way to get a viewer; they weren't being sold or handed out in stores.
Consumers could place their smartphone into the viewer and watch 3-D videos that change as the viewer moves around 360 degrees. The videos, shot from multiple angles, centered on three U.S. Olympic athletes training in their facilities: Brooke Crain riding a BMX bike, Casey Eichfeld training in a canoe slalom kayak, and Lea Davison riding a mountain bike.
"For a lot of consumers, this is their first taste of virtual reality," says Nick O'Brien, P&G customer team marketing manager for the East region, "and [they're] doing it in a fun way with Olympians and with P&G brands integrated into the content. They'll be riding their kayak and see a banner of Tide." When first putting on the viewer, consumers will see images of Tide products to help set up the device and adjust to the technology.
O'Brien says P&G has used 360-degree video before but never in a 3-D, virtual reality capacity, and those previous videos were brand videos.
For the kayak video, it marks one of the first VR videos shot in the water, he says. "It's an amazing thing. We've shown this at different places, including trade shows, and it's fun to watch [users] bounce and weave with the waves."
According to O'Brien, VR content has a share rate as high as 81%, based on some statistics he's seen, "so when we talk about retailers and driving traffic to our retailers, and building the categories, what we hope to see is that people will do the shopper offer, they'll buy the $30 worth of P&G products, and when they get their VR viewer and Olympic content, they'll watch it and tell their friends about it."
Testing VR at a retail level was a good place to learn, O'Brien says. The campaign fits within the larger platform titled "Thank You, Mom," which celebrates the women behind the Olympic athletes with TV ads, social content and more. P&G is only one of four global sponsors of the Olympics, meaning the brands can cross all countries and regions.
The VR program worked as a customer marketing opportunity, leveraging strategic partnerships with Price Chopper, Weis Markets, Food City, Roundy's, Spartan Nash, Hy-Vee, Schnucks, Big Y, Marc's, AWG and Market Basket.
Support included in-store displays, shelf talkers, circulars, a teaser video of the content, and social content on the retailers' and athletes' social pages.
While three Olympic athletes participated in VR videos, 10 total Olympians partnered with the program, and each regional retailer could work with any athlete they wanted, specifically if an athlete was from the region. For example, Eichfeld was highlighted at Weis Markets, which is based in his native state, Pennsylvania.
"They're individually executed plans with each of the retailers," O'Brien says. "One retailer may have a lot of different displays that highlight more of the athlete than the shopper offer, others may highlight more of the shopper offer and virtual reality element and less of the athlete. It all comes down to the individual strategies of the retailer, but it's all designed in order to allow people to interact with the P&G brands and the Olympics in a new and unique way that we hope they're excited to share and talk about."
O'Brien says the program involved a lot of coordination and the International Olympic Committee (IOC) even established new rules on how to do programs like this. "It's exciting to think we're so far forward that the IOC has to learn from this experience and re-establish guidelines for partners."
P&G worked with Blue Chip Marketing Worldwide, Northbrook, Illinois, on the effort. Prime Content, New York, did the filming of the videos; 360fly Inc., Pittsburgh, provided the cameras.