P&G brandSaver: January 2018
Get great content like this right in your inbox.
Subscribe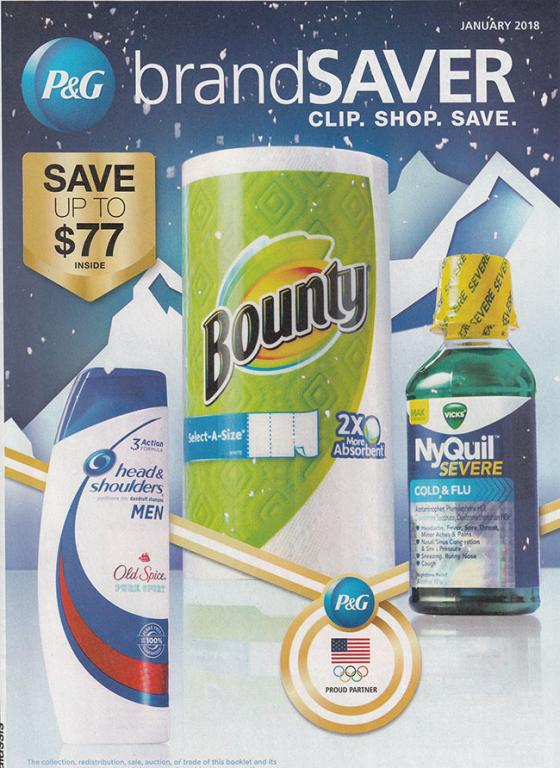 Procter & Gamble celebrated the New Year and looked towards the Winter Olympics in the January 2018 edition of brandSaver.
Distributed on Dec. 31 via Valassis, the stand-alone insert activated P&G's Olympic sponsorship on the cover to highlight Bounty, Vicks NyQuil and Head & Shoulders, and the $77 in coupons (depending on the market) contained within. The theme continued in an opening spread that used a "Go for Gold" message to call out product benefits for those three brands along with Tide and Pampers. Head & Shoulders also got its own FSI activating the sponsorship.
New Year's themes were employed in FSIs grouping Bounty, Charmin and Puffs as well as Old Spice, Secret and Gillette. The event's back page used a "New Year, New Regimen" message to tout Olay's digital "Skin Advisor" tool.
In other significant activity:
A two-page feature encouraged shoppers to make a donation to P&G's Children's Safe Drinking Water Program through the fund's website.
Separate FSIs introduced Pantene Pro-V's new foam conditioner and formulas of Vicks DayQuil and NyQuil designed for people with high blood pressure.
Shoppers were encouraged to print or load coupons directly to store loyalty cards using brandsaver.com or the Flipp mobile application.
Brands including Crest, Always, Prilosec, Align, Pepto-Bismol, Febreze, Swiffer, Bounce, Venus and Luvs were also represented in the event.
See Related Updates on P2PI for this week's concurrent retailer programs.